Georgia 50 State Quarter
50 State Quarter of Georgia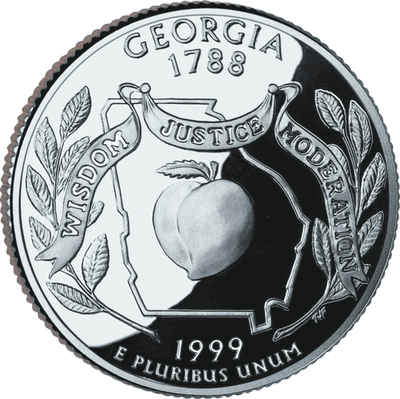 Designed by T. James Ferrell
Released July 19, 1999.
Georgia is a southeastern US state whose diverse terrain spans coastal marshland and beaches to wide stretches of farmland. Georgia, one of the thirteen colonies, ratified the US Constitution on January 2, 1788, becoming the fourth state to do so; it joined the Confederacy on January 19, 1861, and re-entered the Union after the Civil War.
Mintage: 939,932,000
The Georgia quarter, the fourth quarter released under the 50 State Quarters® Program, is a real peach. The 50 State Quarter of Georgia was released on July 19, 1999 and featuring the silhouetted outline of Georgia, Oak branches (the official state tree) and a peach. Nicknamed "The Peach State,"Georgia's peach industry has a long tradition. Franciscan monks introduced peaches to the region in the 16th century and by the mid-1700s they were being cultivated by the Cherokee Indians. Today the peach is one of Georgia's most important crops and it is the third largest producer in the country. Inscription: Wisdom, Justice, Moderation.
The Georgia quarter, the fourth quarter released under the 50 State Quarters® Program, is a real peach. The selected design incorporates several symbols associated with this traditional, yet very diverse southern state.
Just from studying the Georgia quarter design, one can learn a lot about the fourth state of the Union. The selected design prominently features the peach - a symbol long associated with the state - within the confines of a silhouetted outline of the state. Live Oak sprigs border the central design paying homage to the official state tree, the Live Oak. And if you ever need to know the Georgia state motto, simply look across the top of the design, where the words "Wisdom, Justice, Moderation," grace a hanging banner.
The selection process for the Georgia quarter was initiated when Georgia Governor Zell Miller tasked the Georgia Council for the Arts with the development and selection of the Georgia circulating quarter design. The Council responded by submitting five design concepts to the United States Mint. Of these five designs, four candidates were reviewed and recommended by the Citizens Commemorative Coin Advisory Committee and the Fine Arts Commission, and approved by the Secretary of the Treasury for use on the 1999 Georgia quarter. Upon receipt and careful review of the designs, Governor Miller selected the featured design.
Source: United States Mint's 50 State Quarters Program
---
50 State Quarters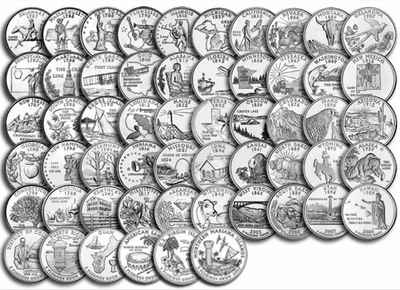 The 50 State Quarters program (Pub.L. 105-124, 111 Stat. 2534, enacted December 1, 1997) was the release of a series of circulating commemorative coins by the United States Mint. From 1999 through 2008, it featured each of the 50 U.S. states on unique designs for the reverse of the quarter.