Arkansas State Almanac: Facts and Figures
Quick Facts, Figures, and Overview of the State of Arkansas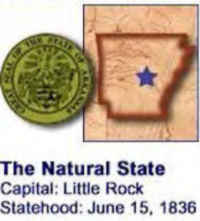 Arkansas is one of the West South Central states of the US. The name of the Arkansas name originated from the Quapaw indigenous tribes living in that area. Arkansas (AR) has common boundaries with six American states and they are Missouri, Tennessee, Louisiana, Mississippi, Texas, and Oklahoma. Group of Indians known as the Quapaws lived in what is now northern Arkansas. Indians of the Ohio Valley referred to the Quapaws as the Arkansas, or "South Wind," thus the origin of Arkansas name.
Arkansas is known as an agricultural state with diverse mineral resources, Arkansas by the 1990s had an economy that was dominated by mining and manufacturing. Tourism is promoted, especially by the mineral springs at Hot Springs National Park and resorts in the Ozark Mountains. Food products are the state's largest employing sector, with lumber and wood products a close second. Arkansas is also a leader in the production of cotton, rice, and soybeans. It also has the country's only active diamond mine; located near Murfreesboro, it is operated as a tourist attraction.
Official Name
Arkansas
Capital
Little Rock
Nicknames
The Natural State (Official) ...and more
Motto
Regnat Populus (The people rule)
Location
Region
34.72240 N, 092.35407 W
Southern
Southwestern
Constitution Ratified
1874
Statehood
June 15, 1836
25th State
Population
2,915,918 (2010)
51.34 sq. mi.
33rd
Largest City
(by population)
10 largest cities (2010): Little Rock, 193,524; Fort Smith, 86,209; Fayetteville, 73,580; Springdale, 69,797; Jonesboro, 67,263; North Little Rock, 62304; Conway, 58,908; Rogers, 55,964; Pine Bluff, 49,083; Bentonville, 35,301
Bordering States
North and North East: Missouri
East: Tennessee and Mississippi (Mississippi River forms virtually the entire Eastern boundary)
South: Louisiana
South West: Texas
West: Oklahoma
Major Industry
agriculture (chickens, soybeans, rice, cotton), paper and wood products (including furniture), electronic equipment, mining (aluminum and diamonds)
Major Rivers
Arkansas River, Mississippi River
Major Lakes
Lake Ouachita, Bull Shoals Lake
Arkansas Counties
75 Counties in Arkansas
Largest County
(by population)
Pulaski County
366,463 (2005)
843 sq. mi.
Largest County
(by area)
Union County
1,039 sq. mi.
State parks
51
Presidential Birthplace
William Jefferson Clinton was born in Hope on August 19, 1946 (he was the 42nd US President, serving from 1993 to 2001).
Electoral Votes
6
US Congress
2 Senators; 4 Representatives
Time Zone
Central Standard Time
Zip Codes
NANPA
State Quick Facts
Census Bureau Quick Facts
---
Arkansas Climate and Weather

The weather in Arkansas is mild and typically pleasant. No matter what time of year you plan on visiting Arkansas, you'll find The Natural State offering beautiful scenic views and plenty of opportunities for outdoor adventure. With four distinct, yet temperate, seasons, Arkansas is the perfect year-round vacation destination. Spring and fall are particularly mild with the most extreme temperatures occurring in late summer when days are hot and humid and during winter months when temperatures occasionally dip into the teens or below.

The Arkansas weather forecast often changes dramatically due to surrounding weather influences. When two or more weather systems merge, clouds form, temperature changes and precipitation often follows. Arkansas's central location allows weather systems from all directions to influence its climate.

Highest Temperature
120 degrees
Aug. 10, 1936 - Ozark
Lowest Temperature
-29 degrees
Feb. 13, 1905 - Pond
Avg. Temp:
High - Low
93.6 degrees
26.6 degrees

Arkansas Points of Interest

Numerous Civil War battlefields, Hot Springs National Park and Buffalo National River in the Ozarks are major state attractions, Crater of Diamonds State Park, Mammoth Spring State Park, the Ozark Mountains, Blanchard Springs Caverns, the Historic Arkansas Museum at Little Rock, the William J. Clinton Birthplace in Hope, and the Arkansas Folk Center in Mountain View, and the State Capital in Little Rock to name but a few. New in 2011 is the Crystal Bridges Museum for American Art, designed by Moshe Safdie, which houses the collection of Walmart heiress Alice Walton.

Arkansas Highest, Lowest, and Mean Elevations (Feet)

Mean Elevation: 650 feet
Highest Point: Magazine Mountain: 2,753 feet

At 2,753 feet, Mount Magazine is Arkansas's highest mountain. Signal Hill and the Greenfield and East End picnic areas are near the summit of this plateau-like mountain. From Cameron Bluff, the trail winds down the mountain to a broad bench where virgin oak, gum and ash are found. This trail is listed in both the day and overnight hiking sections due to the versatility offered by the variety of access points, distances, and terrain. This is truly a unique mountain setting, offering some of the most expansive views in Arkansas.

Lowest Point:
Ouachita River
55 feet

Arkansas Land Area (Square Miles)

Geographic Center
In Pulaski County, 12 mi. SW of Little Rock
Longitude: 92° 18.1'W
Latitude: 34°48.9'N
Total Area
53,178.62 sq. mi.
29th
Land Area
52,068.17 sq. mi.
97.92%
Water Area
1,110.45 sq. mi.
2.08%
Forested Land Area
56.4%
Dimensions
(Length - Width)
260 miles - 240 miles
Source:(US Census, April 1, 2000)
County Information and County History
Arkansas, Ashley, Baxter, Benton, Boone, Bradley, Calhoun, Carroll, Chicot, Clark, Clay, Cleburne, Cleveland, Columbia, Conway, Craighead, Crawford, Crittenden, Cross, Dallas, Desha, Drew, Faulkner, Franklin, Fulton, Garland, Grant, Greene, Hempstead, Hot Spring, Howard, Independence, Izard, Jackson, Jefferson, Johnson, Lafayette, Lawrence, Lee, Lincoln, Little River, Logan, Lonoke, Madison, Marion, Miller, Mississippi, Monroe, Montgomery, Nevada, Newton, Ouachita, Perry, Phillips, Pike, Poinsett, Polk, Pope, Prairie, Pulaski, Randolph, Saline, Scott, Searcy, Sebastian, Sevier, Sharp, St. Francis, Stone, Union, Van Buren, Washington, White, Woodruff, Yell
Almanac Online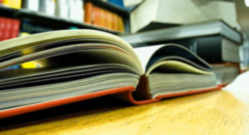 Information on people & places that make US a great place to live, visit, or study.