Massachusetts State Colors
Blue, Green, and Cranberry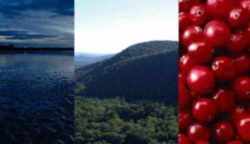 Adopted on February 21, 2005
On February 21, 2005, blue, green, and cranberry became the official colors of the Commonwealth.
The official colors of Massachusetts are blue, green, and cranberry. Cranberry is also the official state berry, and cranberry juice is the official state beverage.
Massachusetts has three official state colors thanks to a third grade civics project in Milford back in 2000. Five years later, on February 21, 2005, then-Governor Mitt Romney signed the bill making blue, green, and cranberry the official colors of the Commonwealth. A 2004 Milford Daily News article sheds some light on how those colors were chosen.

"The class debated which colors would be most appropriate, choosing from colors of historical significance. They nixed black, symbolizing the Salem witchcraft trials. It wasn't positive enough.

Instead, they chose cranberry because Massachusetts once produced 70 percent of the world's crop of the fruit, Marceau said. They picked blue "for Cape Cod Bay that the Pilgrims sailed over."And they chose green to match the color of the Connecticut River Valley and the Berkshire mountains".
Massachusetts Law
The law designating blue, green and cranberry as the official Massachusetts state colors is found in the General Laws of Massachusetts, Part 1, Title 1, Chapter 2, Section 53
PART I ADMINISTRATION OF THE GOVERNMENT
TITLE I JURISDICTION AND EMBLEMS OF THE COMMONWEALTH, THE GENERAL COURT, STATUTES AND PUBLIC DOCUMENTS

CHAPTER 2. ARMS, GREAT SEAL AND OTHER EMBLEMS OF THE COMMONWEALTH
Section 53 Colors of commonwealth
Section 53. Blue, green and cranberry shall be the official colors of the commonwealth.

---