Massachusetts State Blues Artist
Henry St. Clair Fredericks, better known as Taj Mahal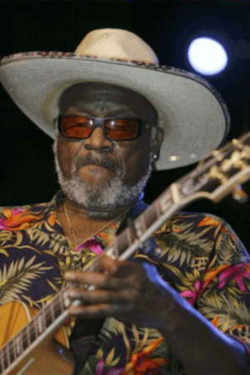 Adopted on February 8, 2006
On February 8, 2006, musician Henry St. Clair Fredericks, better known as Taj Mahal, was approved as the official blues artist of the Commonwealth.
Henry Saint Clair Fredericks (born May 17, 1942), who uses the stage name Taj Mahal, is an American Grammy Award-winning blues musician. He often incorporates elements of world music into his works. A self-taught singer-songwriter and film composer who plays the guitar, piano, banjo and harmonica (among many other instruments), Mahal has done much to reshape the definition and scope of blues music over the course of his almost 50-year career by fusing it with nontraditional forms, including sounds from the Caribbean, Africa and the South Pacific.
Taj Mahal was born in Harlem, New York, on May 17, 1942, and established a career as one of the world's premier blues artists. He's explored many genres from regions around the world, including the West Indies, India and Latin America, and recorded scores of albums, including Giant Step, Music Keeps Me Together and Hanapepe Dream. A Grammy Award winner, Mahal celebrated 40 years in the biz with Maestro.
Background

Blues/world music artist Taj Mahal was born Henry Saint Clair Fredericks in Harlem, New York, on May 17, 1942, to a musical family; his father was a jazz pianist/composer and his mother was a singer and teacher. The family moved to Springfield, Massachusetts during Fredericks's youth, and he grew up in a rich, diverse cultural environment. A singer, he went on to learn a variety of instruments, including the piano, clarinet and harmonica, taking up the guitar and bass as well and learning blues styles.
Debut Album

He earned a degree from the University of Massachusetts in 1964, focusing on agriculture, and worked with bands, including the Rising Sons with Ry Cooder. Fredericks took on the performance name Taj Mahal after the moniker came to him in a dream, and he made his solo debut in 1968 with an album of the same name. The Natch'l Blues (1968) and Giant Step (1969) soon followed.

Massachusetts Law
The law designating the musician, Henry St. Clair Fredericks, better known as Taj Mahal, as the official Massachusetts state blues artist is found in the General Laws of Massachusetts, Part 1, Title 1, Chapter 2, Section 54.
PART I ADMINISTRATION OF THE GOVERNMENT

TITLE I JURISDICTION AND EMBLEMS OF THE COMMONWEALTH, THE GENERAL COURT, STATUTES AND PUBLIC DOCUMENTS

CHAPTER 2 ARMS, GREAT SEAL AND OTHER EMBLEMS OF THE COMMONWEALTH

Section 54 Blues artist of commonwealth

Section 54. The musician, Henry St. Clair Fredericks, better known as Taj Mahal, shall be the official Blues Artist of the cBlues artistommonwealth.
---