Mississippi Famous People
Famous Americans: History and Biographies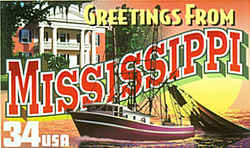 Links to histories and biographies of the famous people of Mississippi. Many famous people of Mississippi have made significant contributions to the history of our nation and the state of Mississippi. These famous Americans, famous entertainers, famous players, famous scientist, famous singers, famous statesmen, famous women, heroes, great explorers, and others Mississippi famous Americans have all made Mississippi their home. This list includes Mississippi historical figures, celebrities and those individuals of Mississippi who have influenced the lives of others.
Jimmy Buffett (1946 - ) Singer, songwriter; born in Pascagoula.
Bo Diddley (1928 - ) Guitarist; born in McComb.
William Cuthbert Faulkner (1897 - 1962)Author, famous for works such as The Sound in the Fury and Go Down, Moses; born in New Albany.
Elizabeth Lee Hazen (1885 - 1975) Inventor, developed the world's first useful antifungal antibiotic, nystatin.
Jim Henson Born in Greenville, Mississippi, Jim Henson began playing with puppets early in his life. His first televised puppet show came in 1954. In 1957, he made an appearance on the Tonight Show and first introduced Kermit the Frog. His biggest break came in 1969, when Public Broadcasting asked him to do the puppets for a new children's show named Sesame Street. He later created the Muppet Show, which allowed his puppets to appear to a more adult audience, as well as making a number of movies.
Faith Hill (1967 - ) Famous singer; grew up in Star.
B. B. King (1925 - ) Guitarist, often called the King of the Blues; born in Indianola.
James Earl Jones (1931 - ) Born Todd Jones in 1931 in Arkabutla, Mississppi, but moved to Michigan as a young boy and was raised by his mother's parents. Best known for his incredible voice, he had a stutter as a child, and took acting lessons to help overcome it. Although he has acted in several movies, it is as the voices of Darth Vader in Star Wars and as Mustapha in The Lion King that he may be best recognized.
Elvis Presley (1935 - 1977) Popular rock-and-roll singer; born in East Tupelo.
Jerry Rice (1962 - ) Football player, considered the greatest wide receiver ever to play in the NFL; born and raised in Crawford.
Hiram R. Revels (1822 - 1901) Clergyman, first African American to sit in the US Senate (1870 - 1871).
Sela Ann Ward (born July 11, 1956) is an American actress, author, producer and spokesperson, perhaps best known for her television roles as Teddy Reed on the American TV series Sisters (1991-96) and as Lily Manning on Once and Again (1999-2002). She had a recurring role in the Fox medical drama House as Stacy Warner (2005-2006: 2012). She starred in the CBS police drama CSI: NY as Jo Danville (2010-2013).Ward was born in Meridian, Mississippi to Annie Kate (née Boswell), a housewife who died of ovarian cancer on February 12, 2002, and Granberry Holland "G.H." Ward, Jr., an electrical engineer who died on January 13, 2009
Tennessee Williams (1911 - 1983) Born in Columbus, Mississippi, Thomas L. "Tennessee" Williams became of America's best known playwrights, famous for his Cat on a Hot Tin Roof, and The Glass Menagerie.
Oprah Winfrey (1954 - ) Born in Kosciusko, Mississippi, Oprah Winfrey was raised on a Mississippi farm by her grandmother. By the age of 19, she had her first job as a reporter for a radio station in Nashville, and then moved on to television in Baltimore. She is best known for her Oprah Winfrey Show, which began in 1986. Today she continues her television show, and also publishes a magazine, and heads numerous philanthropic and civic activities.
---
More Famous People of Mississippi
Find more more Mississippi famous people below. You may not even realize many of these famous people were born in Mississippi or notable associated with Mississippi, including actors, actresses, explorers, historical figures, inventors, musicians, novelists, professional athletes, important politicians, singers, sport stars and more.
Red Barber sportscaster, Columbus
Lance Bass singer, Laurel
Theodore Bilbo public official, Poplarville
Craig Claiborne columnist, restaurant critic, Sunflower
Brett Farve football, Kiln
William Cuthbert Faulkner author, New Albany
Shelby Foote historian, Greenville
Richard Ford author, Jackson
Barry Hannah author, Clinton
Beth Henley playwright, actress, Jackson
B. B. King guitarist, Itta Bena
Willie Morris writer, Jackson
Brandy Norwood singer,actress, McComb
Walter Payton football player, Columbia
Charley Pride country singer, Sledge
Leontyne Price soprano, Laurel
William Raspberry columnist, Oklaona
Jerry Rice football player, Starkville
LeAnn Rimes country music, Jackson
William Grant Still composer, Woodville
Conway Twitty country music, Friars Point
Muddy Waters singer, guitarist, Rolling Fork
Eudora Welty author, Jackson
Richard Wright author, Natchez
Tammy Wynette country music star, Tupelo