Mississippi 50 State Quarter
50 State Quarter of Mississippi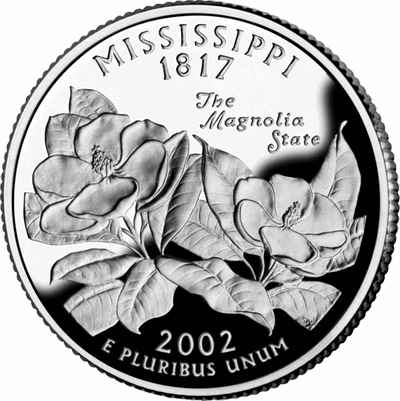 Designed by Donna Weaver
Released October 15, 2002
Mississippi is a southern US state with the Mississippi River to its west, Alabama to its east and the Gulf of Mexico to the south. Its Mississippi Delta region is considered the birthplace of blues music. The state is heavily forested outside of the Mississippi Delta area. On December 10, 1817, Mississippi was admitted as the 20th state. Territory by Act of April 7, 1798, effective May 7, 1798
Mintage: 579,600,000
The Mississippi quarter, the fifth and last quarter of 2002 and 20th in the series The 50 State Quarter of Mississippi was released on October 15, 2002, featuring two magnolias, the state flower. Although they are not native to North America, magnolias have become a powerful symbol of the southern United States and are a particular favorite of Mississippians. Inscription: The Magnolia State.
The Mississippi quarter, the fifth and last quarter of 2002 and 20th in the series, showcases the beauty and elegance of the state flower, combining the blossoms and leaves of two magnolias with the inscription "The Magnolia State."
Although there are several varieties of magnolia found throughout the world, it is the southern magnolia, or Magnolia grandiflora, that is native to the southeastern United States. Boasting large, showy white flowers as big as 15 inches across, they are named for the famed 18th century French botanist Pierre Magnol. Mississippi adopted it as the state flower in 1952.
In 1900, when Mississippi schoolchildren were asked to vote for a state flower, they selected the magnolia over a group that included cape jasmine, yellow jasmine and cotton. The selection remained unofficial, however, as the legislature did not act on the result. A similar election for state tree in 1935 gave the magnolia a landslide victory, one that was made official on April 1, 1938. On February 26, 1952, the Mississippi legislature finally adopted the magnolia as the state flower, opposed by only one vote.
In response to the United States Mint's request for design concepts for the Mississippi quarter, Governor Ronnie Musgrove submitted three concepts on June 22, 2000, a Magnolia flower with a branch, a Mockingbird and "Mississippi - The Magnolia State."
he United States Mint provided Governor Musgrove with three candidate designs from which he chose "The Magnolia State" on July 3, 2001. .
Source: United States Mint's 50 State Quarters Program
---
50 State Quarters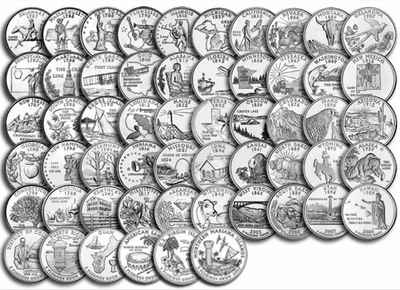 The 50 State Quarters program (Pub.L. 105-124, 111 Stat. 2534, enacted December 1, 1997) was the release of a series of circulating commemorative coins by the United States Mint. From 1999 through 2008, it featured each of the 50 U.S. states on unique designs for the reverse of the quarter.