Mississippi State Automobile Museum
The Tupelo Auto Museum, Inc.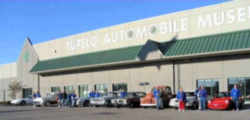 Adopted on July 1, 2003.
The Tupelo Automobile Museum opened on December 7, 2002 and was designated the official State of Mississippi automobile museum in the spring of 2003.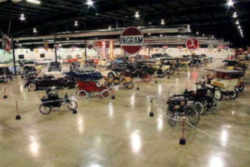 Establishing the Tupelo Automobile Museum was a 28 year process. It began when founder Frank Spain acquired his first antique car in 1974. Spain and his good friend, museum curator, Max Berryhill, spent the next many years researching, finding and acquiring the 150 rare automobiles in the collection. Cars were gathered from all over North America and Europe.

Until the late 1990's the vehicles were stored at various locations throughout the United States. Spain and Berryhill desired to develop a museum so the public could enjoy and learn from the collection. Spain's hometown of Tupelo, Mississippi rallied support for the museum. With the help of the Tupelo Convention and Visitors Bureau and Tupelo Mayor Larry Otis, placing the museum in Tupelo became a reality.
Featuring 120,000 square feet of automobile displays and open viewing restoration bays. Over 100 antique, classic and collectible automobiles, chronologically displayed, illustrate the progress of over 100 years of automobile design and engineering. Your self-guided tour begins with an 1886 Benz, representing the birth of the automobile, and culminates with a never-driven 1994 Dodge Viper. The collection, valued at over $6 million, includes a rare Tucker, a Lincoln previously owned by Elvis Presley, other movie and celebrity vehicles, Hispano Suizas, a Duesenberg and many more rare brands and American favorites. Automobiles currently under restoration will be added to the display area as they are completed.
Directions:
Located ½ block off Hwy. 45, Main Street Exit
Adjacent to Bancorp South Center on Otis Blvd.,Tupelo, Mississippi
Telephone: 662-842-4242
Hours
OPEN TUESDAYS-SUNDAYS, 10am - 6pm
Closed Mondays, Christmas
Admission Fees:
$10.00 Adult
$8.00 for AAA members and Seniors
$7.50 Group discount for 10 or more people
$5 Children ages 5-12
Free Children 4 and under
Mississippi Law
The law designating the Tupelo Auto Museum, Inc. as the official Mississippi state automobile museum is found in the Mississippi Code, Title 3, Chapter 3, Section 3-3-47.
As Amended
SEC. 3-3-47. State Automobile Museum.
The Tupelo Auto Museum, Inc., is designated as the state automobile museum.
SOURCES: Laws, 2003, ch. 362, § 1, HB 1158, eff from and after July 1, 2003.
---