Mississippi State Wildflower
Coreopsis, Calliopsis, and Tickseed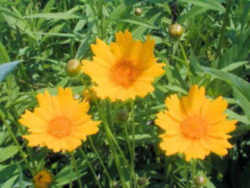 (Coreopsis sp.)
Adopted in 1991.
The Mississippi State Wildflower is Coreopsis, Calliopsis, and Tickseed, Coreopsis sp., adopted in 1991. Twenty-eight species of coreopsis are native to North America and the others come from Central and South America. Coreopsis ranges in color from golden to pink
The name Coreopsis is derived from the Greek word.
Prized for its dependable nature and colorful, daisylike flowers, coreopsis has a long bloom period and is generally troublefree and easy to grow. Another common name is tickseed.
STATE WILDFLOWER INITIATIVE.

The Clarion Ledger, June 20 (1990), described the efforts of Halla Jo Ellis and the Garden Clubs of Mississippi to establish an wildflower for the state. Coreopsis sp. has been chosen, based on a consensus of opinion, including MNPS members. The next step is getting legislators to draft and sponsor a bill in January for action in the 1991 session. Keep up the good work, Halla Jo! [sic] From MNPS Newsletter Aug. 1990
COREOPSIS SP. NAMED AS THE OFFICIAL STATE WILDFLOWER.

MNPS Newsletter, May 1991

Thanks to the tireless efforts of Halla Jo Ellis and the legislators she worked with, "Coreopsis sp." is the official State Wildflowers of Mississippi. The bill takes effect July I, 1991. See the May 1990 issue for a list of the "sp" that it entails, or drop me a note for a copy of the list. The May 1990 article referenced appears on Page 3 of this MNP&EE.

In these articles sp. was used where spp. was intended. However, Vic Rudis, editor, described the sentiment, "My opinion is that selection of a genus, rather than a species gives people wider latitude in finding suitable habitats for planting the State's wildflower. A genus - rather than a species - with wide tolerance for a variety of habitats would help State agencies create the "theme" while reducing monotony in planting design." May 1990. So, Coreopsis, spp. is correct!
Common Names:
Coreopsis, Calliopsis, and Tickseed
Characteristics of the Coreopsis, Calliopsis, and Tickseed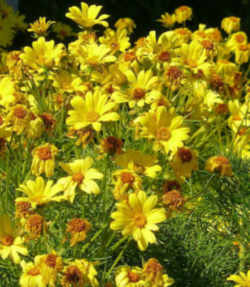 Coreopsis spp. is a clump forming type of perennial (and sometimes grown as an annual) that produces single flower heads that are daisy-like and either single or double. This perennial flowers from late spring to mid summer and generally stops flowering when the summer heat hits. The mounds of flowers are from 12 to 24 inches in height and the same in width. This plant also flowers best in full sun however, if you provide some afternoon shade (the hottest part of the day) may help to extend the flowering period into the hotter months. Coreopsis grandiflora 'Early Sunrise' produces semi-double, deep yellow flowers that flush to orange-yellow near the center. They grow to a height of 18 inches tall.
Location
Native to southeastern United States. Found in sunny situations in meadows and at the roadside.
Culture
Exposure: Needs medium to full sun.
Water Requirements: Tolerates dry conditions and ordinary soil. Will also grow in shallow or chalky soils.
Hardiness: USDA Zones 5-10. Hardy.
Propagation: Propagate from seed and division of old clumps in spring. Sow seed in fall in mild regions or spring where plants are to flower.
Mississippi Law
The law designating Coreopsis sp. as the official Mississippi state wildflower is found in the Mississippi Code, Title 3, Chapter 3, Section 3-3-14.
TITLE 3. STATE SOVEREIGNTY, JURISTICTION AND HOLIDAYS.
CHAPTER 3. STATE BOUNDARIES, HOLIDAYS, AND STATE EMBLEMS.
SEC. 3-3-14

SEC. 3-3-14. State wildflower.

The Coreopsis sp. is hereby designated as the state wildflower of Mississippi.

SOURCES: Laws, 1991, ch. 339, Sec. 1, eff from and after July 1, 1991.
Taxonomic Hierarchy: Coreopsis sp.
Kingdom: Plantae – Plants
Subkingdom: Tracheobionta – Vascular plants
Superdivision: Spermatophyta – Seed plants
Division: Magnoliophyta – Flowering plants
Class: Magnoliopsida – Dicotyledons
Subclass: Asteridae
Order: Asterales
Family: Asteraceae ⁄ Compositae – Aster family
Genus: Coreopsis L. – tickseed
---
State Flowers
State Floral Emblems