Mississippi State Toy
Teddy Bear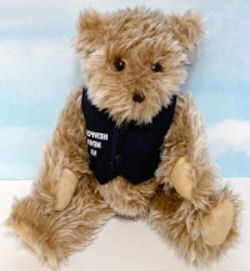 Adopted on July 1, 2002.
House Bill 951 made the teddy bear Mississippi's official state toy. On July 1, 2002, the teddy bear was named in honor of the president. Roosevelt's hunting expedition in Mississippi will join ranks with other official state symbols, Rep. Steve Holland, (D) Plantersville, filed the bear bill at the request of constituent, Sarah Doxey Tate of Tupelo.
Governor Musgrove signed the bill March 22, 2002.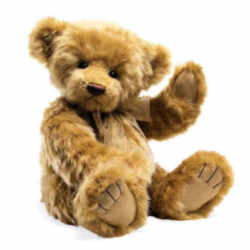 The event which led to the creation of the Teddy Bear occurred near Onward, in 1902, when President Theodore Roosevelt, acting upon the suggestion of some friends, visited the state on a hunt for wild game. A bear was located by a member of the hunting party for the President. The bear was exhausted and possibly lame, some claim it was a mere cub. In any case, Roosevelt refused to shoot the helpless bear because he found it unsporting. News of the President's refusal to shoot the bear spread far and wide. Soon after, Morris Michtom, a New York merchant, made toy history when he created a stuffed toy bear and labeled it "Teddy's Bear. " Mr. Michtom placed the bear in the window of his candy store to draw attention. His success was so great that it led to the formation of the Ideal Toy Corporation in 1903. The Teddy Bear continues to be a favorite toy of children everywhere.
Mississippi Law
The law designating the Teddy Bear as the official Mississippi state toy is found in the Mississippi Code, Title 3, Chapter 3, Section 3-3-43.
TITLE 3. STATE SOVEREIGNTY, JURISDICTION AND HOLIDAYS
CHAPTER 3. STATE BOUNDARIES, HOLIDAYS, AND STATE EMBLEMS

SEC. 3-3-43. State toy.

The Teddy Bear is designated the state toy of Mississippi, in recognition of the Mississippi connection to the origin of the Teddy Bear. The connection is that on November 14, 1902, during a hunting expedition led by distinguished Mississippian Holt Collier in Smedes, Mississippi, President Theodore Roosevelt refused to shoot a small, exhausted black bear. The shot not fired at a baby bear in the Mississippi Delta became a great credit to the heroic and sportsmanlike conduct of President Roosevelt, and because of the President's journey to Mississippi, the stuffed bear toy was appropriately named the "Teddy Bear," a positive symbol of love, comfort and joy for children of all ages.

SOURCES: Laws, 2002, ch. 466, § 1, HB 951; Laws, 2003, ch. 361, § 1, HB 834, eff from and after passage (approved Mar. 13, 2003).

Previous Version
MISSISSIPPI CODE OF 1972
As Amended
SEC. 3-3-43. State toy.
The Teddy Bear is designated the state toy of Mississippi.
SOURCES: Laws, 2002, ch. 466, § 1, HB 951, eff from and after July 1, 2002.
---