Mississippi Coat of Arms
State Coat of Arms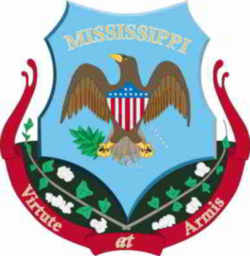 Adopted on February 7, 2001.
On February 7, 2001, Governor Ronnie Musgrove signed into law Senate Bill No. 2285 designating the above design as the official Mississippi Coat of Arms: "... a shield, blue in color, with an eagle upon it with extended pinions, holding in the right talon a palm branch and bundle of arrows in the left, with the word "Mississippi" above the eagle; the lettering on the shield and the eagle to be in gold; below the shield two (2) branches of the cotton stalk, saltier wise, and a scroll below extending upward and on each side three-fourths (3/4) of the length of the shield; upon the scroll, which is to be red, the motto to be printed in gold letters upon white spaces, the motto to be "Virtute et Armis"; this being the same Coat-of-Arms adopted by the Legislature in Chapter 37, Laws of the Extraordinary Session of 1894."
This design was declared the official state Coat of Arms by the 1894 Legislature, but the original law was not brought forward in the 1906 revision of the Mississippi Code. The Mississippi Supreme Court ruled in May 2000 that Mississippi did not have an official Coat-of- Arms. A 17-member commission appointed by Governor Ronnie Musgrove to study the issue recommended to the Legislature the re-adoption of the Coat-of-Arms.
Historical coats of arms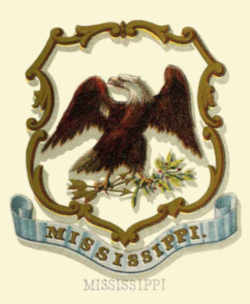 Historical coats of arms of the U.S. states date back to the admission of the first states to the Union. Despite the widely accepted practice of determining early statehood from the date of ratification of the United States Constitution, many of the original colonies referred to themselves as states shortly after the Declaration of Independence was signed on 4 July 1776. Several of the earliest adopted state coats of arms and seals were similar or identical to their colonial counterparts.
Mississippi Law
The law designating the official Mississippi state coat of arms is found in the Mississippi Code, Title 3, Chapter 3, Section 3-3-41.
SEC. 3-3-41. Mississippi coat of arms.

(1) The Mississippi Coat-of-Arms shall have the following design: a shield, blue in color, with an eagle upon it with extended pinions, holding in the right talon a palm branch and bundle of arrows in the left, with the word "Mississippi" above the eagle; the lettering on the shield and the eagle to be in gold; below the shield two (2) branches of the cotton stalk, saltier wise, and a scroll below extending upward and on each side three-fourths (3/4) of the length of the shield; upon the scroll, which is to be red, the motto to be printed in gold letters upon white spaces, the motto to be "Virtute et Armis"; this being the same Coat-of-Arms adopted by the Legislature in Chapter 37, Laws of the Extraordinary Session of 1894.

(2) The Governor of the State is authorized and empowered to procure a steel plate and one (1) metal electrotype plate for printing and engraving the Coat-of-Arms, which plates shall be preserved in the Office of the Secretary of State.

SOURCES: Laws, 2001, ch. 303, Sec. 1, SB2285, eff from and after passage (approved February 7, 2001.)
---