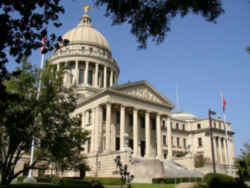 State Facts - History Firsts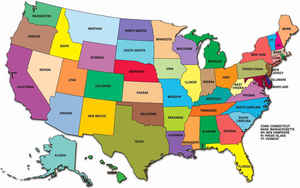 Mississippi State Facts - Mississippi History Firsts
Catch up on your state trivia with these Mississippi history firsts and interesting fun facts about the state.
Official Name
Mississippi
Capital
Jackson
Location
Region
32.32050 N, 090.20759 W
South
Constitution Ratified
1890
Statehood
December 10, 1817
20th state
Number of Counties
82 Counties in Mississippi
Largest County
(by population)
Hinds County
250,800
569 sq. mi.
1716 - Natchez was settled by the French in 1716 and is the oldest permanent settlement on the Mississippi River. Natchez once had 500 millionaires, more than any other city except New York City.
1798 -

Hernando de Soto, a Spanish explorer, discovered the Mississippi River in 1540. Spain did not relinquish its claims on the Mississippi region until 1798.
Adopted the Mississippi State Great Seal

1800 - Mississippi's warm climate and rich soil proved ideal for growing cotton, which became the main economic crop before 1800 and remained important until the 20th century.
1802 - Historic Jefferson College, circa 1802, was the first preparatory school established in the Mississippi Territory. Located in Washington the educational institution is also the site where tradition holds Aaron Burr was arraigned for treason in 1807, beneath what became known as Burr Oaks.
1834 - Captain Isaac Ross, whose plantation was in Lorman, freed his slaves and arranged for them to be sent to Africa, where they founded the country of Liberia. Recently, representatives of Liberia visited Lorman and placed a stone at the Captain's gravesite in honor of his kindness
1860 - The nation's first levee system was built along the Mississippi side of the Mississippi River in 1860 and stretched for 300 miles.
1866 - Friendship Cemetery in Columbus has been called Where Flowers Healed a Nation. It was April 25, 1866, and the Civil War had been over for a year when the ladies of Columbus decided to decorate both Confederate and Union soldiers' graves with beautiful bouquets and garlands of flowers. As a direct result of this kind gesture, Americans celebrate what has come to be called Memorial Day each year, an annual observance of recognition of war dead.
1871 - Liberty became the first town in the United States to erect a Confederate monument.
1884 - The concept of selling shoes in boxes in pairs (right foot and left foot) occurred in Vicksburg at Phil Gilbert's Shoe Parlor on Washington Street.
1894 - Adopted the Mississippi State Flag
1898 - Root beer was invented in Biloxi by Edward Adolf Barq, Sr.
1902 - While on a hunting expedition in Sharkey County, President Theodore (Teddy) Roosevelt refused to shoot a captured bear. This act resulted in the creation of the world-famous teddy bear.
1914 - The first female rural mail carrier in the United States was Mrs. Mamie Thomas. She delivered mail by buggy to the area southeast of Vicksburg.
1919-1920 - Mississippi was the first state to ratify the 18th Amendment to the United States Constitution, issuing in the era of Prohibition in 1919-1920
1928 - H.T. Merrill from Luka performed the world's first round trip trans-oceanic flight.
1929 -

Guy Bush of Tupelo was one of the most valuable players with the Chicago Cubs. He was on the 1929 World Series team and Babe Ruth hit his last home run off a ball pitched by Bush.
Pine Sol was invented in 1929 by Jackson native Harry A. Cole, Sr.

1935 - Elvis Presley was born in Tupelo, on January 8, 1935.
1938 - Magnolia was adopted as Mississippi State Tree
1944 - Mockingbird was adopted as Mississippi State Bird
1952 - Magnolia was adopted as Mississippi State Flower
1962 - "Go, Mississippi State," words and music by William Houston Davis was adopted as Mississippi State Song
1963 -

University of Mississippi Medical Center accomplished the world's first human lung transplant and, on January 23, 1964, Dr. James D. Hardy performed the world's first heart transplant surgery.
In June 1963 Medgar Evers, state field secretary for the National Association for the Advancement of Colored People (NAACP), was shot dead in front of his Jackson home.

1974 -
1976 - Petrified Wood was adopted as Mississippi State Stone
1980 - Honeybee was adopted as Mississippi State Insect
1981 - Prehistoric Whale was adopted as Mississippi State Fossil
1984 - Milk was adopted as Mississippi State Beverage
1987 - English was adopted as Mississippi State Language
1991 -
1993 - Grand Opera House of Meridian was adopted as Mississippi State Grand Opera House
1995 - Square Dance was adopted as Mississippi State American Folk Dance
1997 - Red Fox was adopted as Mississippi State Land Mammal
2002 - Teddy Bear was adopted as Mississippi State Toy
2003 -
2004 - The Mississippi State Industrial Heritage Museum, Inc. was adopted as Mississippi State Historical Industrial Museum
2005 - American Alligator was adopted as Mississippi State Reptile
---
More Mississippi History Firsts & State Facts
First nuclear submarine built in the south was produced in Mississippi.
Mississippi River is the largest in the United States and is the nation's chief waterway. Nickname is Old Man River.
Mississippi has a larger percentage of black residents than any other state.
Although cotton is the most important crop in Mississippi, corn, peanuts, pecans, rice, sugar cane, sweet potatoes, soybeans, food grains, poultry, eggs, meat animals, dairy products, feed crops and horticultural crops are all important to the state's economy.
Nearly 60% of Mississippi is covered by forests, and more than 100 species of trees are found in the state.
Borden's Condensed Milk was first canned in Liberty.
World's largest shrimp is on display at the Old Spanish Fort Museum in Pascagoula.
First bottle of Dr. Tichener's Antiseptic was produced in Liberty.
World's largest cactus plantation is in Edwards.
William Grant Still of Woodville composed the Afro-American Symphony.
Burnita Shelton Mathews of Hazelhurst was the first woman federal judge in the United States and served in Washington, the District of Columbia.
Dr. Emmette F. Izard of Hazelhurst developed the first fibers of rayon. They became known as the first real synthetics.
First state in the nation to have a planned system of junior colleges.
Leontyne Price of Laurel performed with the New York Metropolitan Opera.
Mississippi is the birthplace of the Order of the Eastern Star.
The rarest of North American cranes lives in Mississippi in the grassy savannas of Jackson County. The Mississippi Sandhill Crane stands about 44 inches tall and has an eight-foot wingspan.
S.B. Sam Vick of Oakland played for the New York Yankees and the Boston Red Sox. He was the only man ever to pinch hit for the baseball great Babe Ruth.
Blazon-Flexible Flyer, Inc. in West Point is proclaimed to make the very best snow sled in the United States, which became an American tradition. It is called The Flexible Flyer.
Largest Bible-binding plant in the nation is Norris Bookbinding Company in Greenwood.
After the Civil War, famed hat maker John B. Stetson learned and practiced his trade at Dunn's Falls near Meridian.
World's largest cottonwood tree plantation is in Issaquena County.
David Harrison of Columbus owns the patent on the Soft Toilet Seat. Over 1,000,000 are sold every year.
First football player on a Wheaties box was Walter Payton of Columbia.
Greenwood is the home of Cotton Row, which is the second largest cotton exchange in the nation and is on the National Register of Historic Places.
Oldest game in America is stickball. The Choctaw Indians of Mississippi played the game. Demonstrations can be seen every July at the Choctaw Indian Fair in Philadelphia.
International Checkers Hall of Fame is in Petal.
Natchez now has more than 500 buildings that are on the National Register of Historic Places.
Natchez Trace Parkway, named an All American Road by the federal government, extends from Natchez to just south of Nashville, Tennessee. The Trace began as an Indian trail more than 8,000 years ago.
Vicksburg National Cemetery is the second largest national cemetery in the country. Arlington National Cemetery is the largest.
D'Lo was featured in "Life Magazine" for sending proportionally more men to serve in World War II than any other town of its size. 38 percent of the men who lived in D'Lo served.
Mississippi suffered the largest percentage of people who died in the Civil War of any Confederate State. 78,000 Mississippians entered the Confederate military. By the end of the war 59,000 were either dead or wounded.
World's largest pecan nursery is in Lumberton.
Greenwood is called the Cotton Capital of the World.
Belzoni is called the Catfish Capital of the World.
Vardaman is called the Sweet Potato Capital of the World.
Greenville is called the Towboat Capital of the World.
Of Mississippi's 82 counties, Yazoo County is the largest and Alcorn County is the smallest.
At Vicksburg, the United States Army Corps of Engineers Waterways Experiment Station is the world's largest hydraulic research laboratory.
At Pascagoula the Ingalls Division of Litton Industries uses leading-edge construction techniques to build the United State Navy's most sophisticated ships. At the state's eight research centers programs are under way in acoustics, polymer science, electricity, microelectronics, hydrodynamics, and oceanography.
County Information and County History
Adams, Alcorn, Amite, Attala, Benton, Bolivar, Calhoun, Carroll, Chickasaw, Choctaw, Claiborne, Clarke, Clay, Coahoma, Copiah, Covington, DeSoto, Forrest, Franklin, George, Greene, Grenada, Hancock, Harrison, Hinds, Holmes, Humphreys, Issaquena, Itawamba, Jackson, Jasper, Jefferson, Jefferson Davis, Jones, Kemper, Lafayette, Lamar, Lauderdale, Lawrence, Leake, Lee, Leflore, Lincoln, Lowndes, Madison, Marion, Marshall, Monroe, Montgomery, Neshoba, Newton, Noxubee, Oktibbeha, Panola, Pearl River, Perry, Pike, Pontotoc, Prentiss, Quitman, Rankin, Scott, Sharkey, Simpson, Smith, Stone, Sunflower, Tallahatchie, Tate, Tippah, Tishomingo, Tunica, Union, Walthall, Warren, Washington, Wayne, Webster, Wilkinson, Winston, Yalobusha, Yazoo
State Facts & History Firsts