Mississippi State Grand Opera House
Grand Opera House of Meridian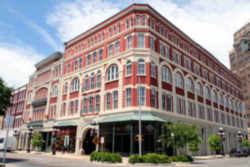 Adopted in 1993.
The Grand Opera House of Meridian was adopted in 1993 as Mississippi's State Grand Opera House.
Between 1890 and 1927 the Grand Opera House in Meridian, Mississippi, provided east Mississippi and west Alabama with varied entertainment, ranging from operas in a variety of languages to theatrical entertainment and minstrel shows. This long-closed opera house, with its High Victorian architectural style, re-opened in September 2006.
The Grand Opera House was the work of German-Jewish immigrants who settled in the city in the late 1800s when the railroads and the booming timber industry made Meridian a major commercial distribution center. Half brothers I. Marks and Levi Rothenberg opened a department store on Front Street adjacent to the railroad tracks. Prospering, they decided to operate an opera house for fun and profit, serving the thousands of traveling salesmen and other rail passengers spending the night in town.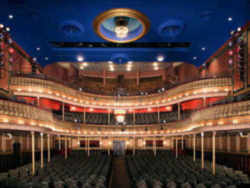 Meridian's envisioned arts education center will be developed in a core downtown block that includes two, historic retail buildings and a rare, second-story Grand Opera House. These properties will be restored and the interior spaces designed to provide arts opportunities for young people from kindergarten through college. Spaces will include classrooms, rehearsal halls, artists' studios and a restored opera house for stage presentations. Mississippi State University has assumed ownership of the property and is in the process of co-ordinating the restoration and ensuing programming.
Upon completion in fall 2006 and after a $25 million renovation, the new Riley Center for Education & Performing Arts will offer cultural arts, entertainment and educational programs, facilitate major conferences and meetings, and be a downtown center for social interaction and cultural enrichment.
Theatre - At the heart of the Riley Center is the renovation of the historic Grand Opera House.
1,000-seat opera house restored to its 1890's decor
State-of-the-art technical capabilities
Host to a variety of arts & entertainment programming that appeals to audiences of all ages, backgrounds and interests
A 250-seat multi-purpose studio theatre that can be used for a variety of local group events & smaller shows
A full-service computerized box office allowing patrons to walk in & purchase tickets at a service window, call in by phone or purchase tickets online
Conference Space - The Marks-Rothenberg Building, located adjacent to the theatre, will serve as a state-of-the-art meeting and conference facility.
30,000 sq ft of conference, exhibit, meeting & classroom spaces
Equipped with latest in audio-visual & conferencing capabilities
An audio & video recording studio space that will be the focal point for a broadcast degree program offered by Mississippi State University & Meridian Community College
Center's Impact - The Riley Center for Education & Performing Arts will truly be "The Center" for social interaction and community development for Meridian, Mississippi and the South.
Garnered national attention from Southern Accents magazine & The National Trust for Historic Preservation
Generate significant impact on downtown revitalization efforts & economic development for the Meridian area
Estimated to draw 40,000 to 60,000 people annually to Meridian
Total economic impact estimated in the region of $4.7 million a year & support 59 regional jobs
Mississippi Law
The law designating the Grand Opera House of Meridian as the official Mississippi state grand opera house is found in the Mississippi Code, Title 3, Chapter 3, Section 3-3-37.
SEC. 3-3-37. State Grand Opera House

The Grand Opera House of Meridian is designated the official State Grand Opera House of Mississippi.

SOURCES: Laws, 1993, ch. 313, Sec. 1, eff from and after passage (approved March 11, 1993).
---