Mississippi State Language
English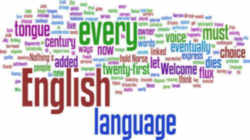 Adopted on July 1, 1987.
The English Language was adopted on July 1, 1987. It is the Mississippi State Language.
3.6 percent of this state's residents speak a language other than English. The most common of these languages are Spanish, French, German, and Choctaw. This state has the nation's highest proportion of speakers of Choctaw.
Although the portion of Mississippians who speak a language besides English in their homes has grown, the number who speak little or no English has fallen since 1990.
Mississippi Law
The law designating English as the official Mississippi state language is found in the Mississippi Code, Title 3, Chapter 3, Section 3-3-31.
TITLE 3. STATE SOVEREIGNTY, JURISDICTION AND HOLIDAYS
CHAPTER 3. STATE BOUNDARIES, HOLIDAYS, AND STATE EMBLEMS

SEC. 3-3-31. State language.
The English language is the official language of the State of Mississippi.

SOURCES: Laws, 1987, ch. 439, eff from and after July 1, 1987.
---