Mississippi State Motto
"Virtute et armis"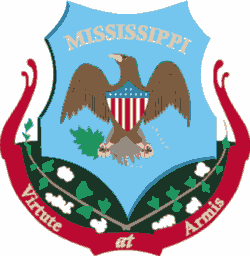 (By valor and arms)
Adopted in 1894.
Language: Latin
Mississippi's motto is not an official state motto, as such, but has been accepted as an element of the Mississippi coat of arms. Adopted in 1894.
Mississippi's State motto, Virtute Et Armis, meaning by valor and arms, may have been suggested by the motto of Lord Gray De Wilton, Virtute Non Armis Fido.
---
Mississippi State Coat of Arms
The committee to design a Coat of Arms was appointed by legislative action February 7, 1894, and the design proposed by that committee was accepted and became the official Coat of Arms. The committee recommended for the Coat of Arms a "Shield in color blue, with an eagle upon it with extended pinions, holding in the right talon a palm branch and a bundle of arrows in the left talon, with the word "Mississippi" above the eagle; the lettering on the shield and the eagle to be in gold; below the shield two branches of the cotton stalk, saltier-wise, as in submitted design, and a scroll below extending upward and one each side three-fourths of the length of the shield; upon the scroll, which is to be red, the motto be printed in gold letters upon white spaces, as in design accompanying, the motto to be --VIRTUTE et ARMIS."
Mississippi Law
The law designating the official Mississippi state motto is found in the Mississippi Code, Title 3, Chapter 3, Section 3-3-41
This statute describes the Mississippi coat of arms. The motto is specified within this description.
TITLE 3. STATE SOVEREIGNTY, JURISDICTION AND HOLIDAYS.
CHAPTER 3. STATE BOUNDARIES, HOLIDAYS, AND STATE EMBLEMS.

§ 3-3-41. Mississippi Coat of Arms.

(1) The Mississippi Coat-of-Arms shall have the following design: a shield, blue in color, with an eagle upon it with extended pinions, holding in the right talon a palm branch and bundle of arrows in the left, with the word "Mississippi" above the eagle; the lettering on the shield and the eagle to be in gold; below the shield two (2) branches of the cotton stalk, saltier wise, and a scroll below extending upward and on each side three-fourths (3/4) of the length of the shield; upon the scroll, which is to be red, the motto to be printed in gold letters upon white spaces, the motto to be "Virtute et Armis"; this being the same Coat-of-Arms adopted by the Legislature in Chapter 37, Laws of the Extraordinary Session of 1894.

(2) The Governor of the State is authorized and empowered to procure a steel plate and one (1) metal electrotype plate for printing and engraving the Coat-of-Arms, which plates shall be preserved in the Office of the Secretary of State.

Sources: Laws, 2001, ch. 303, § 1, eff from and after passage (approved Feb. 7, 2001.)