Virginia State Salt Water Fish
Striped Bass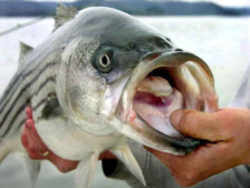 (Morone saxatilis)
Adopted on March 26, 2011 .
Meet your marine mascot: the striped bass (also known as the Chesapeake Bay rockfish). Virginia's House of Delegates voted overwhelmingly to bestow the distinction upon the beloved - and tasty - fish.
The vote was not without controversy, however. Delegate Jackson Miller came just two votes shy of amending the bill to make the menhaden the official fish.
The striped bass, (Morone saxatilis,) was adopted as Virginia State saltwater fish of Virginia in 2011. Striped bass are found seasonally in the tidal portion of the Hudson River and coastal waters around Long Island.
Also called bass, linesiders, stripers, and rockfish, striped bass are a prized recreational game fish. Striped bass have a life expectancy of at least 30 years and can grow to over 4 feet. It takes 5 to 8 years for a female to reach sexual maturity, and females tend to grow much larger than the males.
History of Adoption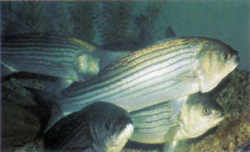 Michele Ferrel's fourth-grade students leapt from their seats and cheered when they heard the news: A bill passed Tuesday that names striped bass the state saltwater fish.

And word is that Gov. Bob McDonnell might visit Spratley Gifted Center to sign the bill into law right in front of them.

Sponsored by Sen. John Miller, D-Newport News, the bill re-designates the state fish, brook trout, as the state freshwater fish. It then names striped bass, also known as rockfish, the state saltwater fish.

The bill's passage through the General Assembly went swimmingly well, until a last-minute snag.

Del. Jackson Miller, R-Manassas, introduced an amendment to instead designate menhaden the state saltwater fish, saying it was more important commercially to Virginia. Menhaden are often used in fish oil, pet food and health supplements.

The amendment was killed in a narrow 49-48 vote, then the original bill was passed 80-16.

Ferrel said she was shocked when she found out about the delegate's plan to swap the state fish from striped bass to menhaden. She emailed him a plea Tuesday morning to leave the striped bass alone.

Student Kaylee Millard said she had never heard of menhaden - a small, oily fish - until then.
Unlike the striped bass, a game fish that is prized by sports fishermen and foodies alike, the menhaden has never been viewed as much more than aquatic fodder. Several species of fish eat them, including stripers. (Native Americans' name for menhaden was "munnawhatteaug" - a word meaning fertilizer, biologists say.)
Still, the fish supports an important industry in the commonwealth, with about 300 jobs alone in the Northern Neck, and several lawmakers waxed poetic about the oily fish.
"I maintain that the menhaden is much more important to the commowealth," Del. Miller said, noting that they are also used as bait to catch another important Chesapeake Bay creature, the blue crab. Del. Albert C. Pollard Jr. (D-Northumberland) reminded colleagues that menhaden helped save Jamestown after Indians taught the colonists how to catch and plant them.
"Sounds fishy to me," muttered Del. Todd Gilbert (R-Shenandoah) as the debate eddied around here and there. Del. Bill Janis (R-Goochland) threatened to submit another amendment that would change the state fish to "Sharky, the stuffed shark," a prop that made the rounds during the legislative debate over regulating predatory lending this year.
"I was like 'umm, what are those?'" Millard said Wednesday. "I was saying 'Go striped bass, go striped bass!'"

Fourth-grader Michael Bradley was happy the bill passed.

"I was rather excited, to tell you the truth," he said. "Because my class and I were putting a lot of effort into this."

In the past month, the 24 students in Ferrel's homeroom have written legislators, practiced speeches to give in Richmond, and traveled to the capitol twice to lobby for the bill - once by yellow school bus and once via the last-minute rental of a charter bus that cost $700.

John Miller said he planned to hand-deliver a letter to McDonnell's office Wednesday asking him to sign the bill into law in Ferrel's classroom at Spratley. The kids should have a chance to meet the governor, he said.

"Folks have invested a lot of money and time in this endeavor," Miller said.

"It's only fitting that the governor go down and sign the bill in that classroom to save them another trip to Richmond."
Characteristics of the Striped Bass.
Striped bass have a dark, olive-green to bluish-black back and silvery-white sides and belly. There are 7 to 8 black, unbroken, horizontal stripes along the side. Temperate basses have two dorsal fins (the first with usually nine spines and the second with one spine), three anal spines, a large mouth, ctenoid scales, thoracic pelvic fins, a large spine on the gill cover and a small gill on the underside of the gill cover. These fishes are pop
Common Names
The Striped Bass goes by many other names as well, such as:

Striper
Rock
Rockfish
Striped Sea Bass
Striper Bass
Linesider
Pajama Fish
Squid Hound
Greenhead
Typical Adult
20-30 inches, 3-10 pounds. Striped bass can live in excess of 30 years under good habitat conditions and light fishing pressure. Hence they have the potential to reach 48 inches and 60 - 100 lbs or better.
Habitat
Striped bass are an anadromous species of fish. Anadromous fish inhabits both fresh water and salt water, depending on the time of year. Striped bass live in the Atlantic and Pacific coastal waters and the Gulf of Mexico but enter freshwater streams to spawn. The preferred water temperature is 65-75°F. Striped bass are found seasonally in the tidal portion of the Hudson River and coastal waters around Long Island. Adult striped bass prefer water temperatures less than 75 degrees F and will often lose weight and suffer additional health problems when forced to live under warmer conditions. Their over riding selection for temperature can isolate them from prey and acceptable levels of oxygen. The striped bass is an anadromous species distributed along the Atlantic coast from northern Florida to the St. Lawrence estuary. It has been successfully introduced in numerous inland lakes and reservoirs and to the Pacific coast, where it now occurs from Ensenada, Mexico to British Columbia.
Feeding Behavior
The diet of striped bass consists mostly of soft-rayed fish. Preferred species in fresh water are threadfin shad, gizzard shad and blueback herring. Striped bass commonly herd schools of prey fish against the surface, where their frenzied feeding can splash water several feet in the air. The heaviest feeding times are at dawn and dusk.
Reproductive Behavior (Spawning)
Prior to spawning in early spring, striped bass migrate up rivers. Spawning occurs when water temperatures reach 60-70°F. Adults swim up tributary streams and spawn below dams or natural obstructions such as rock formations. The semi-buoyant eggs are released iin light to moderate current and fertilized by several males in a thrashing event known as a "fight". As many as 3,000,000 eggs may be released by one female. The eggs require a flow adequate to prevent their settling to the bottom during the incubation period of approximately 50 hours. During their first few days of life the larval fish are sustained by a yolk material while they continue to develop until they can feed on zoo plankton. Adults do not guard the eggs.
Code of Virginia, Title 1, Chapter 5, Section 1-510. Virginia symbols were re-organized under one section of the Code of Virginia in 2005.
CHAPTER 671
An Act to amend and reenact § 1-510 of the Code of Virginia, relating to official emblems and designations; state saltwater fish designated.
[S 940]

Approved March 26, 2011

Be it enacted by the General Assembly of Virginia:

1. That § 1-510 of the Code of Virginia is amended and reenacted as follows:

§ 1-510. Official emblems and designations.

The following are hereby designated official emblems and designations of the Commonwealth:

Artisan Center - "Virginia Artisans Center," located in the City of Waynesboro.

Bat - Virginia Big-eared bat (Corynorhinos townsendii virginianus).

Beverage - Milk.

Blue Ridge Folklore State Center - Blue Ridge Institute located in the village of Ferrum.

Boat - "Chesapeake Bay Deadrise."

Cabin Capital of Virginia - Page County.

Coal Miners' Memorial - The Richlands Coal Miners' Memorial located in Tazewell County.

Covered Bridge Capital of the Commonwealth - Patrick County.

Covered Bridge Festival - Virginia Covered Bridge Festival held in Patrick County.

Dog - American Foxhound.

Emergency medical services museum - "To The Rescue," located in the City of Roanoke.

Fish (Freshwater) - Brook Trout.

Fish (Saltwater) - Striped Bass.

Fleet - Replicas of the three ships, Susan Constant, Godspeed, and Discovery, which comprised the Commonwealth's founding fleet that brought the first permanent English settlers to Jamestown in 1607, and which are exhibited at the Jamestown Settlement in Williamsburg.

Flower - American Dogwood (Cornus florida).

Folk dance - Square dancing, the American folk dance that traces its ancestry to the English Country Dance and the French Ballroom Dance, and is called, cued, or prompted to the dancers, and includes squares, rounds, clogging, contra, line, the Virginia Reel, and heritage dances.

Fossil - Chesapecten jeffersonius.

Gold mining interpretive center - Monroe Park, located in the County of Fauquier.

Insect - Tiger Swallowtail Butterfly (Papilio glaucus Linne).

Motor sports museum - "Wood Brothers Racing Museum and Virginia Motor Sports Hall of Fame," located in Patrick County.

Outdoor drama - "The Trail of the Lonesome Pine Outdoor Drama," adapted for the stage by Clara Lou Kelly and performed in the Town of Big Stone Gap.

Outdoor drama, historical - "The Long Way Home" based on the life of Mary Draper Ingles, adapted for the stage by Earl Hobson Smith, and performed in the City of Radford.

Shell - Oyster shell (Crassostrea virginica).

Song emeritus - "Carry Me Back to Old Virginia," by James A. Bland, as set out in the House Joint Resolution 10, adopted by the General Assembly of Virginia at the Session of 1940.

Sports hall of fame - "Virginia Sports Hall of Fame," located in the City of Portsmouth.

War memorial museum - "Virginia War Museum," (formerly known as the War Memorial Museum of Virginia), located in the City of Newport News.
Taxonomic Hierarchy: Rockfish - Striped Bass
Kingdom: Animalia - animals
Phylum: Chordata - chordates
Subphylum: Vertebrata - vertebrates
Class: Actinopterygii (ray-finned fishes)
Order: Perciformes (perch-likes)
Family: Moronidae (Temperate basses)
Genus: Morone
Species: Morone saxatilis
---