Virginia State Dog
American Foxhound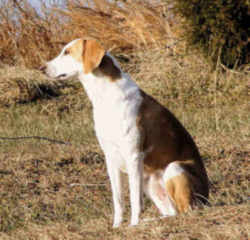 (C. l. familiar)
Adopted in 1966.
In 1966, the American fox hound, (C. l. familiar ,) became the state dog. The American Foxhound is a breed of dog that is a cousin of the English Foxhound. They are scent hounds, bred to hunt foxes by scent. George Washington imported fox hounds into Virginia for hunting purposes. All fox hounds are descendants of these dogs. The American fox hound is also one of four breeds of American origin, the other three originating in other states.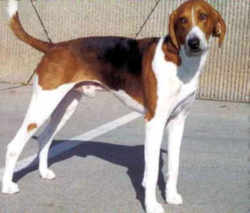 Breed of sturdy, medium-sized hound developed in America over 300 years ago. It stands about 23 in. (58 cm) high at the shoulder and weighs between 60 and 70 lb (27-32 kg). The smooth, hard, "hound-marked" coat is usually black, tan, and white. The American foxhound, with its great endurance and keen sense of smell, was once widely used in packs of as many as 15 or 20 dogs to hunt fox and other small game. Today, however, it is more commonly bred for field trial competition.
Ask folks around Middleburg and Upperville about the Great Foxhound Match there at the turn of the century.
Characteristics of the American Foxhound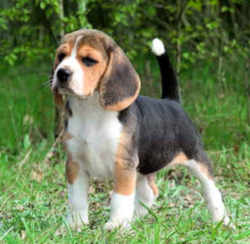 While similar to its English cousin, the American Foxhound has been developed by its breeders to be lighter and taller, to have a keener sense of smell, and to be even faster in the chase. A large, handsome hound, its front legs are long and very straight-boned. The head is long with a slightly domed, large skull. The ears are broad and pendant, framing the face. The eyes are large and wide-set - either brown or hazel, with a sweet, imploring expression. The ears are wide, flat to the head and its tail is carried cheerfully with a slight upward curve, like a sickle. The short, hard coat may be any color.
Temperament
The American Foxhound is sweet, affectionate, gentle and loving at home, but also a brave and intense warrior in the hunt. They are excellent with children and get along well with other dogs because of their pack-hunting background, but should not be trusted with non-canine pets. Friendliness to strangers varies widely. Some are very friendly; some are protective. This breed can be difficult to housebreak. Be aware, the American Foxhound will take off after an interesting scent if possible. They like to bay and have a melodious bark, so much so, in fact, that its tones have been used in popular songs. Foxhounds don't always make good house pets, due to their history as outdoor pack kennel hounds. If you are looking for a pet, try show lines rather than field types.
Height, weight
Height: 21-25 inches (53-64cm)
Weight: 65-75 pounds (30-34kg)
Health Problems
A fairly healthy breed, American Foxhounds are free of many genetic diseases such as hip and bone problems, which plague other large breeds. Do not overfeed this breed as he has a tendency to put on weight.
Living Conditions
Not recommended for apartment life. They are very active indoors and do best with acreage.
Exercise
The American Foxhound needs a great deal of exercise or he can become restless and destructive. He can run around a square-mile (200 sq. km.) farm from early morning to late at night and return home still enthusiastic and eager to run.
Life Expectancy
About 10-12 years
Virginia Law
The law designating the American Foxhound as the official Virginia state dog is found in the Code of Virginia Title 1, Chapter 5, Section 510
Title 1. General Provisions
Chapter 5. Emblems
§ 1-510. Official emblems and designations

The following are hereby designated official emblems and designations of the Commonwealth:

Artisan Center -- "Virginia Artisans Center," located in the City of Waynesboro.

Bat -- Virginia Big-eared bat (Corynorhinos townsendii virginianus).

Beverage -- Milk.

Blue Ridge Folklore State Center -- Blue Ridge Institute located in the village of Ferrum.

Boat -- "Chesapeake Bay Deadrise."

Cabin Capital of Virginia -- Page County.

Coal Miners' Memorial -- The Richlands Coal Miners' Memorial located in Tazewell County.

Covered Bridge Capital of the Commonwealth -- Patrick County.

Covered Bridge Festival -- Virginia Covered Bridge Festival held in Patrick County.

Dog -- American Foxhound.

Emergency medical services museum -- "To The Rescue," located in the City of Roanoke.

Fish (Freshwater) -- Brook Trout.

Fish (Saltwater) -- Striped Bass.

Fleet -- Replicas of the three ships, Susan Constant, Godspeed, and Discovery, which comprised the Commonwealth's founding fleet that brought the first permanent English settlers to Jamestown in 1607, and which are exhibited at the Jamestown Settlement in Williamsburg.

Flower -- American Dogwood (Cornus florida).

Folk dance -- Square dancing, the American folk dance that traces its ancestry to the English Country Dance and the French Ballroom Dance, and is called, cued, or prompted to the dancers, and includes squares, rounds, clogging, contra, line, the Virginia Reel, and heritage dances.

Fossil -- Chesapecten jeffersonius.

Gold mining interpretive center -- Monroe Park, located in the County of Fauquier.

Insect -- Tiger Swallowtail Butterfly (Papilio glaucus Linne).

Maple Festival -- The Highland County Maple Festival.

Motor sports museum -- "Wood Brothers Racing Museum and Virginia Motor Sports Hall of Fame," located in Patrick County.

Outdoor drama -- "The Trail of the Lonesome Pine Outdoor Drama," adapted for the stage by Clara Lou Kelly and performed in the Town of Big Stone Gap.

Outdoor drama, historical -- "The Long Way Home" based on the life of Mary Draper Ingles, adapted for the stage by Earl Hobson Smith, and performed in the City of Radford.

Shakespeare festival -- The Virginia Shakespeare Festival held in the City of Williamsburg.

Shell -- Oyster shell (Crassostrea virginica).

Song emeritus -- "Carry Me Back to Old Virginny," by James A. Bland, as set out in the House Joint Resolution 10, adopted by the General Assembly of Virginia at the Session of 1940.

Song (Popular) -- "Sweet Virginia Breeze," by Robbin Thompson and Steve Bassett.

Song (Traditional) -- "Our Great Virginia," lyrics by Mike Greenly and arranged by Jim Papoulis with music from the original American folk song "Oh Shenandoah."

Sports hall of fame -- "Virginia Sports Hall of Fame," located in the City of Portsmouth.

War memorial museum -- "Virginia War Museum," (formerly known as the War Memorial Museum of Virginia), located in the City of Newport News.

Code 1950, ?? 7-35, 7-36, 7-37; 1966, cc. 102, 547, ?? 7.1-37, 7.1-38, 7.1-39; 1974, c. 24, ? 7.1-40; 1982, c. 191, ? 7.1-40.1; 1986, c. 138, ? 7.1-40.2; 1988, c. 317, ? 7.1-40.3; 1991, cc. 71, 575, ?? 7.1-40.4, 7.1-40.5; 1993, cc. 251, 509, ? 7.1-40.6; 1994, cc. 33, 134, 220, 464, ?? 7.1-40.2:1, 7.1-40.8; 1995, cc. 12, 180, ? 7.1-40.2:2; 1996, c. 52, ? 7.1-40.9; 1997, cc. 66, 576, ? 7.1-40.10; 1999, cc. 69, 336, ? 7.1-40.11; 2001, cc. 97, 134, ? 7.1-40.12; 2001, c. 228, ? 7.1-40.13; 2005, cc. 557, 839; 2006, c. 128; 2007, cc. 391, 685; 2008, c. 262; 2009, cc. 145, 227; 2011, c. 671; 2013, c. 702; 2014, c. 553; 2015, cc. 586, 587.
Taxonomic Hierarchy: American Foxhound
Kingdom: Animalia
Phylum: Chordata
Class: Mammalia
Order: Carnivora
Family: Canidae
Genus: Canis
Species: C. lupus
Subspecies: C. l. familiaris
---