Virginia State Gold Mining Interpretive Center
Monroe Park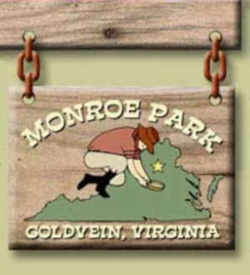 Goldvein, County of Fauquier, Virginia
Adopted on July 1, 2001.

Delegate Jay K. Katzen, representing House District 31, has sponsored House Bill 2549 that would designate Monroe Park, located in the County of Fauquier, as the Official Gold Mining Interpretive Center of the Commonwealth. This bill was approved by the Governor on March 14, 2001 to take effect on July 1, 2001.
Objectives:
The Gold Mining camp area of Monroe Park primary interpretive objectives are to establish the Gold Mining Camp area as a visitor attraction related to gold mining. Other objectives to follow include interpreting the story of gold mining in the Goldvein story within the context of the search for gold in Virginia and North America, and finally to personalize this history by portraying everyday life in a gold mining camp.

Gold Mining Museum:
The Department is searching for relics, artifacts, documents, pictures, news articles, and any other items that may be acquired, loaned, or photographed for use in the gold mining museum. The Park has already received many artifacts for use at the museum. Items donated and on loan include miners hats, gold ore, core sample tray, gold pans, miners scales, artwork, mortar and pestle set, steam engine and boiler, and ore carts. Please call at 540-752-5330 or 540-347-6848 if you have, or know of, any items that should be displayed in the museum. A satellite visitor center is planned in the upcoming future to assist tourists using Route 17. Fauquier County events, brochures & maps will be available to help travelers enjoy the sites nearby.
Facilities:
The park is located at Rt. 17 and Rt. 615 in Goldvein. In Phase I, this 14 acre site donated by Mr. and Mrs. Pat Monroe includes the first building in a mining camp re-creation, soccer field, playground, softball field, pond, and pathways. Later phases to include additional buildings in the camp, horse show ring, picnic shelter, additional play equipment. Park office hours at the park are Wed. - Fri., 11am. - 4pm.
History
In Virginia, there is a gold belt that encompasses an area of some 4000 square miles, starting from Maryland and running Southwest to North Carolina state line. The Virginia gold belt varies in width from 15 to 25 miles and measures 200 miles in length.

The Virginia gold belt passes through southeastern Fauquier County, at the Morrisville/Goldvein area. It is here where approximately 18 gold mines existed. American Indians and early European settlers dicovered small quantities of the precious metal, but the Goldvein area did not attract serious prospectors and miners until the early 1800's.

In the 1830's, prospectors panned for gold in the Rappahannock and Rapidan Rivers, and eventually progressed to the digging of trenches(placer pits), and the excavation of deep shafts in the search for veins of gold hidden in the earth in the early 1900's
At this time, Virginia and her sister states of the South became the major gold producing region in the nation. By the 1830's, gold produced in North Carolina, Virginia, South Carolina, and Georgia amounted to $1,000,00 per year.
Of the mines that were in Fauquier County, the Franklin Gold Mines was one of the most famous. At this mine site, miners dug shafts up to 300 feet deep to reach the gold. From 1825 to the Civil War, this mine produced $1,200,000 worth of gold. There was also a mill on site that produced 5000 feet of lumber per day, bunk houses where the miners slept, work offices, a mess hall for dining, and small railroad tracks.
Property which contained gold was also used as farmland. Many times minors would work on the farm during the day and then work in the mines at night.
Virginia House Bill No. 2549
HOUSE BILL NO. 2549
Offered January 10, 2001
Prefiled January 10, 2001
A BILL to amend the Code of Virginia by adding in Chapter 5 of Title 7.1 a section numbered 7.1-40.12, relating to designation of the official state gold mining interpretive center.
----------
Patron-- Katzen (By Request)
----------
Referred to Committee on General Laws
----------
Be it enacted by the General Assembly of Virginia:

1. That the Code of Virginia is amended by adding in Chapter 5 of Title 7.1 a section numbered 7.1-40.12 as follows:

§ 7.1-40.12. Official gold mining interpretive center.

Monroe Park, located in the County of Fauquier, is hereby designated the official gold mining interpretive center of the Commonwealth.
Virginia Law
The law designating Monroe Park, located in the County of Fauquier. as the official Virginia state gold mining interpretive center is found in the Code of Virginia, Title 1, Chapter 5, Section 1-510. Virginia symbols were re-organized under one section of the Code of Virginia in 2005.
Title 1 - GENERAL PROVISIONS.
Chapter 5 - Emblems
§ 1-510. Official emblems and designations.

The following are hereby designated official emblems and designations of the Commonwealth:

Artisan Center - "Virginia Artisans Center," located in the City of Waynesboro.

Bat - Virginia Big-eared bat (Corynorhinos townsendii virginianus).

Beverage - Milk.

Blue Ridge Folklore State Center - Blue Ridge Institute located in the village of Ferrum.

Boat - "Chesapeake Bay Deadrise."

Covered Bridge Capital of the Commonwealth - Patrick County.

Covered Bridge Festival - Virginia Covered Bridge Festival held in Patrick County.

Dog - American Foxhound.

Emergency medical services museum - "To The Rescue," located in the City of Roanoke.

Fish - Brook Trout.

Fleet - Replicas of the three ships, Susan Constant, Godspeed, and Discovery, which comprised the Commonwealth's founding fleet that brought the first permanent English settlers to Jamestown in 1607, and which are exhibited at the Jamestown Settlement in Williamsburg.

Flower - American Dogwood ( Cornus florida).

Folk dance - Square dancing, the American folk dance that traces its ancestry to the English Country Dance and the French Ballroom Dance, and is called, cued, or prompted to the dancers, and includes squares, rounds, clogging, contra, line, the Virginia Reel, and heritage dances.

Fossil - Chesapecten jeffersonius.

Gold mining interpretive center - Monroe Park, located in the County of Fauquier.

Insect - Tiger Swallowtail Butterfly (Papilio glaucus Linne).

Motor sports museum - "Wood Brothers Racing Museum and Virginia Motor Sports Hall of Fame," located in Patrick County.

Outdoor drama - "The Trail of the Lonesome Pine Outdoor Drama," adapted for the stage by Clara Lou Kelly and performed in the Town of Big Stone Gap.

Outdoor drama, historical - "The Long Way Home" based on the life of Mary Draper Ingles, adapted for the stage by Earl Hobson Smith, and performed in the City of Radford.

Shell - Oyster shell (Crassostrea virginica).

Song emeritus - "Carry Me Back to Old Virginia," by James A. Bland, as set out in the House Joint Resolution 10, adopted by the General Assembly of Virginia at the Session of 1940.

Sports hall of fame - "Virginia Sports Hall of Fame," located in the City of Portsmouth.

War memorial museum - "Virginia War Museum," (formerly known as the War Memorial Museum of Virginia), located in the City of Newport News.

(Code 1950, § 7-35, 7-36, 7-37; 1966, cc. 102, 547, § 7.1-37, 7.1-38, 7.1-39; 1974, c. 24, § 7.1-40; 1982, c. 191, § 7.1-40.1; 1986, c. 138, § 7.1-40.2; 1988, c. 317, § 7.1-40.3; 1991, cc. 71, 575, § 7.1-40.4, 7.1-40.5; 1993, cc. 251, 509, § 7.1-40.6; 1994, cc. 33, 134, 220, 464, § 7.1-40.2:1, 7.1-40.8; 1995, cc. 12, 180, § 7.1-40.2:2; 1996, c. 52, § 7.1-40.9; 1997, cc. 66, 576, § 7.1-40.10; 1999, cc. 69, 336, § 7.1-40.11; 2001, cc. 97, 134, § 7.1-40.12; 2001, c. 228, § 7.1-40.13; 2005, cc. 557, 839; 2006, c. 128; 2007, cc. 391, 685; 2008, c. 262.)
---