Virginia State Bat
Virginia Big-eared Bat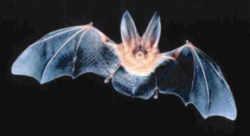 (Corynorhinos townsendii virginianus)
Adopted on March 22, 2005.
The Virginia Big-Eared bat, (Corynorhinos townsendii virginianus,) as the official bat of Virginia, adopted on March 22, 2005. The Virginia Cave Board toyed with the idea of a state bat to use as a tool for educating Virginians about caves and the creatures that inhabit them. Board member Clair Ward said that the board thought of the Virginia big-eared bat as a candidate because of its name and its status as a federally endangered species.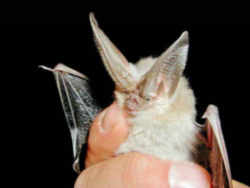 Virginia Delegate Jackie T. Stump filed House Bill No. 2579 on January 12, 2005. After approval of the House Committee on General Laws, it was read for the first time in the Virginia House of Delegates on January 26, 2005.

On February 26, after being approved in both the House of Delegates and the Senate, the bill was signed by the Speaker of the House and the President of the Senate.

In March, 2005, Governor Warner signed a new state law designating the big-eared bat as the official state bat. In his signing statement, he expressed a wry sense of humor that is not always evident in elected officials:
This bill designates the Virginia Big-Eared bat as the official bat of the Commonwealth. The Legislature previously has designated a state bird (northern cardinal), a state flower and tree (dogwood), a state dog (American fox hound), a state boat (Chesapeake Bay deadrise), a state dance (square dance), a state insect (tiger swallowtail butterfly), a state fish (brook trout), a state shell (oyster), a state fossil (Chesapecten jeffersonius), and a state beverage (Got Milk?). Therefore, I see no harm in designating a state bat, no matter how odd-looking the Virginia Big-Eared bat might be. However, I am compelled to add this:
I took some grief for my nudist park pun.
But resist I cannot on this one.
I will sign this bill,
more or less of free will.
But I can't do it without having some fun.
We have a state dog and a fish and a bird.
And of the fossil I'm sure you have heard.
So why not a bat?
What's wrong with that?
The state beverage is no more absurd.
Upon my signature now it appears,
The designation will now last for years.
I'll spare you the Latin
If you're seeking the bat in
A guidebook, it's the one with big ears.
I think our bat's up to the test.
If you doubt it, just ask Adam West.
He was TV's Bruce Wayne -
the caped crusader's real name -
and could 'Zap!' and 'Kapow!' with the best.
The Virginia big-eared bat is a medium-sized bat, about 3.5 - 4 inches long. Characteristic features are the large ears (more than one inch long) and the presence of two large lumps (glands) on the muzzle. Virginia big-eared bats can be distinguished from Rafinesque's big-eared bats, the only similar species in Kentucky, by fur color and toe hairs. Virginia big-eared bats are pale to dark brown on the back and light brown underneath. In contrast, Rafinesque's big-eared bats are gray-brown on the back with whitish underparts. Also, Rafinesque's big-eared bats have hairs on their feet that extend past the toes, while Virginia big-eared bats have short toe hairs.
This non-migratory bat resides in caves year round. Mating occurs in fall and winter, and females store sperm over winter. Ovulation and fertilization take place in spring shortly after females arouse from hibernation. In summer, females congregate to form what are known as maternity colonies where they bear their young. It is not known where most males spend the summer. Each female gives birth to a single pup in June. Young can generally fly within three weeks. Moths are the most important prey of Virginia big-eared bats.

Virginia big-eared bats prefer caves in karst regions (areas underlain with limestone bedrock and many caves and sinkholes) dominated by oak-hickory or beech-maple-hemlock forest. These bats usually hibernate in tight clusters near entrances of caves that are well-ventilated and where temperatures range from 32 to 54 degrees F. In summer, maternity colonies are found in the relatively warm parts of caves.
Characteristics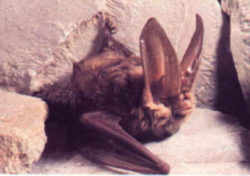 This bat is of medium size (total length= 90-112 mm, and weight 9-12 grams) with huge ears joined across the forehead. They have elongated nostril openings, soft long fur, with the dorsal hairs dark, brown at the tip. Females gather from diverse hibernacula during April and May to form maternity colonies in warm caves. At rest, the ears are coiled slightly and lie along the neck. It is one of only two Virginia bat species which roost in caves in the summer. In the winter they commonly roost singly or in small groups.This is not a migratory bat, although, if disturbed, the entire colony may move to an alternate site. Lifespan is 16 years. These bats are designated as state and federally endangered mainly due to their small population and limited habitat and distribution.
Distribution
It is presently known to occur in three caves in Tazewell County during the summer, and five caves (Highland, Bland and Tazewell counties) in the winter. It is one of two Virginia bat species which roost in caves in the summer. They are found exclusively in limestone caves. There are also only three known maternity colonies.
Foods
This species subsists mostly on moths but also Neuroptera, Coleoptera, Mecoptera, Diptera and Hymenoptera. This bat feeds mostly over open pasture, corn and alfalfa fields, and around the crowns of trees.
Virginia Law
On March 22, 2005, Governor Marc Warner signed the legislation designating the Virginia Big-eared Bat (Corynorhinus townsendii virginianus) as the official state bat of the Commonwealth of Virginia, effective July 1, 2005.
The law designating the Virginia Big-eared bat as the official Virginia state bat is found in the Code of Virginia Title 1, Chapter 5, Section 510
Title 1. General Provisions
Chapter 5. Emblems
§ 1-510. Official emblems and designations

The following are hereby designated official emblems and designations of the Commonwealth:

Artisan Center -- "Virginia Artisans Center," located in the City of Waynesboro.

Bat -- Virginia Big-eared bat (Corynorhinos townsendii virginianus).

Beverage -- Milk.

Blue Ridge Folklore State Center -- Blue Ridge Institute located in the village of Ferrum.

Boat -- "Chesapeake Bay Deadrise."

Cabin Capital of Virginia -- Page County.

Coal Miners' Memorial -- The Richlands Coal Miners' Memorial located in Tazewell County.

Covered Bridge Capital of the Commonwealth -- Patrick County.

Covered Bridge Festival -- Virginia Covered Bridge Festival held in Patrick County.

Dog -- American Foxhound.

Emergency medical services museum -- "To The Rescue," located in the City of Roanoke.

Fish (Freshwater) -- Brook Trout.

Fish (Saltwater) -- Striped Bass.

Fleet -- Replicas of the three ships, Susan Constant, Godspeed, and Discovery, which comprised the Commonwealth's founding fleet that brought the first permanent English settlers to Jamestown in 1607, and which are exhibited at the Jamestown Settlement in Williamsburg.

Flower -- American Dogwood (Cornus florida).

Folk dance -- Square dancing, the American folk dance that traces its ancestry to the English Country Dance and the French Ballroom Dance, and is called, cued, or prompted to the dancers, and includes squares, rounds, clogging, contra, line, the Virginia Reel, and heritage dances.

Fossil -- Chesapecten jeffersonius.

Gold mining interpretive center -- Monroe Park, located in the County of Fauquier.

Insect -- Tiger Swallowtail Butterfly (Papilio glaucus Linne).

Maple Festival -- The Highland County Maple Festival.

Motor sports museum -- "Wood Brothers Racing Museum and Virginia Motor Sports Hall of Fame," located in Patrick County.

Outdoor drama -- "The Trail of the Lonesome Pine Outdoor Drama," adapted for the stage by Clara Lou Kelly and performed in the Town of Big Stone Gap.

Outdoor drama, historical -- "The Long Way Home" based on the life of Mary Draper Ingles, adapted for the stage by Earl Hobson Smith, and performed in the City of Radford.

Shakespeare festival -- The Virginia Shakespeare Festival held in the City of Williamsburg.

Shell -- Oyster shell (Crassostrea virginica).

Song emeritus -- "Carry Me Back to Old Virginny," by James A. Bland, as set out in the House Joint Resolution 10, adopted by the General Assembly of Virginia at the Session of 1940.

Song (Popular) -- "Sweet Virginia Breeze," by Robbin Thompson and Steve Bassett.

Song (Traditional) -- "Our Great Virginia," lyrics by Mike Greenly and arranged by Jim Papoulis with music from the original American folk song "Oh Shenandoah."

Sports hall of fame -- "Virginia Sports Hall of Fame," located in the City of Portsmouth.

War memorial museum -- "Virginia War Museum," (formerly known as the War Memorial Museum of Virginia), located in the City of Newport News.

Code 1950, ?? 7-35, 7-36, 7-37; 1966, cc. 102, 547, ?? 7.1-37, 7.1-38, 7.1-39; 1974, c. 24, ? 7.1-40; 1982, c. 191, ? 7.1-40.1; 1986, c. 138, ? 7.1-40.2; 1988, c. 317, ? 7.1-40.3; 1991, cc. 71, 575, ?? 7.1-40.4, 7.1-40.5; 1993, cc. 251, 509, ? 7.1-40.6; 1994, cc. 33, 134, 220, 464, ?? 7.1-40.2:1, 7.1-40.8; 1995, cc. 12, 180, ? 7.1-40.2:2; 1996, c. 52, ? 7.1-40.9; 1997, cc. 66, 576, ? 7.1-40.10; 1999, cc. 69, 336, ? 7.1-40.11; 2001, cc. 97, 134, ? 7.1-40.12; 2001, c. 228, ? 7.1-40.13; 2005, cc. 557, 839; 2006, c. 128; 2007, cc. 391, 685; 2008, c. 262; 2009, cc. 145, 227; 2011, c. 671; 2013, c. 702; 2014, c. 553; 2015, cc. 586, 587.
Taxonomic Hierarchy: Black Bear
Kingdom: Animalia
Phylum: Chordata
Class: Mammalia
Order: Chiroptera
Family: Vespertilionidae
Genus: Corynorhinus
Species: C. townsendii virginianus
---