Virginia State Fossil
Bivalve Scallop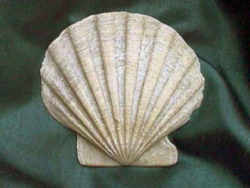 (Chesapecten jeffersonius)
Adopted in 1993
The Bivalve Scallop, (Chesapecten jeffersonius,) was adopted in 1993 as Virginia's state fossil.
This fossil was the first discovered in North America. It was named for Thomas Jefferson because of his interest in natural history. The fossil also celebrates the Chesapeake Bay, the largest estuary in the world.
Chesapecten jeffersonius
'Jefferson's Chesapeake Scallop'
Yorktown Formation, Sunken Meadow Member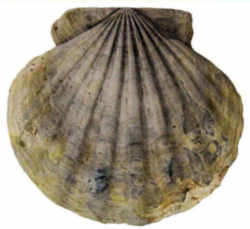 This distinctive scallop is the state fossil of Virginia, and is the first fossil described in North America, in 1687. It is commonly found in stream valleys and on river beaches of Southeast Virginia and Eastern North Carolina. This species is the index fossil for the Lower Yorktown Formation. This species is usually distinguished by the number of ribs (9 to 12) and the rather rounded shell edge. Immature scallops attach themselves to the sea floor, whereas adult individuals are free-swimming.

Chesapecten is a lineage of scallops that flourished in the Chesapeake Bay area from Eastover to Yorktown time (about 8 to 3 million years ago). Species dominated during different intervals of time: C. middlesexensis during the Miocene (Eastover Formation); C. jeffersonius during Early Pliocene (Lower Yorktown Formation, about 4.5 to 4.3 million years ago); and C. madisonius during Late Pliocene time (Upper Yorktown Formation, about 4 to 3 million years ago). Other scallops lived at the sametime, but these were the most abundant.

It has been reported that Native Americans used Chesapecten shells as bowls and scraping tools, and that this was noticed by the first Jamestown settlers. Chesapecten bears the distinction of being the first fossil from North America to be illustrated in a scientific publication, Martin Lister's 1687 Historiae Conchyliorum; however, it was not given a scientific name until 1824 however Chesapecten jeffersonius (Say), 1824, was first described in 1694 by Martin Lister. In 1687, it became the first fossil to be described from North America.
The oyster shell isn't Virginia's only official bivalve. The other is Chesapecten jeffersonius, among the oldest and newest of Virginia's symbols.

First, what's a bivalve? Just as a bicycle has two wheels or a biplane two wings, so does a bivalve have two valves, or shells. Bivalves include oysters, clams, and scallops. Chesapecen jeffersonius is a scallop.

Bivalves are included among the fossils buried in the rocks of the Appalachians. These are evidence of animals that lived during the Paleozoic Era, long before dinosaurs evolved. They were fossilized even before they were carried skyward by the rising Appalachian Mountains.

This mollusc lived in the shallow waters of the continental shelf during the Late Miocene and Early Pliocene Epochs, some 4 - 5 million years , which began with the extinction of the dinosaurs. Actually, there were several species of scallops whose scientific names begin with Chesapecten, represented by fossils stretching from New Jersey south into Florida. (They're especially common in the Chesapeake Bay region Virginia and Maryland.) They lived quite recently, perhaps originating little more than five million years ago during the Miocene Epoch of the Cenozoic. Living along the continental shelf at shallow to moderate depths, their neighbors included sea turtles and crocodiles, with an occasional mastodon and rhinoceros probably walking along the beach.

Virginia's official Chesapecten died out in Virginia about four million years ago. The last of the Chesapecten clan became extinctabout three million years ago, during the Pliocene Epoch, likely falling victim to a cooler climate. Their fossils really chilled during the following Pleistocene Epoch (the "Ice Age").
Governor Wilder signed a bill naming Chesapecten Jeffersonius Virginia's official state fossil. This fossil scallop from Virginia's coastal plain is the first fossil figured and described from the New World.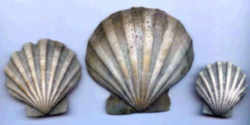 In 1687, Martin Lister published the first known drawing of the scallop. While traveling near Yorktown in 1824, geologist John Finch gathered what was to become the first comprehensive collection of fossils from North America. Fossils were so common in this area in the late 1800s that local inhabitants used them in building foundations and as dishes and water ladles.

After collecting a large variety of mollusks specimens, Finch bestowed his collection on the prominent scientists at the Academy of Natural Sciences of Philadelphia. These scientists had the task of describing and naming the fossils, all of which were new to science. One scientist, Thomas Say, described the species and named it Pecten jeffersonius to honor Thomas Jefferson. For unexplained reasons, the scientists at ANSP believed the specimens had been found along the St. Marys River in Maryland, where Finch had also done some collecting.

In 1975, Dr. Lauck Ward, then employed by the United States Geological Survey, conducted research that proved the specimens had come from Virginia, and renamed the fossil Chesapecten jeffersonius. Ward's study revealed the named fossils had originated from a much younger geological unit than that exposed on the St. Marys River. The confusion over localities had confounded paleontological literature for more than 150 years and caused the Virginia Pliocene fossil names to be wrongfully applied to the Maryland Miocene fossil species.

Ward approached the VMNH staff and board and suggested that the historically significant shell deserved the honor of becoming Virginia's official fossil. Five years later, after having joined VMNH as Curator in Invertebrate Paleontology, Ward visited the fossil-rich deposits along the James River across from Jamestown and collected over 150 specimens of Chesapecten jeffersonius. The specimens were mounted in oak frames and distributed to members of the Virginia General Assembly in March 1992. That summer, Ward's suggestion was reinforced when members of the General Assembly received more Chesapecten jeffersonius samples. These had been collected by a group of honor students led by Dr. Gerald Johnson at the College of William & Mary. It was no wonder that, when Chesapecten jeffersonius was suggested as a state fossil, most General Assembly members were already quite familiar with the unique fossil. The fossil bill successfully passed both the House and Senate.

Credit for works found in the Virginia Explorer
Virginia Law
Title 1. General Provisions
Chapter 5. Emblems
§ 1-510. Official emblems and designations.

The following are hereby designated official emblems and designations of the Commonwealth:

Artisan Center - "Virginia Artisans Center," located in the City of Waynesboro.

Bat - Virginia Big-eared bat (Corynorhinos townsendii virginianus).

Beverage - Milk.

Blue Ridge Folklore State Center - Blue Ridge Institute located in the village of Ferrum.

Boat - "Chesapeake Bay Deadrise."

Cabin Capital of Virginia - Page County.

Coal Miners' Memorial - The Richlands Coal Miners' Memorial located in Tazewell County.

Covered Bridge Capital of the Commonwealth - Patrick County.

Covered Bridge Festival - Virginia Covered Bridge Festival held in Patrick County.

Dog - American Foxhound.

Emergency medical services museum - "To The Rescue," located in the City of Roanoke.

Fish (Freshwater) - Brook Trout.

Fish (Saltwater) - Striped Bass.

Fleet - Replicas of the three ships, Susan Constant, Godspeed, and Discovery, which comprised the Commonwealth's founding fleet that brought the first permanent English settlers to Jamestown in 1607, and which are exhibited at the Jamestown Settlement in Williamsburg.

Flower - American Dogwood (Cornus florida).

Folk dance - Square dancing, the American folk dance that traces its ancestry to the English Country Dance and the French Ballroom Dance, and is called, cued, or prompted to the dancers, and includes squares, rounds, clogging, contra, line, the Virginia Reel, and heritage dances.

Fossil - Chesapecten jeffersonius.

Gold mining interpretive center - Monroe Park, located in the County of Fauquier.

Insect - Tiger Swallowtail Butterfly (Papilio glaucus Linne).

Maple Festival - The Highland County Maple Festival.

Motor sports museum - "Wood Brothers Racing Museum and Virginia Motor Sports Hall of Fame," located in Patrick County.

Outdoor drama - "The Trail of the Lonesome Pine Outdoor Drama," adapted for the stage by Clara Lou Kelly and performed in the Town of Big Stone Gap.

Outdoor drama, historical - "The Long Way Home" based on the life of Mary Draper Ingles, adapted for the stage by Earl Hobson Smith, and performed in the City of Radford.

Shakespeare festival - The Virginia Shakespeare Festival held in the City of Williamsburg.

Shell - Oyster shell (Crassostrea virginica).

Song emeritus - "Carry Me Back to Old Virginny," by James A. Bland, as set out in the House Joint Resolution 10, adopted by the General Assembly of Virginia at the Session of 1940.

Song (Popular) - "Sweet Virginia Breeze," by Robbin Thompson and Steve Bassett.

Song (Traditional) - "Our Great Virginia," lyrics by Mike Greenly and arranged by Jim Papoulis with music from the original American folk song "Oh Shenandoah."

Sports hall of fame - "Virginia Sports Hall of Fame," located in the City of Portsmouth.

War memorial museum - "Virginia War Museum," (formerly known as the War Memorial Museum of Virginia), located in the City of Newport News.

Code 1950, §§ 7-35, 7-36, 7-37; 1966, cc. 102, 547, §§ 7.1-37, 7.1-38, 7.1-39; 1974, c. 24, § 7.1-40; 1982, c. 191, § 7.1-40.1; 1986, c. 138, § 7.1-40.2; 1988, c. 317, § 7.1-40.3; 1991, cc. 71, 575, §§ 7.1-40.4, 7.1-40.5; 1993, cc. 251, 509, § 7.1-40.6; 1994, cc. 33, 134, 220, 464, §§ 7.1-40.2:1, 7.1-40.8; 1995, cc. 12, 180, § 7.1-40.2:2; 1996, c. 52, § 7.1-40.9; 1997, cc. 66, 576, § 7.1-40.10; 1999, cc. 69, 336, § 7.1-40.11; 2001, cc. 97, 134, § 7.1-40.12; 2001, c. 228, § 7.1-40.13; 2005, cc. 557, 839; 2006, c. 128; 2007, cc. 391, 685; 2008, c. 262; 2009, cc. 145, 227; 2011, c. 671; 2013, c. 702; 2014, c. 553; 2015, cc. 586, 587.

Taxonomic Hierarchy: Bivalve Scallop
Kingdom: Animalia
Phylum: Mollusca
Class: Bivalvia
Order: Ostreoida
Family: Pectinidae
Genus: Chesapecten
Species: ?#8364;?C. jeffersonius
Binomial name: Chesapecten jeffersonius (Say, 1824)
---