Virginia State Almanac: Facts and Figures
Quick Facts, Figures, and Overview of the State of Virginia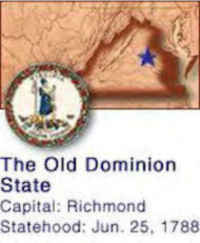 Virginia, in full Commonwealth of Virginia, also known as the Old Dominion, one of the South Atlantic states of the US. Also called the "Old Dominion"and the "Mother of Presidents"due to the fact that 8 US presidents were born in the state. The state consists of the Blue Ridge Mountains and the Chesapeake Bay. The state capital is Richmond and Virginia Beach is the most populous city in the state of Virginia.

The state shares its borders with Maryland, Washington DC, North Carolina, Tennessee, Kentucky, West Virginia and the Atlantic Ocean. Its total area is 42,774.2 square miles (110,784.7 km sq). This includes 3,180.13 square miles (8,236.5 sq. km) of water. Virginia was named in 1584 in honor of Queen Elizabeth of England, who was popularly called the "Virgin Queen."
The most valuable services industry is community, business and personal services, which produces income through private health care, hotels and motels, computer programming and engineering companies and repair shops.
The greatest growth is the technology sector, with business for computer programmers, consultants, engineers and researchers generated by the federal government. Virginia is home to the world's largest internet service provider.
Tobacco, once the basis of the Virginia economy, has been replaced by livestock and livestock products as the state's most valuable source of agricultural income. Broilers are the state's most valuable product followed by beef cattle. Virginia is a leading producer of turkeys. Vegetable crops include potatoes, sweet potatoes and tomatoes. With large orchards, apples are the state's leading fruit crop.Virginia is a leading crab and oyster producing state. Coal is the state's leading mined product.
Official Name
Virginia
Capital
Richmond
Nicknames
The Old Dominion; Mother of Presidents ... and more
Motto
Sic Semper Tyrannis (Thus always to tyrants)
Location
Region
37.53105 N, 077.47458 W
Southern
South Atlantic
Appalachia
Constitution Ratified
1970
Statehood
June 25, 1788
10th state
Population
8,001,024 (2010)
178.76 sq. mi.
12th
Largest City
(by population)
10 largest cities (2010 est.):Virginia Beach, 437,994; Norfolk, 242,803; Chesapeake, 222,209; Richmond, 204,214; Newport News, 180,719; Alexandria, 139,966; Hampton, 137,436; Roanoke, 97,032; Portsmouth, 95,535; Suffolk, 84,585
Bordering States
North: West Virginia, Maryland, and Washington, DC (Potomac River forms the Northeastern boundary)
East: Maryland and the Atlantic Ocean
South: North Carolina and Tennessee
West: Kentucky (Chesapeake Bay separates the Eastern Shore in the South part of the Delmarva Peninsula, from the rest of the state)
Coastline: 112 mi.
Major Industry
farming (tobacco, peanuts, corn, sweet potatoes, poultry, ham), tourism, US Navy warships, mining (coal), lumber (for paper and furniture), government workers
Major Rivers
James River, Rappahannock River, Potomac River, Shenandoah River
Major Lakes
Atlantic Intracoastal Waterway, Gathright Dam (Lake Moomaw), John H. Kerr Reservoir, John W. Flannagan Reservoir, Pound Lake, Philpott Lake
Virginia Counties
96 Counties in Virginia and 40 Independent Cities
Largest County
(by population)
Fairfax County
1,081,726 (2010)
396 sq. mi.
Largest County
(by area)
Pittsylvania County
978 sq. mi.
State forests
16 (50,000+ ac.)
State parks/natural areas
34
Presidential Birthplaces

George Washington was born in Westmoreland County on February 22, 1732 (he was the 1st US President, serving from 1789 to 1797).

Thomas Jefferson was born in Shadwell on April 13, 1743 (he was the 3rd US President, serving from 1801 to 1809).

James Madison was born in Port Conway on March 16, 1751 (he was the 4th US President, serving from 1809 to 1817).

James Monroe was born in Westmoreland County on April 28, 1758 (he was the 5th US President, serving from 1817 to 1825).

William Henry Harrison was born in Berkeley on February 9, 1773 (he was the 9th US President, serving in 1841).

John Tyler was born in Greenway on March 29, 1790 (he was the 10th US President, serving from 1841 to 1845).

Zachary Taylor was born near Barboursville on November 24, 1784 (he was the 12th US President, serving from 1849 to 1850).

Woodrow Wilson was born in Staunton on December 28, 1856 (he was the 28th US President, serving from 1913 to 1921).

Electoral Votes
13
US Congress
2 Senators; 11 Representatives
Time Zone
Eastern Standard Time
Zip Codes
NANPA
State Quick Facts
Census Bureau Quick Facts
---
Virginia Climate and Weather

Virginia has four distinct seasons, each with its own appeal to travelers. Summers are hot and humid, but comparatively cool in the mountains. July temperatures range from 65-83 F/18-27 C, with Tide Water Areas (Norfolk, for example) often having rather high humidity (60%-85%). Expect some days at 90 F/32 C or above and occasional thunderstorms. Oceanfront or mountain recreation is best in the summer. Virginia has four distinct seasons, each with its own appeal to travelers. Summers are hot and humid, but comparatively cool in the mountains. July temperatures range from 65-83 F/18-27 C, with Tidewater areas (Norfolk, for example) often having rather high humidity (60%-85%). Expect some days at 90 F/32 C or above and occasional thunderstorms. Oceanfront or mountain recreation is best in the summer.
Highest Temperature
110 degrees
July 15, 1954 - Balcony Falls
Lowest Temperature
-30 degrees
January 22, 1985 - Mountain Lake Biological Station
Avg. Temp:
High - Low
88.4 degrees
26.2 degrees

Virginia Points of Interest

America's Colonial and Civil War history is deeply entrenched into Virginia. Historic cities and sites like Appomattox, Arlington, Jamestown, Manassas, Petersburg, Richmond, Williamsburg and Yorktown justifiably attract thousands of visitors yearly.

In addition, Virginia's rivers and mountain scenery are a must see, and the cities of the southeast and the nearby Atlantic Ocean beaches will prove irresistible.

From the stunning Shenandoah Valley and Blue Ridge mountains of the northwest, across to Washington, DC, then south to the Hampton Roads areas, Virginia will amaze you, Virginia will impress you, and Virginia will welcome you with open arms.

Virginia Highest, Lowest, and Mean Elevations (Feet)

Mean Elevation: 950 feet

Highest Point: Mt. Rogers: 5,729 feet

The Mount Rogers area contains some of the most rugged terrain and spectacular scenery in Virginia. Mount Rogers, because of its hard, resistant rhyolite bedrock, is the highest point of elevation in the state - 5729 feet above sea level. The region differs climatically from the surrounding area.

Lowest Point:
Atlantic Ocean
Sea level

Virginia Land Area (Square Miles)

Geographic Center
In Buckingham County, 5 mi. SW of Buckingham
Longitude: 78°33.8'W
Latitude: 37°29.3'N
Total Area
42,774.20 sq. mi.
35th
Land Area
39,594.07 sq. mi.
92.57%
Water Area
3,180.13 sq. mi.
7.43%
Forested Land Area
63.1%
Dimensions
(Length - Width)
430 miles - 200 miles
County Information and County History
Accomack, Albemarle, Alleghany, Amelia, Amherst, Appomattox, Arlington, Augusta, Bath, Bedford, Bland, Botetourt, Brunswick, Buchanan, Buckingham, Campbell, Caroline, Carroll, Charles City, Charlotte, Chesterfield, Clarke, Craig, Culpeper, Cumberland, Dickenson, Dinwiddie, Essex, Fairfax, Fauquier, Floyd, Fluvanna, Franklin, Frederick, Giles, Gloucester, Goochland, Grayson, Greene, Greensville, Halifax, Hanover, Henrico, Henry, Highland, Isle Of Wight, James City, King And Queen, King George, King William, Lancaster, Lee, Loudoun, Louisa, Lunenburg, Madison, Mathews, Mecklenburg, Middlesex, Montgomery, Nelson, New Kent, Northampton, Northumberland, Nottoway, Orange, Page, Patrick, Pittsylvania, Powhatan, Prince Edward, Prince George, Prince William, Pulaski, Rappahannock, Richmond, Roanoke, Rockbridge, Rockingham, Russell, Scott, Shenandoah, Smyth, Southampton, Spotsylvania, Stafford, Surry, Sussex, Tazewell, Warren, Washington, Westmoreland, Wise, Wythe, York
Almanac Online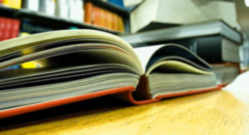 Information on people & places that make US a great place to live, visit, or study.