Virginia State Sport Hall of Fame
Virginia Sports Hall of Fame and Museum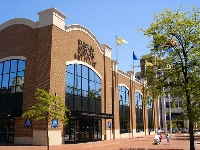 Portsmouth, Virginia
Adopted in 1996
The Virginia Sports Hall of Fame and Museum in Portsmouth is the Commonwealth's official sports hall of fame, honoring champions from every region of Virginia. It was adopted in 1996 as Virginia Sports Hall of Fame.
History
Established in 1972, its aim is to offer sports enthusiasts an intimate look at Virginia's sports greats and their memorable contributions, all illustrating what it takes to be a true champion - teamwork, commitment, sacrifice, and selflessness. The Hall of Fame has also developed impressive educational outreach programs designed to instill the values of leadership and sportsmanship in young people.

Thirty-four National Hall of Fame athletes are among the Museum's ranks, as are 29 of the Top 50 Virginia athletes of the century recognized by Sports Illustrated. The Museum houses one of the country's largest collections of sports artifacts and memorabilia, including a tennis racquet used by Arthur Ashe, the signature straw hat of legendary golfer Sam Snead, and the game ball from the 1903 football match between Virginia Tech and Navy.
Timeline
1972 - Sports Hall of Fame and Museum established in Olde Towne Portsmouth
1987 - Hall of Fame reaches 100 inductees.
1995 - Eddie Webb becomes Executive Director.
1996 - Virginia General Assembly designates the Virginia Sports Hall of Fame and Museum as the official sports hall of fame for the Commonwealth.
1997 -

A media inductee category is added to the Virginia Sports Hall of Fame.
A feasibility study supports the planning of a larger facility with interactive and traveling exhibits and expanded education initiatives.

2000 - The Hall of Fame's board of directors contracts with van Dijk Pace Westlake Architects of Cleveland and the exhibit design firm of Gallagher & Associates of Washington, D.C., to design the new 32,000-square-foot facility and its exhibits.
2003 - Groundbreaking will take place for the new Hall of Fame.
2004 - New Virginia Sports Hall of Fame and Museum scheduled to open.
Facts
In 2003, the number of Hall of Fame inductees reached 201.

All parts of Virginia are well represented, with 29 inductees from the North, 79 from the East, 37 from the West, and 56 from the Central region.

Athletes, coaches, administrators, and contributors are eligible for induction into the Hall of Fame. Since 1997, sports media members have been eligible for induction as Media Inductees; as of 2003, there were 18 of them.

A total of 20 sports are represented: speedboat racing, sailboat racing, surfing, football, track, swimming, basketball, horsemanship, wrestling, auto racing, tennis, bowling, baseball, golf, canoeing, boxing, horse racing, soccer, and coaching.

Of the inductees recognized for their collegiate sports careers, 25 attended the College of William & Mary, more than any other Virginia college or university. Nineteen attended the University of Virginia, and 17 attended Virginia Tech.

As of 2003, 20 female athletes had been inducted. Five female coaches are also honored.

Jean McLean Davis was the first female athlete inducted. She was inducted in 1976 for her achievements in horsemanship.

The youngest person inducted was Anne Donovan, at age 34, for basketball. The oldest person inducted was Caroline Sinclair, at age 92, for coach/administrator.
Virginia Sports Hall of Fame
420 High St.
P0 Box 370
Portsmouth, VA 23705
Phone: (757) 393-8031
Virginia Law
The law designating "Virginia Sports Hall of Fame," located in the City of Portsmouth as the official Virginia state sports hall of fame is found in the Code of Virginia, Title 1, Chapter 5, Section 1-510. Virginia symbols were re-organized under one section of the Code of Virginia in 2005.
Title 1 - GENERAL PROVISIONS.
Chapter 5 - Emblems
§ 1-510. Official emblems and designations.

The following are hereby designated official emblems and designations of the Commonwealth:

Artisan Center - "Virginia Artisans Center," located in the City of Waynesboro.

Bat - Virginia Big-eared bat (Corynorhinos townsendii virginianus).

Beverage - Milk.

Blue Ridge Folklore State Center - Blue Ridge Institute located in the village of Ferrum.

Boat - "Chesapeake Bay Deadrise."

Covered Bridge Capital of the Commonwealth - Patrick County.

Covered Bridge Festival - Virginia Covered Bridge Festival held in Patrick County.

Dog - American Foxhound.

Emergency medical services museum - "To The Rescue," located in the City of Roanoke.

Fish - Brook Trout.

Fleet - Replicas of the three ships, Susan Constant, Godspeed, and Discovery, which comprised the Commonwealth's founding fleet that brought the first permanent English settlers to Jamestown in 1607, and which are exhibited at the Jamestown Settlement in Williamsburg.

Flower - American Dogwood ( Cornus florida).

Folk dance - Square dancing, the American folk dance that traces its ancestry to the English Country Dance and the French Ballroom Dance, and is called, cued, or prompted to the dancers, and includes squares, rounds, clogging, contra, line, the Virginia Reel, and heritage dances.

Fossil - Chesapecten jeffersonius.

Gold mining interpretive center - Monroe Park, located in the County of Fauquier.

Insect - Tiger Swallowtail Butterfly (Papilio glaucus Linne).

Motor sports museum - "Wood Brothers Racing Museum and Virginia Motor Sports Hall of Fame," located in Patrick County.

Outdoor drama - "The Trail of the Lonesome Pine Outdoor Drama," adapted for the stage by Clara Lou Kelly and performed in the Town of Big Stone Gap.

Outdoor drama, historical - "The Long Way Home" based on the life of Mary Draper Ingles, adapted for the stage by Earl Hobson Smith, and performed in the City of Radford.

Shell - Oyster shell (Crassostrea virginica).

Song emeritus - "Carry Me Back to Old Virginia," by James A. Bland, as set out in the House Joint Resolution 10, adopted by the General Assembly of Virginia at the Session of 1940.

Sports hall of fame - "Virginia Sports Hall of Fame," located in the City of Portsmouth.

War memorial museum - "Virginia War Museum," (formerly known as the War Memorial Museum of Virginia), located in the City of Newport News.

(Code 1950, § 7-35, 7-36, 7-37; 1966, cc. 102, 547, § 7.1-37, 7.1-38, 7.1-39; 1974, c. 24, § 7.1-40; 1982, c. 191, § 7.1-40.1; 1986, c. 138, § 7.1-40.2; 1988, c. 317, § 7.1-40.3; 1991, cc. 71, 575, § 7.1-40.4, 7.1-40.5; 1993, cc. 251, 509, § 7.1-40.6; 1994, cc. 33, 134, 220, 464, § 7.1-40.2:1, 7.1-40.8; 1995, cc. 12, 180, § 7.1-40.2:2; 1996, c. 52, § 7.1-40.9; 1997, cc. 66, 576, § 7.1-40.10; 1999, cc. 69, 336, § 7.1-40.11; 2001, cc. 97, 134, § 7.1-40.12; 2001, c. 228, § 7.1-40.13; 2005, cc. 557, 839; 2006, c. 128; 2007, cc. 391, 685; 2008, c. 262.)
---