Texas State Sport
Rodeo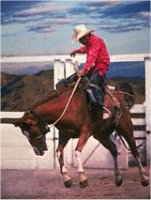 Adopted on June 18, 1997.
Rodeo was named the official sport of Texas by the 75th Legislature in 1997. Adopted on June 18, 1997.
Rodeo comes from the Spanish word, "rodear" which means to encircle or to surround. To the Spanish in New Spain (now Mexico) in the mid-sixteenth century, a rodeo was a cattle roundup. It is probably inevitable that a competitive and flashy culmination to these roundups would evolve. Cowhands could show off their skills breaking an especially wild bronco or flaunt their flair as a roper. But it wasn't until the mid-eighteen hundreds that these contests got organized into full-fledged celebrations.
Texas would like to take credit for the first rodeo celebration. The fencing of the open range in the latter part of that century forever changed the nomadic existence of the cowboy; bronc riding and roping contests at community celebrations quickly gained popularity as opportunities for cowboys to test their skills against counterparts from other ranches. And as such in the West Texas town of Pecos, cowboys would get off work and come into town on the Fourth of July (also known as Cowboy Christmas). They would thunder down Main street roping steers and corraling the cattle in the courthouse square. By some historical accounts, this was the birth of rodeo.
Rodeos emerged from the workday world of the cowboy along with America's growing fascination with the West. In 1882 Buffalo Bill Cody turned the west into lucrative entertainment with his first Wild West show. Cody used the term "rodeo" for these events which included roping, riding, bronco-busting, and bull riding (always the thrilling finale). Sometimes as many as a thousand cowboys competed for prizes. By the 1890s rodeos were commonplace all over the cattle-raising regions of the West.
Problems soon emerged for the competitors, however, and when the need for an organization representing the cowboys' interests became apparent, Texas was again at the leading edge, the Rodeo Cowboys Association, the forerunner to today's famed Professional Rodeo Cowboys Association (PRCA).
Nowadays the rodeo has shifted away from its origins as a way for working cowboys to blow off steam. It is more of a show, and demands all the time and money a major theatrical productions might cost. An aspiring cowboy or cowgirl will have to compete in 80 to 125 rodeos a year, be well-subsidized (thousands and thousands of dollars can be spent on travel and entry fees alone, not to mention horses, equipment, and maintenance), and expect to spend at least 200 days a year on the road. Today's rodeos are glitzy affairs, and is a far from the simple display of a cowboy's working skills.
Texas House Concurrent Resolution No.21
HOUSE CONCURRENT RESOLUTION
By Siebert
H.C.R. No. 21 75R2191 BNL-D

WHEREAS, Texas is blessed with a rich and colorful history, and no event captures the unique spirit of the Lone Star State better than rodeo; and

WHEREAS, The cattle industry of the Southwest flourished throughout the 1800s, but the fencing of the open range in the latter part of that century forever changed the nomadic existence of the cowboy; bronc riding and roping contests at community celebrations quickly gained popularity as opportunities for cowboys to test their skills against counterparts from other ranches, and these informal contests eventually gave way to organized competitions that awarded prize money to the top finishers; and

WHEREAS, From the earliest days of the sport, Texas has played a key role in the development of the modern rodeo; the world's first recorded rodeo was held in Pecos in 1883, and Fort Worth staged the first indoor rodeo in 1917; Rockdale's legendary Bill Pickett laid the foundation for the popular steer-wrestling event when he developed a method of bulldogging a steer by the lip, and his success on the rodeo circuit opened the door for other African American cowboys; and

WHEREAS, Problems soon emerged for the competitors, however, and when the need for an organization representing the cowboys' interests became apparent, Texas was again at the leading edge; the Rodeo Cowboys Association, the forerunner to today's famed Professional Rodeo Cowboys Association (PRCA), was established in Houston in 1945, and renowned Bandera calf roper Toots Mansfield, a seven-time world champion, was installed as its first president; and

WHEREAS, Female competitors such as Fort Worth's Barbara Inez "Tad" Lucas also gained fame and fortune on the rodeo circuit in the early part of this century, and cowgirls eventually banded together to establish the Women's Professional Rodeo Association in San Angelo; many of these women have been honored for their unique contributions in the National Cowgirl Hall of Fame, which is located in Fort Worth; and

WHEREAS, Today, internationally known rodeos in Houston and San Antonio, as well as countless others across the state, continue the Lone Star rodeo legacy and preserve this invaluable link to our past; no other sport so embodies the independence, fortitude, and courage exhibited by our state's forebears, and thus the rodeo holds a special place in the hearts of all Texans; now, therefore, be it

RESOLVED, That the 75th Legislature of the State of Texas hereby declare rodeo to be the official sport of Texas.

House Concurrent Resolution No. 21, 75th Legislature, Regular Session (1997)

---