Texas State Bluebonnet City
City of Ennis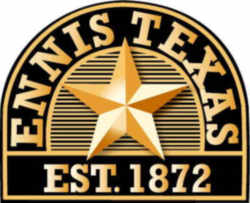 Adopted on June 18, 1997.
Ennis was designated the Bluebonnet City of Texas when Governor George W. Bush signed House Concurrent Resolution No. 116 on June 19, 1997. The past 46 years Ennis has been associated with the official wildflower of Texas and the faithful efforts of the Ennis Garden Club in preserving our state wildflower for all to enjoy. It was adopted on June 18, 1997.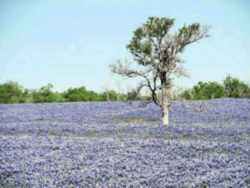 In 1871, the Houston and Texas Central Railroad (H&TC) purchased 647 acres of land in Ellis County at a price of $5.00 per acre, establishing the line's northern terminus. On May 8, 1872 this site was established as the City of Ennis. The namesake of the town was Cornelius Ennis, an early official of the Houston and Texas Central Railroad. Ennis served as Mayor of Houston (1856-1857), was an incorporator and director of the Great Northern Railroad, and served as a director of the H&TC Railroad.

The railroad was the key to the development of Ennis as an agricultural, commercial, and later, an industrial center. In 1920, a total of 152,601 bales of cotton were ginned in Ellis County, the most in any county in America. By 1930, Ennis was known as the place "Where Railroads and Cotton Fields Meet."

For over 125 years, Ennis has successfully repositioned its strategic business focus from railroad, to agriculture, to modern industry.
The City of Ennis, located on Interstate Highway 45 just 30 minutes from downtown.
City of Ennis Fast Facts

State

Texas

Region
North Central Texas
County
Ellis
County Population
111,360 (Ellis County- US Census 2000)
Altitude
500 - 850 Feet (MSL)
Navigational Location
32 Minutes 19.7° (Lat) / 96 Minutes 39.8° (Long)
Date of Incorporation
May 2, 1872
City Charter Adopted
October 17, 1913
Type of Government
Home Rule
Form of Government
City Commission / City Manager
Miles of Street
97.3 (Approximate)

Area in Square Miles

19.3 (City of Ennis, 2002 Approximate)
City Population
17,200 ( US Census 2000, City of Ennis 2002 Estimate)

Population Density

(Population/Square Mile)

891.19 (City of Ennis, 2002 Approximate)
Number of Households
5,708 (US Census 2000, City of Ennis 2002 Estimate)
Total School
Enrollment
5,307 (E.I.S.D. 2002-2003 Enrollment Data)

Municipal Bond Rating

(FY 2000 - 2001)

"A" (Standard & Poor's) /
"A3" (Moody's Investor Service)
Sales Tax
7.75% (Combined City & State)

Ad Valorem Tax Rate

(Per $100 Valuation)

$2.633 (Combined City, County, EISD)
Taxable Property
Value
$681,132,897.00
Unemployment Rate
4.8% (2001 - EOY Average)

Full-Time
City Employees

167 (Number FTEs)

Fire Protection

30 (Number of Employees)

Fire Protection
2(Number of Stations)
Police Protection
42 (Number of Employees)
Police Protection
1(Number of Stations)
Municipal Water Plant
6,813 (Number of Customers Metered)
Estimated Gallons
Billed
943,726,000 (Annually)
Water Plant
Capacity
6.0 MGD (Million Gallons Per Day)
Water Storage
Capacity
3,500,000 Gallons

Wastewater Plant
Capacity

2.5 MGD (Million Gallons Per Day)
House Concurrent Resolution No 116
HOUSE CONCURRENT RESOLUTION H.C.R. No. 116

WHEREAS, In April 1997, thousands of residents and visitors alike will gather in Chappell Hill for one of our state's most popular and colorful yearly events, the 33rd Annual Chappell Hill Bluebonnet Festival; and

WHEREAS, A much anticipated celebration of spring, the festival honors the spectacular bluebonnets that grace the community of Chappell Hill each April with their seasonal display of eye-catching blooms; and

WHEREAS, This popular event is sponsored by the Chappell Hill Historical Society, and it began in 1964 as the Bluebonnet Antique Show; the festival became known by its present name in 1983, and it currently offers fun-filled activities for the entire family, including a hayride through the community's historic district and abundant opportunities to shop for distinctive wares and furniture from arts, crafts, and antique vendors; and

WHEREAS, The Chappell Hill Bluebonnet Festival will provide a time for many citizens to set aside the cares of daily life and enjoy the flowering beauty of our Texas spring; this well-loved event continues to be a splendid addition to our state's array of recreational opportunities and is truly deserving of legislative praise and support; and

WHEREAS, In 1951 the Ennis Garden Club established its first Bluebonnet Trail of Texas, mapping certain locales in the City of Ennis and the area surrounding the city, thus sharing its bounty of this unique Texas wildflower; these mapped trails have grown to encompass more than 40 miles where the thousands of visitors may be enthralled for two consecutive weekends in April each year by the spectacular fields of bluebonnets that grow so bountifully in the area; the City of Ennis has gained renown for having the official Bluebonnet Trail of Texas; an added attraction to those visiting during the weekends of the Bluebonnet Trail is an antique show and sale that attracts vendors from five neighboring states and benefits the Ennis Heritage Society; now, therefore, be it

RESOLVED, That Ennis be declared the official Bluebonnet Trail of Texas and that Ennis be designated the Bluebonnet City of Texas because of the 46 years it has been associated with the official wildflower of Texas and the faithful efforts of the Ennis Garden Club in preserving our state wildflower for all to enjoy; and, be it further

RESOLVED, That the 75th Legislature of the State of Texas hereby designate the Chappell Hill Bluebonnet Festival as the official Bluebonnet Festival of Texas and commend all those associated with the event for their hard work in ensuring its success.

House Concurrent Resolution No. 116, 75th Legislature, Regular Session (1997)
---