Texas State Shrub
Crape Myrtle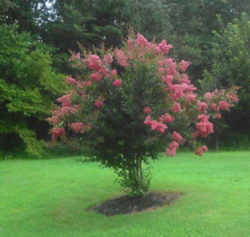 (Lagerstroemia indica. )
Adopted in June 18, 1997.
Texas is represented by more official plants than any other state. It is the only state with an official shrub. Moreover, that shrub could serve as the state tree and state flower: if only it were a native Texan.
The 75th Legislature of the State of Texas hereby formally recognize the valuable addition of the crape myrtle, (Lagerstroemia indica.) to the native flora and declare the crape myrtle the Official State Shrub of Texas. It was adopted on June 18, 1997.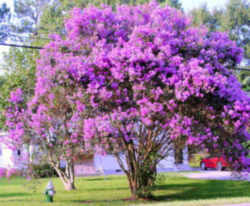 This multiple-trunked, small, deciduous flowering tree of great beauty has purple/pinkish flowers, but comes in many other colors ranging from white to purple. It has graced gardens from earliest times and seeds may have been brought to Europe from the Orient by Marco Polo.
The deciduous crape myrtle is among the longest blooming trees in existence with flowering periods lasting from 60-120 days. Crapes come in heights as short as 18 inches and as tall as 40 feet. Leaves are alternate and smooth, but leaf size depends on variety. Flowers are borne in summer in big showy clusters and come in white and many shades of pink, purple and red. The fruits that follow are brown or black. When mature they dry and split releasing disk shaped seeds. Depending on variety, crapes grow as large shrubs or as trees that may be either upright or spreading . Large varieties are very fast growing and can put on several feet in a single growing season. Many types have interesting bark that exfoliates in thin flakes exposing lovely cinnamon or gray inner bark. Crapes tend to produce many suckers that should be removed as they appear if you want to maintain them as trees with distinct trunks. They are enthusiastic reseeders so you may find yourself pulling up baby crapes throughout the summer.
Characteristic of the Crape Myrtle
Leaf: Opposite or some leaves alternate or whorled, simple, elliptical, entire margin, 1 1/2 to 3 inches long, dark green above, paler below.

Flower: Very attractive, white, pink red or purple (depending on cultivar), occurring in long (8 inch) spike-like clusters, appearing in late summer.

Fruit: Dry, 6 parted, brown capsule in upright spikes, each capsule 1/2 inch long, persistent through the winter.

Twig: Slender, brown (initially red or green), ridged or angled, buds very small.

Bark: Gray brown, smooth, exfoliating and exposing shades of brown, reddish brown and green, very attractive.

Form: Medium to large shrub or a small multi-stemmed tree to 40 feet.
Texas House Concurrent Resolution No. 14

HOUSE CONCURRENT RESOLUTION
75R13667 PAN-D By Pitts H.C.R. No. 14
Substitute the following for H.C.R. No. 14: By Pitts C.S.H.C.R. No. 14

WHEREAS, The crape myrtle has been a distinctive part of the Texas landscape for more than 100 years, and this striking shrub never fails to add a touch of class and beauty to its surroundings; and

WHEREAS, Many Texans appreciate the splendor of the crape myrtle and have taken a special interest in its proliferation in their communities, making it difficult to traverse our great state without witnessing the plant's annual summer flush of color; and

WHEREAS, Originally imported from China, the crape myrtle, "Lagerstroemia indica," has thrived in the Lone Star State's often brutal climate, and the establishment of these hardy hybrids has done much to encourage tourism for many Texas cities while also bolstering civic pride among their residents; and

WHEREAS, In 1857, the wife of Confederate General Sam Bell Maxey introduced the crape myrtle to Paris, Texas, and in 1916, after a fire devastated this Northeast Texas town, one of the community's first beautification projects incorporated these colorful shrubs; several years later, newspaper publisher A. G. "Pat" Mayse further established the city's link to the plant when he sold thousands of crape myrtle seedlings for 25 cents each as Paris's residents prepared to celebrate Texas' centennial; and

WHEREAS, More recently, citizens planted crape myrtles along the 18-mile stretch of highway between Paris and the Texas-Oklahoma border; this prominent display provides a distinctive welcome to travelers entering the Lone Star State from the north and offers a memorable Texas farewell to those individuals who must leave the friendly confines of our state; and

WHEREAS, The crape myrtle enjoys an equally prominent position in the annals of Waxahachie, where the Crape Myrtle Council has endeavored to further beautify this lovely city with the addition of 2,000 crape myrtles; community volunteers have rallied together to assist in the planting and maintenance of the shrubs in a region that already boasts a profusion of these unique plants; and

WHEREAS, Throughout the town, dazzling blooms subtly accent the rustic charm of Waxahachie's elaborate Victorian-style homes, framing these stunning structures in a springtime explosion of red, white, pink, and lavender and enticing visitors from across the country to visit this historic city; and

WHEREAS, The rich soil of Brazos County is epecially suited for growing these exquisite plants, and their foliage provides a dramatic complement to the county's magnificent oaks for many months each year; reflecting their concern for the natural beauty and ecology of their community, members of Brazos Beautiful, Inc., have planted crape myrtles in parks and public areas to promote a cleaner, healthier, and more attractive environment; and

WHEREAS, The organization's tireless efforts have greatly enhanced College Station's Richard Carter Park, where visitors can stroll along paths dotted with more than 20 varieties of crape myrtle, delighting in their showy blossoms; gracing urban areas and parklands throughout Brazos County, the crape myrtle has come to symbolize the community's sense of self-esteem and civic cooperation; and

WHEREAS, The history of the crape myrtle is indelibly linked to Lamar County and the city of Paris, and its unique relationship with both Waxahachie and Brazos County is also well known among Texans; the citizens of these communities and the many organizations within them are to be commended as they continue in their efforts to promote the propagation of this enchanting plant in Texas; now, therefore, be it

RESOLVED, That the 75th Legislature of the State of Texas hereby formally recognize the valuable addition of the crape myrtle to our native flora and declare the crape myrtle the Official State Shrub of Texas; and, be it further

RESOLVED, That Lamar County be declared the Crape Myrtle County Capital and that Paris, its county seat, be designated the Official Crape Myrtle City for their longtime association with the celebrated shrub; and, be it further

RESOLVED, That Waxahachie be declared the Crape Myrtle Capital of Texas and that Brazos County be recognized as an Official Crape Myrtle County for their communities' lasting contributions to the beautification of Texas.


House Concurrent Resolution No.14, 75th Legislature, Regular Session (1997)
Taxonomic Hierarchy: Crape Myrtle
Kingdom: Plantae
(unranked): Angiosperms
(unranked): Eudicots
(unranked): Rosids
Order: Myrtales
Family: Lythraceae
Genus: Lagerstroemia
Species: L. indica

---