Texas State Dog Breed
Blue Lacey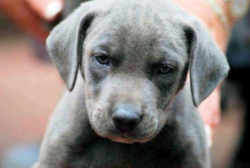 (C. l. familiaris)
Adopted on June 18, 2005
The Blue Lacey, (C. l. familiaris ,) is Texas's state dog. House Concurrent Resolution No. 108 was adopted by the Texas House of Representatives on May 15, 2005 and by the Senate ten days later on May 25, 2005. Governor Rick Perry signed the legislation adopting the Blue Lacy as "...the official State Dog Breed of Texas" on June 18, 2005. The most popular theory is that the dogs originated after crossing a Greyhound, a scent hound and a coyote about 150 years ago in the Texas Hill Country.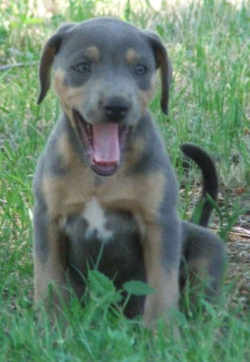 They were originally bred in Marble Falls Texas in 1858 by the Lacy Brothers (Frank, George, Ewin, and Harry). They came out of Kentucky and they came to the Hill Country of Texas in Burnet County, in 1858 to raise hogs. And that's what these dogs were originally bred for round up range hogs and wild cattle."
In fact, breeder Jim Brooks says the presence of the breed in Texas is said to have influenced Fred Gipson, a resident of Mason County, best known for writing Old Yeller.
"They're probably the most popular breed of dog used by the wildlife service's government trappers. They're excellent trap line dogs, they're excellent blood trailing dogs, a lot of bow hunters and game hunters use them. They're also used for varmint dogs, for treeing coon."
While most Lacys have a light gunmetal gray to an almost black color to their coat, they are referred to as blue. They can weight up to 55 pounds, and can reach a maximum of 25 inches in height. While hunting with dogs is allowed for waterfowl, and fur-bearing animals, hunting deer with dogs is a Class "C" misdemeanor and can result in a fine of up to 500-dollars.

The Blue Lacy coat is smooth, tight, sleek, exceptionally clean in appearance and the origin of the unusual slate blue coat and nose is a genetic rarity. Lacy's have minimal to full white markings on their brisket and most of the time on their paws. The light gun-metal gray to almost black Lacy's are classified in color as blue. The red, yellow to cream Lacy's are classified as red. The tri-colored Lacy's are blue with red markings over their eyes, on their muzzle, under tail, and down the legs anas such classified in color as tri. Both the red and tri-colored Lacy's hold the name Blue Lacy due to the blue-color gene they possess. Blue Lacy's eyes are very bright and distinctive orange to yellow in color that adds a unique touch to their appearance.
Article From The Austin American-Statesman.

Under the Dome:
House goes to dogs; probation overhaul raises ire

Saturday, May 14, 2005
The House goes to the dogs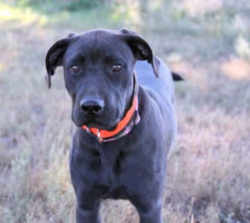 There were a lot of dogs in the House on Friday. Well, lawmakers barking and howling like dogs to give Rep. Joaquin Castro, D-San Antonio, a hard time about a resolution he sponsored that would make the blue lacy game dog the official dog breed of Texas.

As Castro presented the resolution, barking broke out on the floor and some lawmakers lined up at the microphone in good fun.

"Is there such thing as a pink lacy?" asked Rep. Debbie Riddle, R-Tomball.

"Not that I know of," Castro answered.

"Would you consider a blue lacy a sexist thing . . . ?" Riddle asked.

"No, I don't think so. We could create a pink lacy here as a floor amendment," Castro said.

Rep. Dennis Bonnen, R-Angleton, joined in.

"How am I to go home and to face my golden retriever and Irish setter after having allowed this bill to pass?" he asked.

"Because they're from Europe and the blue lacy's from Texas," Castro said.

The resolution passed, eliciting more floor ruckus.

"Will the dogs please leave to chase the cats," said Rep. Sylvester Turner, D-Houston, who was presiding over the House at the time.

- Michelle M. Martinez


Probation overhaul raises ire

Within hours after the House approved its version of probation reform late Thursday, opponents in both chambers were calculating ways to derail the controversial measure.

Several amendments designed to address prosecutors' complaints about changes to the system, as proposed in House Bill 2193, were defeated before the bill got its final approval in the House on Friday.

The Senate's version of probation reform - Senate Bill 1266 - was scheduled for debate Friday. But its sponsor, Sen. John Whitmire, D-Houston, delayed action until Monday - and hinted he might just run with HB 2193.

That's because Rep. Vicki Truitt, R-Keller, and others in the House are hopping mad at Whitmire for killing or neutering their bills seeking more prison time for auto burglars and other felons.

Whitmire announced months ago that, as chairman of the Senate Criminal Justice Committee, he would block any bills that promised to put more people in Texas' overcrowded prisons and force the state to build a lot of prisons that it can't afford right now.

Whitmire acknowledged that House ire over his decision was part of the reason he pulled back on debating probation reform in the Senate on Friday.

"I've got a feeling that sending anything with Whitmire's name on it over to the House right now would be the kiss of death," he said.

Whitmire's committee could review and approve HB 2193 in plenty of time to get it to the full Senate before the legislative session ends May 30.

- Mike Ward
Texas House Concurrent Resolution No. 108
Governor Rick Perry signed the legislation adopting the Blue Lacy as "...the official State Dog Breed of Texas" on June 18, 2005.
H.C.R. No. 108

HOUSE CONCURRENT RESOLUTION

WHEREAS, The State of Texas has traditionally recognized a variety of official state symbols as tangible representations of the proud spirit and heritage of our state; and

WHEREAS, Like the Texas longhorn, the Blue Lacy is a Texas original; the only dog breed to have originated in this state, Lacys are named for brothers George, Ewin, Frank, and Harry Lacy, who moved to Texas from Kentucky in 1858 and settled in the area of Burnet County; and

WHEREAS, The Lacy family bred cattle and hogs, so it was natural that they would also breed dogs to work them; the family is said to have used greyhound, scenthound, and coyote stock in creating the animal that took their name; and

WHEREAS, For a hundred years, Blue Lacys were a common fixture on ranches in the Southwest, where it was said that one such dog could do the work of five cowboys; intelligent, energetic, fast, eager to work, and easy to train and handle, Lacys herded cattle, hogs, and chickens, and also served as droving and hunting dogs; and

WHEREAS, With the declining use of working dogs on ranches, Lacys almost disappeared as a breed; since 1975, however, there has been a dedicated effort to save them, and their numbers now total more than a thousand; most registered Lacys are currently bred in Texas and sold to residents of the state; and

WHEREAS, While these gentle, versatile dogs continue to be used on ranches, they are also becoming highly prized again as hunting dogs and are proving valuable, as well, in search and rescue work, owing to their keen scent-trailing ability; in addition, their easygoing way with children, their aptitude for jogging, agility courses, and games of Frisbee, and their suitability as watch dogs are all contributing to their growing popularity as family pets; and

WHEREAS, A medium-sized dog with a short, smooth, sleek coat, the Lacy stands from 18 to 25 inches tall when full-grown and weighs approximately 30 to 50 pounds; all Lacys carry a rare blue-color gene, even though they are divided into three color classifications: blue, red, and tri-color; and

WHEREAS, Lacys are recognized and registered through the National Kennel Club, Continental Kennel Club, Universal Kennel International, Lacy Game Dog Registry, Texas Lacy Game Dog Association, and American Pet Registry, Inc.; and

WHEREAS, Along with its place of origin and its ranching pedigree, this companionable dog boasts yet another association with the State of Texas: in the 1880s, the Lacys were one of three families who donated granite from Granite Mountain for the building of the new State Capitol; and

WHEREAS, The Blue Lacy is a Texas native, a working dog bred to play an essential role in ranch operations, at a time when ranches themselves became one of the iconic Texas symbols, and a dog that has more than pulled its weight on many a Texas spread; this proud heritage assuredly gives the Lacy a unique and powerful claim of its own to represent the Lone Star State; now, therefore, be it

RESOLVED, That the 79th Legislature of the State of Texas hereby designate the Blue Lacy as the official State Dog Breed of Texas.
Texas Law
The blue lacy was adopted by House Joint Resolution No. 108 and is not listed in the Texas Statutes.

Only a small number of Texas' myriad symbols have been actually adopted by an act of the legislature and written into the Texas Statutes.
Taxonomic Hierarchy: Blue Lacy
Kingdom: Animalia
Phylum: Chordata
Class: Mammalia
Order: Carnivora
Family: Canidae
Genus: Canis
Species: C. lupus
Subspecies: C. l. familiaris
---