Texas State Grass
Sideoats Gramma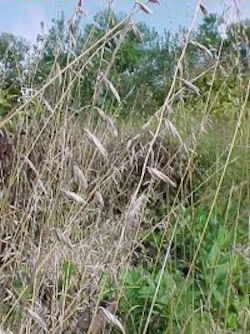 (bouteloua curtipendula {Michx.} Torr.)
Adopted on April 12, 1971.
Sideoats grama, (Bouteloua curtipendula,) a native grass found on many different soils, was designated by the 62nd Legislature as the state grass of Texas when Governor Preston Earnest Smith signed Senate Concurrent Resolution No. 31 on April 12, 1971.
Sideoats is a small clump forming grass with delicately showy reddish orange stems with 2 rows of small flowers mostly on one side. The basal leaves are 1/4 inches wide and 12 inches long. It is best when planted in dry to average soil with rock garden and prairie wildflowers.
It is quite palatable to livestock but is a mid-seral grass in our region. Its seeds have an oat-like resemblance and appear to come off one side of the inflorescence branch. It can also be easily identified vegetatively by the papilla based hairs at the lower part of the leaf.
Description of Texas Sideoats Grama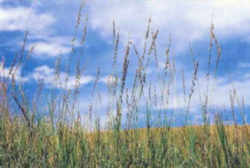 Common Name: Sideoats grama
Zone: 4 to 9
Habit: Ornamental grass
Family: Poaceae
Tribe: Chlorideae
Longevity: Perennial
Native: Yes
Range: Canada to Argentina
Height: 1.5 to 2.5 feet
Spread: 1.5 to 2 feet
Bloom Color: Purplish
Sun: Full sun
Water: Dry to medium moisture
Maintenance: Low

General Culture:
Easily grown in average, dry to medium wet soils in full sun. Tolerates wide range of soil conditions from well-drained sandy soils to heavy clays. May be grown from seed and may self-seed in the garden in optimum growing conditions. Cut clumps to the ground in late winter.
Noteworthy Characteristics of Texas Sideoats Grama:
Sideoats Grama is a medium sized, warm-season native bunchgrass. It is the largest species of the grama grasses, reaching up to three feet in height. The color of the grass is bluish-green and cures to a reddish-brown color in the fall. The leaves are fairly coarse and stiff. Blooms occur along one side of the seed stalk and are bright red in color. The mature seeds droop from this one edge, thus attributing to the name.

Sideoats Grama germinates rapidly when conditions are favorable, which is usually a fairly long wet period. However, the seedlings will not develop sufficiently to withstand a significant drought, so early continued moisture is important.

Despite the early need for water, developed plants do not handle abundant moisture well and can easily drown out. Their long root system will penetrate deeply into the underlying areas of drier, subsurface soil, which then reduces the plants dependency on the changeable moisture levels of the topsoil. Sideoats grama does not persist on many sites. The roots lessen in number after the first year of growth and the plant will often disappear completely after five years. It does, however, reseed fairly easily if the site is favorable. The best growing sites are those with shallow soil, a fairly low moisture level and good drainage. Because it is so drought tolerant it often becomes abundant following prolonged dry periods.
Problems:
No serious insect or disease problems.
Uses:
Mass in meadows, prairies, slopes, native plant gardens or naturalized areas. Notwithstanding the excellent ornamental features of this grass, it may also be grown as a turf grass and regularly mowed to 2-4 inches
Texas Senate Resolution No. 31
Senate Concurrent Resolution No. 31, 62nd Legislature, Regular Session (1971)
OFFICIAL STATE GRASS

Senate Concurrent Resolution No. 31

WHEREAS, Texas relies heavily upon the native grasses of the rangelands to sustain the livestock that has made ranching one of our State's major industries; and

WHEREAS, Although there are many desirable forage species native to the State, one variety, sideoats grama, occurs on a greater diversity of soils than possibly any other grass; on rangelands of West Texas it is the backbone of the ranching industry; and

WHEREAS, This grass, with the botanical name of bouteloua curtipendula (Michx.) Torr., is a perennial with long purplish spikes and is found in nearly all parts of the State, being especially abundant in area including the Blackland Prairies, Cross Timbers, Edwards Plateau, Rolling Plains, High Plains, and Trans-Pecos; and

WHEREAS, Sideoats grama produces a high quality, nutritious forage which is relished by all classes of livestock and wildlife; it is one of the State's most attractive grasses as well, with its brilliant orange anthers and the purple infloresence it produces upon maturity; each spike turns to one side of the seed stalk at maturity, giving the grass its name of side-oats; and

WHEREAS, This grass is also favored because it is not only winter hardy but is highly drought resistant due to the fact that it is a long-lived perennial grass with rhizomes; in some years the grass produces two seed crops, and growth begins early in the spring and continues until early fall; and

WHEREAS, In addition to its use for forage, sideoats grama is being used extensively to reseed depleted grasslands, and it produces vigorous seedlings making it an excellent grass for all conservation purposes; it mixes well with other native grasses and is being used in this way more than any other grass; and

WHEREAS, The State of Texas has not offcially designated a State grass and both the Texas Council of Chapters, Soil Conservation Society of America, and the Texas Section, American Society of Range Management, have requested that the 62nd Legislature officially name sideoats grama as the Texas State grass; now, therefore, be it

RESOLVED, By the Senate of the State of Texas, the House of Representatives concurring, that sideoats grama [bouteloua curtipendula (Michx.) Torr.] be and it is hereby designated as the official State grass of Texas in accordance with the recommendations of the Texas Council of Chapters, Soil Conservation Society of America, and the Texas Section, American Society of Range Management.

Adopted by the Senate on February 23, 1971; adopted by the House on April 1, 1971.

Filed with the Secretary of State, April 12, 1971.
Taxonomic Hierarchy: Sideoats Gramma
Kingdom: Plantae - Plants
Subkingdom: Tracheobionta - Vascular plants
Superdivision: Spermatophyta - Seed plants
Division: Magnoliophyta - Flowering plants
Class: Liliopsida - Monocotyledons
Subclass: Commelinidae
Order: Cyperales
Family: Poaceae ⁄ Gramineae - Grass family
Genus: Bouteloua Lag. - grama
Species: Bouteloua curtipendula (Michx.) Torr. - sideoats grama
---