Texas State Folk Dance
Square Dance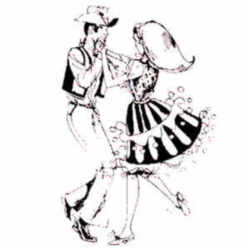 Adopted in 1991.
Authored by State Representative Edmund Kuempel, House Concurrent Resolution No. 153 (HCR153) was filed during the 72nd Regular Session of the Texas Legislature. It was approved in the House of Representatives and Senate.
The square dance became the official state folk dance of Texas when HCR153 was signed by Governor Ann Richards on May 30, 1991.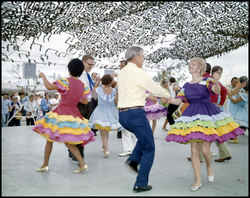 Square dancing is the American folk dance which traces its ancestry to the English country dance and the French ballroom dance. It is called, cued, or prompted to the dancers. It includes squares, rounds, clogging, contra, line, the Virginia reel, and heritage dances. When the pioneers came west, they brought with them a dance called the quadrille, which means square in French. The pioneers liked the simpler term and so the square dance was born. The dance is known for its series of figures and footwork. Dancers are directed by a caller. It is easy to learn, a good form of exercise and fun.
The background of Texas folk dancing is rich and varied. All the steps and choreography were introduced into the state by settlers and visitors. The resulting dances have consistently reflected the potpourri of ethnic and social backgrounds of the people, the changing dance styles and clothing fashions, the setting, and the type of music available. Through the years a definite traditional Texas folk style of dancing has developed.
Texas Law
The Texas state folk dance is not documented in the Texas Statutes because it was adopted by Concurrent Resolution rather than an Act of the Texas Legislature. House Concurrent Resolution No. 153, 72nd Legislature, Regular Session (1991)
---
State Dances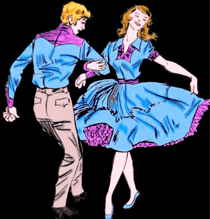 At least there are currently 31 states that have designated square dancing as their State Folk Dance.