Texas State Ship
USS Texas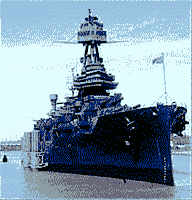 (BB35)
"The Mighty T"
Adopted on June 16, 1995.
The USS Texas (BB35), "The Mighty T" was adopted on June 16, 1995 as the Texas State Ship.
The USS Texas (BB35) was one of a class of two ships authorized by the Congress in an Act of 24 June 1910. This act directed: "The president is hereby authorized to have constructed two first-class battleships to cost, exclusive of armor and armament, not exceeding six million dollars each .... One of the battleships herein authorized shall be constructed in one of the Navy Yards . . ." This was a continuation of the practice of authorizing two battleships each year.
USS Texas (BB35) was commissioned at Norfolk, Virginia, on 12 March 1914 with Captain Albert W. Grant, USN, commanding. Texas joined the fleet at a time when great events in history were about to take place. Trouble in the Western Hemisphere kept her from making the normal shakedown cruise that a newly commissioned vessel usually makes and she was immediately assigned to the Atlantic Special Service Squadron.

The operational career of Texas spanned a period of over 30 years, played a major role in two world wars, and helped to establish a strong national defense posture during the peacetime period between the wars.
In 1948, the Battleship TEXAS became the first battleship memorial museum in the US That same year, on the anniversary of Texas Independence, the Texas was presented to the State of Texas and commissioned as the flagship of the Texas Navy. In 1983, the Texas was placed under the stewardship of the Texas Parks and Wildlife and is permanently anchored on the Buffalo Bayou and the busy Houston Ship Channel. The Texas Parks and Wildlife's 1,200-acre San Jacinto Battleground State Historic Site consists of the Battleground, Monument and Battleship TEXAS. These sites are located within minutes of downtown Houston and a short distance to the beaches of Galveston Island. Millions of visitors come to this area each year to enjoy the mild coastal climate and cultural and sports activities. Students and visitors alike are most fortunate to be able to experience history first hand through living history at the San Jacinto Battleground and Battleship TEXAS.
A massive restoration project is still underway which is being financed by public donations. Many school children in Texas have collected and donated pennies to repair and refurbish this important piece of US naval history.

The Battleship TEXAS is administered by TPW with the dedicated assistance from the Battleship TEXAS Foundation, a private, non-profit organization.
Battleship TEXAS State Historic Site
3523 Highway 134
LaPorte TX 77571
281/479-2431
Texas Concurrent Senate Resolution No. 101
CONCURRENT RESOLUTION
By Patterson
S.C.R. No. 101 74R8431 KMP-D

WHEREAS, The State of Texas has traditionally recognized a variety of official state symbols that embody the proud spirit and unique heritage of our state; and

WHEREAS, The bluebonnet, the pecan tree, and the mockingbird are examples of some natural specimens that serve to symbolize the great diversity of the Texas landscape, while the state dish, chili, fittingly represents another aspect of our shared culture as Texans; and

WHEREAS, In keeping with this custom, the designation of the battleship Texas as the official State Ship of Texas will provide suitable recognition for this historic symbol of Texas' indomitable spirit; and

WHEREAS, Commissioned in the Norfolk Navy Yard on March 12, 1914, the USS. Texas served in the Atlantic theater during World War I; later, from 1925 to 1926, the Texas was modernized and served as a fleet flagship for the United States Navy; and

WHEREAS, In 1939, this exceptional vessel was chosen as the flagship of the Atlantic Training Squadron and one year later was designated as the flagship for the commander of the Atlantic Fleet, Admiral Ernest J. King; and

WHEREAS, During World War II, the Texas served her country with great distinction, transporting troops to Europe, Africa, and the Panama Canal Zone while negotiating some of the most dangerous waters of the war; this remarkable ship was unique throughout the world in that it participated in five major Allied invasions in three separate theaters of combat: North Africa, Southern France, Northern France, Okinawa, and Iwo Jima; and

WHEREAS, Nicknamed "The Mighty T," the Texas is perhaps best known as the command ship for the bombardment of Omaha Beach, on whose historic sands American soldiers displayed unflinching bravery in the face of withering enemy fire to begin the long-awaited liberation of France; and

WHEREAS, During her entire record of distinguished service to the United States, the Texas experienced only one fatality and 14 wounded while off the coast of Cherbourg, France; following her retirement from service, "The Mighty T" was given to the State of Texas, and today she is moored near the San Jacinto Battleground State Historical Park; and

WHEREAS, The USS. Texas performed a vital role in the success of many critical missions during peacetime and both world wars, epitomizing the strength, resolve, and gritty determination of her namesake state; this year, as we commemorate the 50th anniversary of the end of World War II, it is indeed appropriate that this mighty vessel be given special legislative recognition as an official symbol of the Lone Star State; now, therefore, be it

RESOLVED, That the 74th Legislature of the State of Texas hereby designate the USS. Texas as the official State Ship of Texas.

Senate Concurrent Resolution No. 101, 74th Legislature, Regular Session (1995)

---