Texas State Fibre and Fabric
Cotton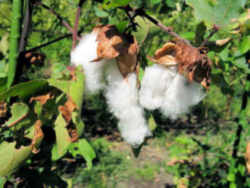 (Gossypium spp.)
Adopted on June 18, 1997.
Texas is probably the only state with an official fabric and cloth. Though the designation is unusual, the plant chosen was an obvious choice. The Cotton plant, (Gossypium spp.,) was adopted on June 18, 1997.

Cotton has been grown in Texas since the 1740s, brought by Spanish missionaries.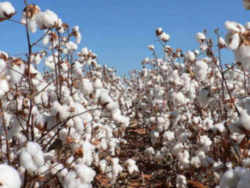 Texas tops the nation in cotton production, with about 25 percent of the entire US crop coming from our state. This year Texas farmers are expected to pull some 5.4 million bales in for more than $1.4 billion. Cotton provides about 50 percent of the world's textile fibre.

Yet naming cotton the official fabric and cloth wasn't exactly an obvious choice, either. In 1901, it was nominated for adoption as the state flower! Phil Clement of Mills likened the open cotton boll to "the white rose of commerce."
Cultivated since ancient times, people have utilized the lint for spinning and weaving. In frost free areas, cotton can be a perennial shrub or small tree.
Description of Texas Cotton
Biology
Cotton, Gossypium spp., is a member of the mallow family (Malvaceae) that is essentially grown for the fibrous material or lint that is attached to the seed in a structure called a boll. The seeds themselves form an important by-product and are subjected to a number of processes to utilise their oil and seed meal. The biology of cotton, the production and harvesting of the crop and the processing are explained in this section. As well, we look at the research and development side and the social impact of growing cotton
Culture
Plant in spring after last frost, 1/2 inch deep, 12 inches apart. Wild cotton seeds need to be presoaked or scarified. Plants need a long season for bolls to mature.

Hopi Short Staples
Gossypium hirsutum var.punctatum. Originating in Central America and traded north, this variety was pre historically grown by the Hopi. It has a short growing season (100 days). Our original seed came from a USDA research geneticist. Low Desert/ High Desert
Peruvian Brown Cotton
Gossypium hirsutum. A soft, short staple cotton that ranges in color from red brown to olive green. It has beautiful yellow flowers and produces abundant bolls over a long growing season. Natural colored cotton fibers have been grown for over 2000 years by native peoples from Mexico to South America. Low Desert
Sacaton Aboriginal
Gossypium hirsutum var.punctatum. Grown by the Pimans for food and fiber until 1900. Padre Kino noted the extensive cotton fields and use of the fiber for weaving into clothing and blankets. This variety, related to Hopi cotton, was maintained by the Field Station in Sacaton, Arizona, for many years under the name "Sacaton Aboriginal." Pimans planted cotton "when the mesquite began to leaf out". Low Desert
Texas House Concurrent Resolution No. 228
TEXAS HOUSE CONCURRENT RESOLUTION
By Jones of Lubbock
H.C.R. No. 228 75R12782 JTR-D

WHEREAS, The Lone Star State is world renowned for the abundance, variety, and excellence of its agricultural output, and throughout the state's history cotton has been a mainstay of the Texas economy and culture; and

WHEREAS, The state's largest cash crop, cotton is planted on more acres than any other agricultural product in Texas, and the preeminence of the United States in world cotton production is due largely to the quantity produced within the state's borders; the magnitude of this contribution is reflected in the fact that, if Texas were an independent country, it would rank sixth among the world's cotton producers; and

WHEREAS, Through the years, cotton has become closely identified with Texas in the popular mind; countless works of art, music, literature, and history have reaffirmed the importance of cotton to the development of the state, and the tradition of Texas producing the nation's first bale of cotton each year aptly symbolizes this deep connection; and

WHEREAS, Cotton is deservedly one of the world's most popular fabrics, combining durability, versatility, and remarkable comfort; particularly well suited to the Lone Star State's unique range of climatic conditions, cotton clothing is a typically Texan tradition, and its many virtues underscore the fiber's importance to the state; and

WHEREAS, Cotton is universally acknowledged as an essential element of the Lone Star State's history and heritage, and it is indeed fitting that this close relationship be recognized at this time; now, therefore, be it

RESOLVED, That the 75th Legislature of the State of Texas hereby designate cotton the Official State Fiber and Fabric of Texas.
House Concurrent Resolution No. 228, 75th Legislature, Regular Session (1997)
Taxonomic Hierarchy: Cotton
Kingdom: Plantae
(unranked): Angiosperms
(unranked): Eudicots
(unranked): Rosids
Order: Malvales
Family: Malvaceae
Subfamily: Malvoideae
Tribe: Gossypieae
Genus: Gossypium
---