Georgia State Almanac: Facts and Figures
Quick Facts, Figures, and Overview of the State of Georgia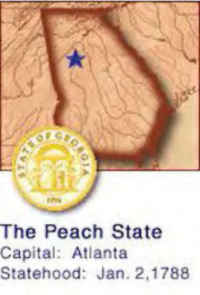 Georgia is one of the South Atlantic states of the US. Georgia State is drained by the Savannah, Chattahoochee and Suwannee Rivers. Andersonville National Historic Site, Chickamauga and Chattanooga National Military Park, Kennesaw Mountain National Battlefield Park and Chattahoochee River National Recreation Area are some of the important National Parks of Georgia. Georgia is bordered on the south by Florida; on the east by the Atlantic Ocean and South Carolina; on the west by Alabama; and on the north by Tennessee and North Carolina. Georgia was named after England's King George II in 1733.
Once principally a farming state, known for its considerable cotton output, Georgia in the early 1990s had an economy centered on manufacturing and service industries. Atlanta, the state capital, serves as a major economic center for the South. Georgia leads the nation in the production of paper and board, tufted textile products, and processed chicken. Other major manufactured products are transportation equipment, food products, apparel, and chemicals.
Important agricultural products are corn, cotton, tobacco, soybeans, eggs, and peaches. Georgia produces twice as many peanuts as the next leading state. From its vast stands of pine come more than half of the world's resins and turpentine and 74.4 percent of the U.S. supply. Georgia is a leader in the production of marble, kaolin, barite, and bauxite.
Official Name
Georgia
Capital
Atlanta
Nicknames
Empire State of the South, Peach State ... and more
Motto
Wisdom, justice and moderation
Location
Region
33.76290 N, 084.42259 W
Southern
South Atlantic
Appalachia
Constitution Ratified
1977
Statehood
January 02, 1788
4th State
Population
9,687,653 (2010)
141.34
10th
Largest City
(by population)
10 largest cities (2010):Atlanta, 420,003; Augusta-Richmond County,1 195,844; Columbus,1 189,885; Savannah, 136,286 Athens-Clarke County,1 115,452; Sandy Springs, 93,853; Macon, 91,351; Roswell, 88,346; Albany, 77,434; Johns Creek, 76,728
Bordering States
North: Tennessee and North Carolina
East: South Carolina and the Atlantic Ocean (Savannah River forms part of the E border)
South: Florida
West: Alabama (Chattahoochee River part of the Western border)
Coastline: 100 mi.
Major Industry
textiles, timber (especially pine), agriculture (cotton, corn, peanuts, soybeans, poultry)
Major Rivers
Chattahoochee River, Savannah River, Suwannee River
Major Lakes
Lake Sidney Lanier, Clark Hill Lake, West Point Lake, Lake Hartwell
Georgia Counties
159 counties in Georgia
Largest County
(by population)
Fulton County
920,581 (2010)
529 sq. mi.
Largest County
(by area)
Ware County
903 sq. mi.
State forests
6 (63,294 ac.)
State parks
64 (65,066 ac.)
Presidential Birthplace
James Earl Carter, Jr., was born in Plains on October 1, 1924 (he was the 39th US President, serving from 1977 to 1981).
Electoral Votes
15 (as of the 2004 Presidential Election)
US Congress
2 Senators; 13 Representatives
Time Zone
Eastern Standard Time
Zip Codes
NANPA
State Quick Facts
Census Bureau Quick Facts
---
Georgia Climate and Weather

Georgia enjoys a consistent and typically mild southern climate. Seldom (with the exception of the Blue Ridge Mountains in the north) does snow fall, much less accumulate.

Maritime tropical air masses dominate in summer in Georgia; continental polar air masses in winter; east central area drier.

Summers are pleasant, though hot and humid, with statewide highs averaging in the mid-80s.

Winter brings colder temperatures with daily highs in the mid-40s. Warmer conditions exist along the coastal areas.
Highest Temperature
112 degrees
July 24, 1953 - Louisville
Lowest Temperature
-17 degrees
January 27, 1940 - CCC Camp F-16
Avg. Temp:
High - Low
92.2 degrees
32.6 degrees

Georgia Points of Interest

Georgia is mint juleps, antebellum homes, covered bridges and a friendly, welcoming place, one rich in southern history and a wide assortment of amazing sites to visit and enjoy.

From quiet rivers towns to the dizzying pace of Atlanta, and from the refined styles of sophisticated Savannah, south to the isolated barrier islands, there's really no destination quite like the "Peach Tree" state.

Principal tourist attractions in Georgia include the Okefenokee National Wildlife Refuge, Andersonville Prison Park and National Cemetery, Chickamauga and Chattanooga National Military Park, the Little White House at Warm Springs where Pres. Franklin D. Roosevelt died in 1945, Sea Island, the enormous Confederate Memorial at Stone Mountain , Kennesaw Mountain National Battlefield Park, and Cumberland Island National Seashore. In 2005 the world's largest indoor aquarium, the Georgia Aquarium, opened, showcasing more than 100,000 aquatic animals including the only whale sharks in captivity outside of Asia.

Georgia Highest, Lowest, and Mean Elevations (Feet)

Mean Elevation: 600 feet
Highest Point: Brasstown Bald: 4,784 feet

The highest point in the state of Georgia is Brasstown Bald, located about 45 minutes from the town of Helen. Brasstown Bald rises beautifully 4,784 feet above sea level. On clear days, four states can be seen from the summit of the Bald.

Lowest Point:
Atlantic Ocean:
Sea level

Georgia Land Area (Square Miles)

The mountains of the north, part of the Appalachian Mountains system, give way to the transitional Piedmont Plateau and its fertile, gently rolling hills. The southern half of the state is covered by the low-lying coastal plain; just offshore are the popular resorts of the Georgia Sea Islands. Along the border with Florida is the Okefenokee Swamp, a huge wilderness area with unique flora and fauna. The climate is temperate but variable throughout the state. About 63% of the population lives in urban areas.
Geographic Center
In Twiggs County, 18 mi. SE of Macon
Longitude: 83°29.7'W
Latitude: 32°42.8'N
Total Area
59,424.77 sq. mi.
24th
Land Area
57,906.14 sq. mi.
97.45%
Water Area
1,518.63 sq. mi.
2.55%
Forested Land Area
65.9%
Dimensions
(Length - Width)
300 miles - 230 miles
County Information and County History
Appling, Athens-Clarke, Atkinson, Augusta-Richmond, Bacon, Baker, Baldwin, Banks, Barrow, Bartow, Ben Hill, Berrien, Bibb, Bleckley, Brantley, Brooks, Bryan, Bulloch, Burke, Butts, Calhoun, Camden, Candler, Carroll, Catoosa, Charlton, Chatham, Chattooga, Cherokee, Clay, Clayton, Clinch, Cobb, Coffee, Colquitt, Columbia, Columbus-Muscogee, Cook, Coweta, Crawford, Crisp, Cusetta-Chattahoochee, Dade, Dawson, Decatur, DeKalb, Dodge, Dooly, Dougherty, Douglas, Early, Echols, Effingham, Elbert, Emanuel, Evans, Fannin, Fayette, Floyd, Forsyth, Franklin, Fulton, Gilmer, Glascock, Glynn, Gordon, Grady, Greene, Gwinnett, Habersham, Hall, Hancock, Haralson, Harris, Hart, Heard, Henry, Houston, Irwin, Jackson, Jasper, Jeff Davis, Jefferson, Jenkins, Johnson, Jones, Lamar, Lanier, Laurens, Lee, Liberty, Lincoln, Long, Lowndes, Lumpkin, Macon, Madison, Marion, McDuffie, McIntosh, Meriwether, Miller, Mitchell, Monroe, Montgomery, Morgan, Murray, Newton, Oconee, Oglethorpe, Paulding, Peach, Pickens, Pierce, Pike, Polk, Pulaski, Putnam, Quitman, Rabun, Randolph, Rockdale, Schley, Screven, Seminole, Spalding, Stephens, Stewart, Sumter, Talbot, Taliaferro, Tattnall, Taylor, Telfair, Terrell, Thomas, Tift, Toombs, Towns, Treutlen, Troup, Turner, Twiggs, Union, Upson, Walker, Walton, Ware, Warren, Washington, Wayne, Webster, Wheeler, White, Whitfield, Wilcox, Wilkes, Wilkinson, Worth
Almanac Online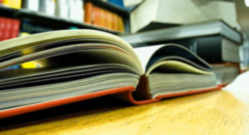 Information on people & places that make US a great place to live, visit, or study.