Alabama State Nut
Pecan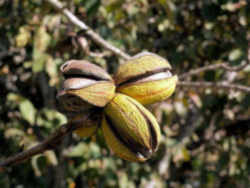 (Juglandaceae Carya illinoensis)
Adopted on February 2, 1982.
In the summer of 1960, a small group of pecan growers from Baldwin and Mobile Counties met and formed the Southwest Alabama Pecan Association. In 1980, the association changed its name to Alabama Pecan Growers Association, to be recognized as a state association. The association was incorporated in 1985. The purpose and mission of APGA as stated in the association by-laws is "to provide an organized mechanism for the enhancement of profitable production and marketing of pecans by and on behalf of pecan growers within the State of Alabama". The influence of the association led to pecan being named the state nut of Alabama in 1982, Juglandaceae Carya illinoensis.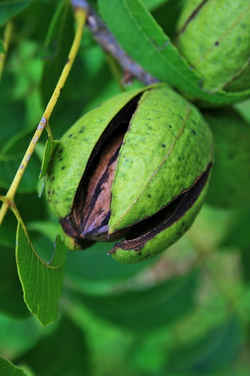 Pecan culture made its way into Alabama in the early 1900's. The pecan industry grew steadily along the Gulf Coast in Alabama in Mobile and Baldwin County, where pecan orchards began to appear from 1908 to 1920. By the early 1940's the pecan production became a sizable industry.
This thin-shelled nut can be found all over the United States but primarily in the Southern States. It comes from the pecan tree which is grown all over Alabama. Pecans are good sources of vitamin B-6 and are used in many southern recipes such as pralines and pecan pie.
The following states are most important in commercial pecan tree growing: Alabama, Arizona, Arkansas, California, Florida, Georgia, Mississippi, New Mexico, North Carolina, Oklahoma, South Carolina, and Texas. Kansas, Kentucky, Maryland, Missouri, Tennessee, and Virginia also grow some pecan trees. The top five states, in order of improved pecan production from 1978 to 1986, were Georgia, Texas, New Mexico, Arizona, and Alabama.
Pecans contain protein, monounsaturated and polyunsaturated "healthy" oils, carbohydrates, fiber, iron, calcium, phosphorus, zinc, and potassium, as well as Vitamins A, B, C, and E and other antioxidants; scientific studies have also demonstrated that pecans can lower cholesterol, significantly contributing to improved cardiovascular health, while helping to reduce the risk of cancer; and a significant boon to the Lone Star State's economy, the pecan is grown commercially in more than 70 percent of the state's counties and Texas provides over a quarter of the nation's pecan crop.
Fruit
Large, oblong, brown, splotched with black, thin shelled nuts, 1 and ? to 2 inches long, husks are thin, usually occur in clusters on trees. Mature in September and October.
See Texas State Tree: Pecan (Juglandaceae Carya illinoensis)
Alabama Law
The Act no. 82-17,adopted in 1982, made the pecan the Alabama State Nut. Source: Acts of Alabama, February 2, 1982
This thin-shelled nut can be found all over the United States but primarily in the Southern States. It comes from the pecan tree which is grown all over Alabama. Pecans are good sources of vitamin B-6 and are used in many southern recipes such as pralines and pecan pie. The Act no. 82-17,adopted in 1982, made the pecan the Alabama State Nut. Source: Acts of Alabama, February 2, 1982
Taxonomic Hierarchy: Pecan
Kingdom: Plantae - Plants
Subkingdom: Tracheobionta - Vascular plants
Superdivision: Spermatophyta - Seed plants
Division: Magnoliophyta - Flowering plants
Class: Magnoliopsida - Dicotyledons
Subclass: Hamamelididae
Order: Juglandales
Family: Juglandaceae - Walnut family
Genus: Carya Nutt. - hybrid hickory
Species: Carya illinoinensis (Wangenh.) K. Koch - pecan
---