Alabama State Outdoor Drama
The Miracle Worker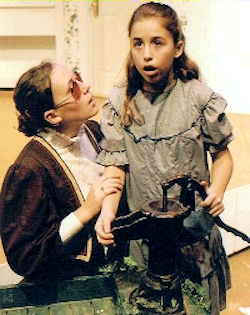 Adopted in 1991.
The Miracle Worker was adopted in 1991 as the State Outdoor Drama of Alabama by Act no. 91-37.
In 1962, the first production of William Gibson's drama, The Miracle Worker, was performed on the grounds of Ivy Green. Ivy Green was the birthplace of Helen Keller. The house is listed on the national register of historic places.
The Miracle Worker is a three-act play by William Gibson adapted from his 1957 Playhouse 90 teleplay of the same name. It is based on Helen Keller's autobiography The Story of My Life.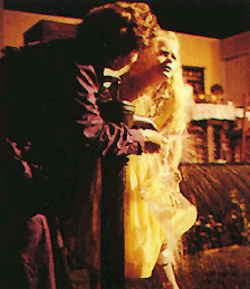 Visitors gather in Tuscumbia each June for the annual, week-long Helen Keller Festival. The celebration includes a parade through downtown, stage entertainment, arts and crafts, an art auction, tour of historic sites, puppet shows, a variety of sports tournaments, and athletic events. The festival also marks the beginning of the outdoor performances of William Gibson's The Miracle Worker. The play is performed each summer from the end of June through July on Friday and Saturday nights at 8:00 p.m. on the Ivy Green grounds. The play relates the story of Helen Keller's early life and her teacher Anne Sullivan.

Located on a 640 acre tract in historic Tuscumbia, Ivy Green was built in 1820 by David Keller, grandfather of Helen Keller. The main house is of Virginia cottage construction, with four large rooms on the first floor bisected by a wide hall. Each room boasts an individual fireplace. Upstairs are three rooms connected by a hall. The birthplace cottage is situated east of the main house and consists of a large room and play room. The home and museum rooms are decorated with much of the original furniture of the Keller family.
The Miracle Worker became the State Outdoor Drama in 1991 by Act no. 91-37.
Ivy Green - Birthplace of Helen Keller
300 West North Commons
Tuscumbia 35674
Sources:
Acts of Alabama, April 30, 1991
Alabama Museums Directory, February 1994
Ivy Green Brochure, nd.
Alabama Law
The law designating "The Miracle Worker," as the official Alabama state drama is found in the Code of Alabama, Title 1, Chapter 2 Section 1-2-28
Title 1 - GENERAL PROVISIONS.
Chapter 2 - STATE SYMBOLS AND HONORS.
Section 1-2-28 - State drama.

Universal Citation: AL Code § 1-2-28 (2013)
Section 1-2-28
State drama.

The drama by William Gibson, "The Miracle Worker," which is performed annually on the grounds of Ivy Green, the birthplace of native Alabamian Helen Keller, is hereby designated as the official outdoor drama of the State of Alabama.
(Acts 1991, No. 91-37, p. 45.)
---