Alabama State Mineral
Red Iron Ore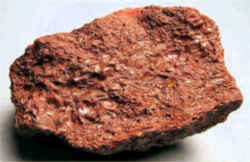 (Hematite)
Adopted in 1967
Hematite, an oxide of iron (Fe2O3), is also known as "red iron ore" and in 1967 was designated as the State Mineral by the Alabama Legislature with Act no. 503 . Approximately 375 million tons of hematite was mined in Alabama from 1840 to 1975 (when mining in Alabama ceased), contributing to the development of Birmingham as an industrial center.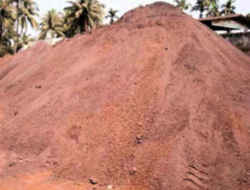 Hematite was mined for many years in the Valley and Ridge area of central and northeastern Alabama. The mining of hematite was once the state's most developed non-fuel mineral industry, and the occurrence of hematite with nearby deposits of coal (a fossil fuel) and limestone (used as flux) led to the development of Birmingham as an industrial center. Iron ore mining in the state ceased in 1975 primarily owing to the availability of inexpensive higher grade imported ores. Red iron ore (from the Red Mountain Formation) has been mined in Bibb, Blount, De Kalb, Cherokee, Etowah, Jefferson, St. Clair, and Tuscaloosa Counties. Hematite occurs along the entire length of Red Mountain which passes through these counties. From about l840 to 1975, approximately 375 million tons of iron ore were mined in Alabama, principally from the Birmingham red-ore district. In 1904 Birmingham iron ore was used in casting the statue of Vulcan, which stands atop Red Mountain as the largest cast-iron structure ever made.
In 1967 the state legislature approved Act no. 503 adopting red iron ore, with the scientific name of hematite as the state mineral.
Source:
Act 67-503, Acts of Alabama, September 7, 1967
Geological Survey of Alabama. The Geological Survey of Alabama has many maps and publications describing mineral resources in Alabama. Contact the publication office at 420 Hackberry Lane, P.O. Box O Tuscaloosa, AL 35486-9780.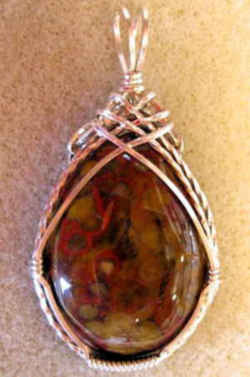 Red iron ore from the Red Mountain Formation has been mined in Bibb, Blount, Cherokee, DeKalb, Etowah, Jefferson, and Tuscaloosa counties. Brown iron ore has been mined in Barbour, Butler, Calhoun, Cherokee, Chilton, Colbert, Conecuh, Crenshaw, Franklin, Jefferson, Pike, Shelby, and Tuscaloosa counties. Brown iron ore washing and screening factories were Red iron-ore mining operation at Irondale, in Jefferson Irondale Ore Minegenerally located near the open-pit mine and were moved as mining operations shifted from one mine to another. The emergence of the iron industry in Alabama during the early and mid-nineteenth century marked the beginning of the state's industrial era. Early iron-making efforts made use of the local "brown iron ore" (the mineral limonite) and charcoal at massive stone furnaces such as those at Tannehill (1830), Polkville (1843), Shelby (1844), at Round Mountain (1852). The industry expanded dramatically with the discovery of red ore (hematite) at Red Mountain near Birmingham. Until the nineteenth century, iron-ore mining was one of the most important components of the state's economy, but competition from imports, beginning in the mid-twentieth century, gradually eclipsed Alabama's mining industry.
PHYSICAL CHARACTERISTICS: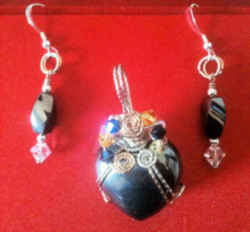 Color (often more of a maroon or a pink), and brown, purple, or orange coloration in sedimentary rocks indicates the presence of oxidized iron. In well-oxygenated continental sedimentary environments, the iron in the sediments is oxidized to form hematite, a ferric iron (Fe+3) mineral which colors the sediment red, brown, or purple. These rocks are called red beds. Red beds typically indicate deposition in continental (or transitional) sedimentary environments such as flood plains, alluvial fans, and deltas. Red beds can also form in marine environments (due to oxidation of the iron in the sediment after deposition), or to erosion of red sediment from the land. Red beds interlayered with evaporites indicate warm, arid conditions.
Luster is metallic or dull in earthy and oolitic forms.
Transparency: Crystals are opaque.
Crystal System is trigonal; bar 3 2/m
Crystal Habits include tabular crystals of varying thickness sometimes twinned, micaceous (specular), botryoidal and massive. also earthy or oolitic.
Cleavage is absent. However, there is a parting on two planes.
Fracture is uneven.
Hardness is 5 - 6
Specific Gravity is 5.3 (slightly above average for metallic minerals)
Streak is blood red to brownish red for earthy forms.
Associated Minerals include jasper (a variety of quartz) in banded iron formations (BIF or Tiger Iron), dipyramidal quartz, rutile, and pyrite among others.
Notable Occurrences especially nice specimens come from England, Mexico, Brazil, Australia and the Lake Superior region.
Best Field Indicators are crystal habit, streak and hardness.
Alabama Law
The law designating Hematite as the official Alabama state mineral is found in the Code of Alabama 1975, Title 1, Chapter 2 Section 1-2-13
Title 1 - GENERAL PROVISIONS.
Chapter 2 - STATE SYMBOLS AND HONORS.
Section 1-2-13 - Official mineral.

Universal Citation: AL Code § 1-2-13 (2013)
Section 1-2-13
Official mineral.

Hematite is hereby designated and named the official mineral of the State of Alabama.
(Acts 1967, No. 503, p. 1215.)
---
State Rocks,
Minerals, & Gems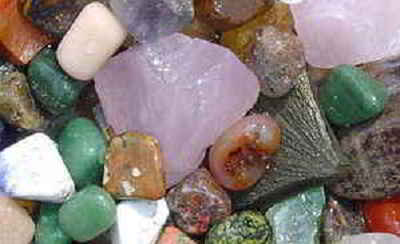 Gemstone, Minerals, Rocks