Alabama State Wildflower
Oak-leaf Hydrangea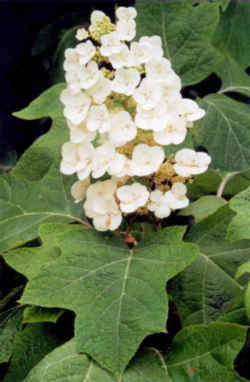 (Hydrangea quercifolia Bartr.)
Adopted ion May 25, 1999 .
The oak-leaf hydrangea, (Hydrangea quercifolia Bartr.,) was designated and named as the official state wildflower of Alabama in 1999.
Specimens of the state flower and wildflower shall be deposited in the Auburn University Herbarium.
Large spikes of white blooms in April and May rise above large green oak-shaped leaves. In summer, these blossoms turn a deep rose color and persist into the winter. The leaves turn red in the fall and the peeling bark of the stems and branches add to its attractive appearance.
This medium-size (six to eight feet tall) deciduous shrub is found in every section of Alabama. William Bartram was the first to notice this plant (in the 1770s) and he named it Hydrangea quercifolia (querci- oak, and folia - leaf).
It will grow in most soils, but prefers well-drained moisture-retentive soil. It will grow in full sun or shade and is easily rooted from softwood cuttings taken in July.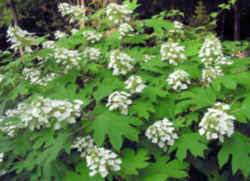 Hydrangea quercifolia, commonly known by its translation oakleaf hydrangea or oak-leaved hydrangea, is a species of flowering plant native to the Southeastern United States, in woodland habitats from North Carolina west to Tennessee, and south to Florida and Louisiana. A deciduous shrub with white showy flower heads, it is a commonly grown garden plant. Numerous cultivars are available commercially.
Identification of the Oak-leaf Hydrangea
A mound-shaped shrub, 3-12 ft. tall. Multiple stems are sparingly branched with picturesque canes. Older stems are exfoliating to reveal a rich, brown inner bark. The showy inflorescence of greenish flowers, turns white then purplish and persists on the bush until mid-winter. The foliage, shaped something like that of red oak, becomes colorful in fall.
Description:
Height: 6 to 10 feet
Spread: 6 to 8 feet
Plant habit: upright; round
Plant density: moderate
Growth rate: fast
Texture: coarse
Foliage
Leaf arrangement: opposite/subopposite
Leaf type: simple
Leaf margin: ciliate; serrate
Leaf shape: ovate
Leaf venation: pinnate
Leaf type and persistence: deciduous
Leaf blade length: 8 to 12 inches
Leaf color: green
Fall color: purple
Fall characteristic: showy
Flower
Flower color: pink
Flower characteristic: summer flowering; spring flowering
Fruit
Fruit shape: oval
Fruit length: less than .5 inch
Fruit cover: dry or hard
Fruit color: brown
Fruit characteristic: persists on the plant
Trunk and Branches
Trunk/bark/branches: not particularly showy; typically multi- trunked or clumping stems
Current year stem/twig color: brown
Current year stem/twig thickness: thick
Alabama Law
The law designating the oak-leaf hydrangea as the official Alabama state wildflower is found in Section 1-2-11 of the Code of Alabama, Title 1, Chapter 2, Section 1-2-11
Title 1 - GENERAL PROVISIONS.
Chapter 2 - STATE SYMBOLS AND HONORS.
Section 1-2-11 - State flower; state wildflower.

Universal Citation: AL Code § 1-2-11 (2013)
Section 1-2-11
State flower; state wildflower.

(a) The camellia, Camellia japonica L., is hereby designated and named as the official state flower of Alabama.

(b) The oak-leaf hydrangea, Hydrangea quercifolia Bartr., is hereby designated and named as the official state wildflower of Alabama.

(c) Specimens of the state flower and the state wildflower shall be deposited in the Auburn University Herbarium.
(Acts 1927, No. 541, p. 627; Code 1940, T. 55, ?8; Acts 1959, No. 124, p. 646; Act 99-313, §1.)
Taxonomic Hierarchy: Oak-leaf Hydrangea
Kingdom: Plantae - Plants
Subkingdom: Tracheobionta - Vascular plants
Superdivision: Spermatophyta - Seed plants
Division: Magnoliophyta - Flowering plants
Class: Magnoliopsida - Dicotyledons
Subclass: Rosidae
Order: Rosales FamilyHydrangeaceae - Hydrangea family
Genus: Hydrangea L. - hydrangea
Species: Hydrangea quercifolia W. Bartram - oakleaf hydrangea
---
State Flowers
State Floral Emblems