Alabama State Coat of Arms
Coat-Of-Arms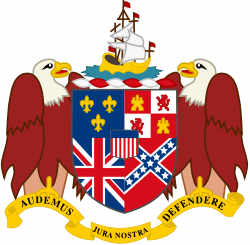 Adopted on March 14, 1939.
The bill, legislative Act No. 140, to legalize a state coat-of-arms was introduced in the Alabama Legislature of 1939 by James Simpson, Jefferson County, and was passed without a dissenting vote by both houses on March 14, 1939.
The coat of arms of Alabama depicts a shield upon which is carried the symbols of the five nations which have at various times held sovereignty over a part or the whole of what is now Alabama. These are the coat of arms of France, the ancient coat of arms of Crown of Castile for Spain (Castile quartering León), the Union Flag of the United Kingdom and the battle flag of the Confederate States of America. On an escutcheon of pretence is borne the shield of the United States. The crest of the coat represents a ship (the "Badine") which brought the French colonists who established the first permanent European settlements in the state. Below is the state motto: Audemus jura nostra defendere, meaning "We dare defend our rights."
The coat-of-arms consists of a shield on which appears the emblems of the five governments that have held sovereignty over Alabama. The flags of Spain, France, Great Britain, the Confederacy are bound by the flag and shield of the United States. This shield is supported on either side by bald eagles, symbolic of courage. The crest is a model of the ship, the Baldine, that Iberville and Bienville sailed from France to settle a colony near present day Mobile (1699). The motto beneath the shield is "Audemus jura nostra defendere," We Dare Defend Our Rights. Beneath the motto is the state name.

The original design of the Alabama coat-of-arms was made in 1923 by B. J. Tieman, New York, an authority on heraldry, at the request of Marie Bankhead Owen, Director of the Department of Archives and History. A few years later Naomi Rabb Winston, Washington, DC, painted the completed design in oil. Mrs. Owen selected the motto which was put into Latin by Professor W. B. Saffold, of the University of Alabama. It was through the influence of Juliet Perry Dixon, wife of Governor Dixon, that official action was taken by the legislature.

The act to adopt an official Coat-of-Arms for the State of Alabama was approved March 14, 1939, Act no. 140.
Sources:
Acts of Alabama, March 14, 1939
Alabama State Emblems, Alabama Department of Archives and History, n.d.
Alabama Law
The law designating the Alabama official coat of arms is found in the Code of Alabama 1975, Title 1, Chapter 2 Section 1-2-1
Title 1 - GENERAL PROVISIONS.
Chapter 2 - STATE SYMBOLS AND HONORS.
Section 1-2-1 - Official coat of arms - General description.

Universal Citation: AL Code § 1-2-1 thru 1-2-3 (2013)
Section 1-2-1
Official coat of arms - General description.

Alabama shall have an official coat of arms which shall be as follows: a shield upon which is carried the flags of four of the five nations which have at various times held sovereignty over a part or the whole of what is now the State of Alabama: Spain, France, Great Britain and the Confederacy. The union binding these flags shall be the shield of the United States. The shield upon which the flags and shield of the United States are placed shall be supported on either side by an eagle. The crest of the coat of arms shall be a ship representing the "Badine" which brought the French colonists who established the first permanent white settlements in the state. Beneath the shield there shall be a scroll containing the sentence in Latin: "Audemus jura nostra defendere," the English interpretation of which is "We Dare Maintain Our Rights." The word "Alabama" shall appear beneath the state motto.
(Acts 1939, No. 140, p. 176; Code 1940, T. 55, §1.)

Section 1-2-2
Official coat of arms - Description in heraldic terms.

The coat of arms of Alabama as described in heraldic terms shall be as follows: arms: quarterly, the first azure three fleur de lis or (for France); second quarterly first and fourth gules a tower tripple towered or, second and third argent a lion rampant gules (for Spain); third azure a saltire argent and gules over all a cross of the last fimbriated of the second (for Great Britain); fourth gules of a saltire azure, fimbriated argent 13 mullets of the last (for the Confederacy); at center in escutcheon chief azure paly argent and gules 13 (for United States) arms supported by two American eagles displayed. Crest: A full rigged ship proper.
(Acts 1939, No. 140, p. 176; Code 1940, T. 55, §2.)

Section 1-2-3
Official coat of arms - Use.

The official coat of arms of the State of Alabama shall be placed above the speaker's stand in each house of the Alabama Legislature, in the office of the Governor of the state, in the Department of Archives and History and any other department or institution, and shall be used for any other purpose conforming with the dignity of the coat of arms of the state upon approval of the Governor.
(Acts 1939, No. 140, p. 176; Code 1940, T. 55, §3.)

---