Alabama State Agriculture Museum
Dothan Landmark Park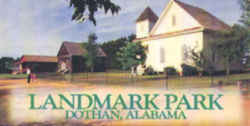 Adopted in 1992
The official Agricultural Museum for the State of Alabama is Dothan Landmark Park in Dothan, Alabama. It was adopted in 1992 by Act no. 92-541.
Dothan, Alabama
Established in 1885, Dothan is a center of industry and commerce in Alabama's Wiregrass region in the southeast corner of the state. Throughout its history, the city's economic and political fortunes have been tied to the rich soil that makes the surrounding agricultural industry so Pedestrians inspect one of a series of four Mural Tour in Dothan profitable. In 1903, Dothan became the seat of Houston County, the 67th and last county incorporated in Alabama. Following the devastation of the cotton crops by boll weevil infestation in the 1910s, the area embraced peanut farming and has developed into one of the largest peanut-producing regions in the world. Even with new investments in commerce, medicine, and education, Dothan remains linked to it agricultural past and serves as a hub for the region's predominantly rural and small-town population. Since the 1980s, Dothan has been governed by a mayor, elected from the city at-large, and a six-member commission.
Landmark Park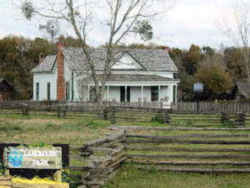 Landmark Park is a 100 acre facility dedicated to preserving the cultural and natural heritage of the wiregrass region of Southeast Alabama. Owned and operated by Dothan Landmarks Foundation, the park features an 1890s living history farm, a one-room schoolhouse, a general store, and a turn-of the-century church. The park also includes elevated boardwalks, nature trails, wildlife exhibits, a planetarium, and a picnic area. In addition, Landmark Park also serves as headquarters for the Alabama Agricultural Museum Board.
Special programs include Spring Farm Day in March; Antique and Collector Car Show in October; Wiregrass Heritage Festival in October; and Victorian Christmas in December.
Landmark Park became the State Agricultural Museum in 1992 by Act no. 92-541.
Landmark Park
Highway 431 North, Dothan
P.O. Box 6362, Dothan 36302
It is a place to participate and experience.
Experience history on an 1890's living history farm, complete with an old farmhouse, smokehouse, cane mill, syrup shed, and sheep, goats, and pigs. Drift back in time in a Victorian gazebo, a one-room schoolhouse, a drugstore/doctor's office, a country store or a turn-of-the-century church.

Experience nature with a walk through the woods on an elevated boardwalk, stroll nature trails, visit our interpretive center and planetarium, see wildlife exhibits and have a picnic in our picnic area.
Experience the excitement of annual special events like folklife festivals, antique car shows, traveling exhibits, concerts, and workshops.
Experience the heritage of the Wiregrass Region and Experience An Adventure.
Alabama Law
The law designating the Dothan Landmarks Parks as the official Alabama state agricultural museum is found in the Code of Alabama 1975, Title 1, Chapter 2 Section 1-2-30.
The Code of Alabama 1975
TITLE 1.
Chapter 2 STATE SYMBOLS AND HONORS
Section 1-2-30 State agricultural museum

Section 1-2-30
State agricultural museum.

The Dothan Landmarks Parks is hereby designated the official Agricultural Museum for the State of Alabama.

(Acts 1992, No. 92-541, p. 1149.)
---