Alabama State Bible
Bible "Executive Office, Alabama, 1853."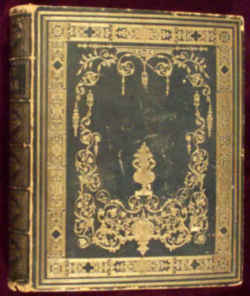 Purchase in 1853.
The Alabama state bible was not specifically named by an act or a resolution of the Alabama Legislature as the official bible of the State of Alabama. It was not named the official bible of the State of Alabama by proclamation of the governor. In this sense, the bible is not really an official symbol of the State of Alabama. Rather it has gained stature through use and time.
The State Bible was purchased for use by the Executive Department in 1853. It has been used continuously by the state for the inauguration of Alabama governors since that time. On the flyleaf of the Bible is an inscription: "Executive Office, Alabama, 1853." Also Alabama has became the first state in the Union to approve a textbook for a course about the Bible in its public schools, and its surprisingly uncontroversial decision may prove to be a model for others.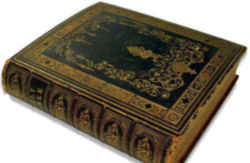 In 1861, when Jefferson Davis took the oath of office as President of the provisional government of the Confederate States of America, he also used the State Bible. Inside the front cover is a notation by Judge John Phelan who served as Clerk of the Alabama Supreme Court, attesting to the fact that this was the Bible used by Davis. An affidavit was added to the flyleaf in 1884 by Judge Phelan's son, Ellis, who served as Secretary of State. This affidavit states that the handwriting on the note is that of Judge Phelan, who did in fact witness the inauguration of Davis.
Contemporary newspapers described the inauguration of Davis in considerable detail. After Davis' inaugural address, the oath was administered by Howell Cobb, President of the Provisional Congress. According to one newspaper report, "President Davis kissed the Bible, and then, turning to the vast assemblage, said with deep and solemn emphasis, "So help me God."
The Bible is kept in the Alabama Department of Archives and History. When not in use, it is on exhibit in the department's third floor Nineteenth Century Gallery.
---