Connecticut State Flagship and Tall Ship Ambassador
Freedom Schooner Amistad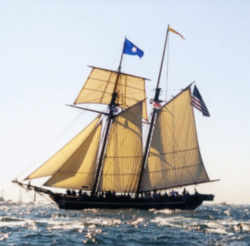 Adopted in 2003

In 1839, the schooner La Amistad was seized by the Navy off Long Island and towed to New London Harbor. On board were a group of Africans kidnapped from Mendi who had successfully revolted during transport from Havana to Puerto Principe and impending slavery. Imprisoned on charges of murder, the captives-assisted by abolitionists from Connecticut and surrounding states-were soon engaged in a second battle for freedom that brought the first civil rights case to be heard, and won, before the U.S. Supreme Court, and finally returned the Africans to their homeland.

Freedom Schooner Amistad--a recreation of the 19th century vessel--was constructed at Connecticut's Mystic Seaport and set sail in 2000 as both a floating classroom and monument. From her homeport at Long Wharf Pier in New Haven, she has taken the story of the Amistad Incident of 1839--and its lessons of leadership, perseverance, cooperation, justice, and freedom--to both national and international communities.

Owned and operated by the nonprofit educational organization AMISTAD America, Inc., Freedom Schooner Amistad, a proud symbol of courage and moral strength, was designated the State Flagship and Tall Ship Ambassador by the General Assembly in 2003.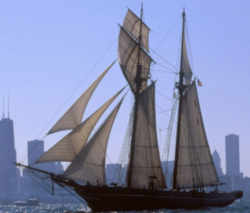 Freedom Schooner Amistad was built at Connecticut's Mystic Seaport in 1999 and launched on March 25, 2000.

The re-created Amistad was built using traditional skills and traditional construction techniques common to wooden schooners built in the 19th century. Some of the tools used in the project were the same as those that might have been used by a 19th century shipwright. Tri-Coastal Marine, designers of Freedom Schooner Amistad, used modern computer technology to provide plans for the vessel, bronze bolts are used as fastenings throughout the ship, the modern Amistad has an external ballast keel made of lead and two Caterpillar diesel engines. None of this technology was available to the early 19th century builders.
Connecticut Law
The law designating the Freedom Schooner Amistad as the official Connecticut state flagship and tall ship ambassador is found in the Connecticut General Statutes, Title 3, Chapter 32, Section 3-110m.
TITLE 3. STATE ELECTIVE OFFICERS.
CHAPTER 32. SECRETARY.
SECTION 3-110m. State flagship and tall ship ambassador.

Sec. 3-110m. State flagship and tall ship ambassador. The Freedom Schooner Amistad shall be the official state flagship and tall ship ambassador of the state.

(P.A. 03-20, S. 1.)
---