Connecticut State Hero
Nathan Hale (1755-1776)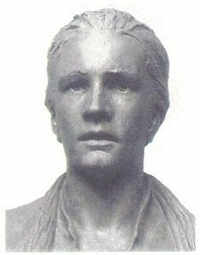 Adopted on October 1, 1985
On October 1, 1985, by an act of the General Assembly and the efforts of the Nathan Hale Chapter of the Sons of the American Revolution, Nathan Hale officially became Connecticut's State Hero.

Born in Coventry, and educated at Yale University, Hale served as a school master until he was commissioned as a captain in the Continental Army in 1775. In September of 1776, at the request of General George Washington for a volunteer, Hale crossed enemy lines to gather information as to the strength and plans of the British Army. Caught while returning, he was hanged as a spy on September 22, 1776, without the benefit of a trial.

The Patriot's dedication to our country is enshrined in the immortal words "I only regret that I have but one life to lose for my country." By every action of his short life, Hale exemplified the ideals of patriotism.

The Hale Homestead, located at 2299 South Street in Coventry, is maintained as a museum by the Antiquarian and Landmarks Society, Inc. The photo of the clay model of Bela Lyon Pratt's statue of Nathan Hale appears courtesy of the society.
Reproduced from the Connecticut State Register & Manual
Nathan Hale (June 6, 1755 - September 22, 1776) was a soldier for the Continental Army during the American Revolutionary War. He volunteered for an intelligence-gathering mission in New York City but was captured by the British and executed. He is probably best remembered for his purported last words before being hanged: "I only regret that I have but one life to give for my country." Hale has long been considered an American hero and, in 1985, he was officially designated the state hero of Connecticut.
Connecticut Law
The law designating the F4U Corsair as the official Connecticut state hero is found in the Connecticut General Statutes, Title 3, Chapter 32, Section 3-110e.
TITLE 3. STATE ELECTIVE OFFICERS.
CHAPTER 32. SECRETARY.
SECTION 3-110e. State hero and state heroine.

Sec. 3-110e. State hero and state heroine.
(a) Nathan Hale shall be the state hero.

(b) Prudence Crandall shall be the state heroine.

(P.A. 85-311; P.A. 95-20.)

History: P.A. 95-20 designated existing provision as Subsec. (a) and added Subsec. (b), naming Prudence Crandall as the state heroine.
---