Connecticut State Tartan
Connecticut Tartan
Adopted in 1995
Connecticut General Assembly in 1995 as the official tartan of the state: A plaid, with large blue stripes representing Long Island Sound, large green stripes representing forest, medium gray stripes representing granite, red and yellow pin stripes representing autumn leaves and white pin stripes representing snow.
The white pin stripes shall be located within every other gray stripe and shall be offset from the center. The thread ratio for the tartan shall be: Blue-10, gray-2, white-1, gray-5, green-8, yellow-1, green-2, red-1, green-8, gray-8 and blue-10.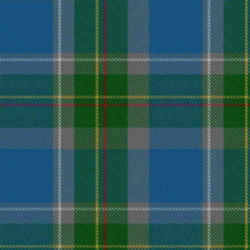 Tartan refers to fabric woven into plaid patterns representing clans (families) or regions in Scotland.
In old Scotland, the tartan was used for clothing and as a banner or flag. Because a family or community worked the cloth together, their clothing was made of the same patterns, and so a person could be recognized by the Tartan plaid that he wore. Tartans can also be designed as a symbol commemorating a special event or person.
The information held within The Scottish Register of Tartans for the "Connecticut, State of" tartan is shown below.

STA ref: 2671
STWR ref: 2671
Designer: Maynard/Swope/Alexis
Tartan date: 01/01/1994
Registration date: This tartan was recorded prior to the launch of The Scottish Register of Tartans.
Category: District

Restrictions:

Registration notes: An asymmetric tartan designed by three professors at Three Rivers Community College in Norwich, Connecticut - Brent A. Maynard ( Professor of Nuclear Engineering Technology), Kathleen Swope and Noel Alexis. Adopted by legislature and signed into law by and Governor John Rowland, 22 May 1995. Blue is for the Long Island sound, green for the forests, red and yellow for the autumn leaves, grey for granite and white for snow. The offset white symbolises the irregularity of the Connecticut snowfall. Official count given as Blue-10, gray-2, white-1, gray-5, green-8, yellow-1, green-2, red-1, green-8, gray-8 and blue-10.
Connecticut Law

The law designating the tartan as the official Connecticut state tartan is found in the Connecticut General Statutes, Title 3, Chapter 32, Section 3-110j.
TITLE 3. STATE ELECTIVE OFFICERS.
CHAPTER 32. SECRETARY.
SECTION 3-110j. State State tartan.

Sec. 3-110j. State tartan. The following-described tartan shall be the official tartan of the state: A plaid, with large blue stripes representing Long Island Sound, large green stripes representing forest, medium gray stripes representing granite, red and yellow pin stripes representing autumn leaves and white pin stripes representing snow. The white pin stripes shall be located within every other gray stripe and shall be offset from the center. The thread ratio for the tartan shall be: Blue-10, gray-2, white-1, gray-5, green-8, yellow-1, green-2, red-1, green-8, gray-8 and blue-10.

(P.A. 95-47.)
---