Connecticut State Folk Dance
Square Dance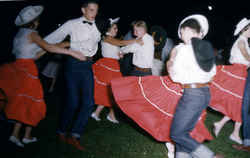 Adopted in 1995
The Square Dance was designated as the official state folk dance by the General Assembly in 1995. House Bill No. 5154, designating the square dance the official folk dance of Connecticut was approved by the House of Representatives on April 26, 1995 and by the Senate on May 18, 1995. Governor John G. Rowland signed the legislation on June 6, 1995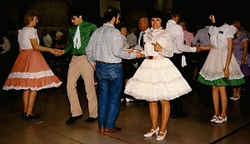 Square dancing is the American folk dance which is derived from folk and courtship dances brought to the United States by European immigrants and traces its ancestry to the English country dance and the French ballroom dance. It is called, cued, or prompted to the dancers. It includes squares, rounds, clogging, contra, line, the Virginia reel, and heritage dances. When the pioneers came west, they brought with them a dance called the quadrille, which means square in French. The pioneers liked the simpler term and so the square dance was born. The dance is known for its series of figures and footwork. Dancers are directed by a caller. It is easy to learn, a good form of exercise and fun.
Adoption of the square dance as the official state folk dance of Connecticut was drafted by the Connecticut House Joint Committee on Commerce in February 1995. House Bill No. 5154, co-sponsored by Michael Jarjura, Joan Hartley, Claire Sauer and Stephen Somma was introduced for the sole purpose of generating tourist revenue rather than being related to a particular folk art of Connecticut.
Connecticut Committee Bill No. 5154 Page 1
Referred to Committee on COMMERCE
LCO No. 3006
Introduced by (CE)
General Assembly
January Session, A.D., 1995

AN ACT MAKING SQUARE DANCING THE OFFICIAL FOLK DANCE.

Be it enacted by the Senate and House of Representatives in
General Assembly convened:
(NEW) The square dance shall be the state folk dance.


STATEMENT OF PURPOSE: To increase state revenue from tourism.
This designation would be particularly significant for tourism
promotion in 1995, as Waterbury will host the Northeast Regional
Square Dance Convention for the second year in a row.

[Proposed deletions are enclosed in brackets. Proposed
additions are all capitalized or underlined where appropriate,
except that when the entire text of a bill or resolution or a
section thereof is new, it is not capitalized or underlined.]


Co-Sponsors: REP. JARJURA, 74th DIST.; REP. HARTLEY, 73rd DIST.
REP. SAUER, 36th DIST.; SEN. SOMMA, 16th DIST.
Connecticut Law
The law designating the square dance as the official Connecticut state folk dance is found in the Connecticut General Statutes, Title 3, Chapter 32, Section 3-110k.
TITLE 3. STATE ELECTIVE OFFICERS.
CHAPTER 32. SECRETARY.
SECTION 3-110k. State Folk Dance.

Sec. 3-110k. State folk dance. The square dance shall be the state folk dance.

(P.A. 95-107.)
---
State Dances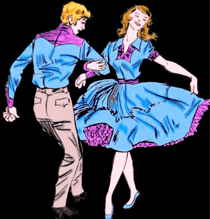 At least there are currently 31 states that have designated square dancing as their State Folk Dance.