Connecticut State Heroine
Prudence Crandall (1803-1890)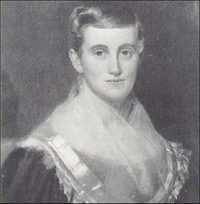 Adopted on October 1, 1995
On October1, 1995, by an act of the General Assembly, Prudence Crandall became Connecticut's State Heroine.

In 1833, Prudence Crandall established the first academy for African-American women in New England. During its 18 months of operation, Crandall and her students faced hardships and violence. She was placed on trial twice for breaking a law specifically designed to prevent the school from operating. In the fall of 1834, although the charges against her were dismissed, the school was closed.

Prudence Crandall demonstrated great courage and moral strength by taking a stand against prejudice. In 1886 the legislature honored her with an annual pension of $400.00.

The Prudence Crandall House is a National Historic Landmark located at the intersection of 14 and 169 in Canterbury. It is operated by the Connecticut Historical Commission.

Prudence Crandall (September 3, 1803 - January 28, 1890), a schoolteacher raised as a Quaker, stirred controversy with her education of African-American girls in Canterbury, Connecticut. Her private school, opened in the fall of 1831, was boycotted when she admitted a 17-year-old African-American female student in the autumn of 1833; resulting in what is widely regarded as the first integrated classroom in the United States.
Connecticut Law
The law designating Prudence Crandall as the official Connecticut state heroine is found in the Connecticut General Statutes, Title 3, Chapter 32, Section 3-110e.
TITLE 3. STATE ELECTIVE OFFICERS.
CHAPTER 32. SECRETARY.
SECTION 3-110e. State hero and state heroine.

Sec. 3-110e. State hero and state heroine.
(a) Nathan Hale shall be the state hero.

(b) Prudence Crandall shall be the state heroine.

(P.A. 85-311; P.A. 95-20.)

History: P.A. 95-20 designated existing provision as Subsec. (a) and added Subsec. (b), naming Prudence Crandall as the state heroine.
---