New Mexico State Almanac: Facts and Figures
Quick Facts, Figures, and Overview of the State of New Mexico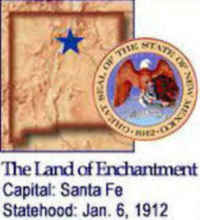 New Mexico is one of the Mountain states of the US. New Mexico is one of the Four Corners states, meeting the boundaries of Colorado, Arizona, and Utah at one point where all their corners meet. Name of New Mexico is an anglicized version of "Nuevo Mexico," the Spanish name for the upper Rio Grande. Mexico, an Aztec spelling, means "place of Mexitli" one of the Aztec gods.
Since 1945, New Mexico has been a leader in energy research and development with extensive experiments conducted at Los Alamos Scientific Laboratory and Sandia Laboratories in the nuclear, solar, and geothermal areas. Minerals are the state's richest natural resource, and New Mexico is one of the U.S. leaders in output of uranium and potassium salts. Petroleum, natural gas, copper, gold, silver, zinc, lead, and molybdenum also contribute heavily to the state's income. The principal manufacturing industries include food products, chemicals, transportation equipment, lumber, electrical machinery, and stone-clay-glass products. About two-thirds of New Mexico's farm income comes from livestock products, especially dairy and cattle. Pecans, hay, and onions are the most important field crops. Corn, peanuts, beans, onions, chilies, and lettuce are also grown.
Official Name
New Mexico
Capital
Santa Fe
Nicknames
Land of Enchantment (1999) ...and more
Motto
Crescit Eundo (It grows as it goes)
Location
Region
35.67850 N, 105.95414 W
Great Plains
Rocky Mountains
Southwestern
Constitution Ratified
1911
Statehood
January 06, 1912
47th state
Population
2,059,179 (2010)
14.99 sq. mi.
36th
Largest City
(by population)
10 largest cities (2010 est.):Albuquerque, 545,852; Las Cruces, 97,618; Santa Fe, 70,631; Rio Rancho, 67,947; Roswell, 48,366; Farmington, 45,877; Clovis, 37,775; Hobbs, 34,122; Alamogordo, 30,403; Carlsbad, 26,138
Bordering States
North: Colorado
East: Oklahoma and Texas
South: Texas and the Mexican state of Chihuahua
West: Arizona
Major Industry
mining (potash, copper, silver, uranium), oil, natural gas, tourism
Major Rivers
Rio Grande, Pecos River
Major Lakes
Elephant Butte Reservoir, Conchas Lake, Navajo Reservoir
New Mexico Counties
33 Counties in New Mexico
Largest County
(by population)
Bernalillo County
662,564 (2010)
1,166 sq. mi.
Largest County
(by area)
Catron County
6,928 sq mi
State parks
31
Electoral Votes
5
US Congress
2 Senators; 3 Representatives
Time Zone
Mountain Standard Time
Zip Codes
NANPA
State Quick Facts
Census Bureau Quick Facts
---
New Mexico Climate and Weather

New Mexico has considerable variation in climate, particularly from lower to higher elevations. Overall, it's got lots of sunshine and low humidity. Summer is hot, with temperatures in low elevations sometimes reaching the 100s F/38+ C. The average July high temperature, though, is in the low 90s F/32-35 C at lower elevations and the high 70s F/23-25 C at higher spots. July and August have the most rain, often in brief but intense thunderstorms, which moderate the summer heat. Nights cool off quickly to the comfortable mid 60s F/15-17 C (mid 50s F/10-13 C in the mountains). Winters are moderately cold, especially in the mountains, where the average January high is in the mid 30s F/2-4 C (mid 50s F/10-12 C elsewhere). The higher elevations are the skier's playground - some places in the northern mountains claim 100 in/254 cm of snow annually - but the snow isn't heavy everywhere, and what falls may not last.
Highest Temperature
122 degrees
June 27, 1994 - Lakewood
Lowest Temperature
-50 degrees
February 1, 1951 - Gavilan
Avg. Temp:
High - Low
92.8 degrees
22.3 degrees

New Mexico Points of Interest

Carlsbad Caverns, Chaco Canyon, the International UFO Museum in Roswell, Indian cliff dwellings, Sandia Peak Tramway, Santa Fe, Taos, Carlsbad Caverns National Park, Inscription Rock at El Morro National Monument, the ruins at Fort Union, Billy the Kid mementos at Lincoln, the White Sands and Gila Cliff Dwellings National Monuments, Bandelier National Monument, and the Chaco Culture National Historical Park, and a wide assortment of monuments, and of course, New Mexico's dazzling scenery.

New Mexico Highest, Lowest, and Mean Elevations (Feet)

Mean Elevation: 5,700 feet

Highest Point: Wheeler Peak: 13,161 feet

The Wheeler Peak Wilderness includes almost 20,000 acres. Lying along the top of the Sangre De Cristo mountain range Wheeler Peak Wilderness is characterized by high rugged terrain. Elevations range from a low of 7,650 feet to a high of 13,161 feet at Wheeler Peak, the highest point in the State of New Mexico.

Lowest Point:
Red Bluff Reservoir
2,842 feet

New Mexico Land Area (Square Miles)

Geographic Center
In Torrance County, 12 mi. SSW of Willard
Longitude: 106°6.7'W
Latitude: 34°30.1'N
Total Area
121,589.48 sq. mi
5th
Land Area
121,355.539 sq. mi
9.81%
Water Area
233.96 sq. mi
0.19%
Forested Land Area
20%
Dimensions
(Length - Width)
370 miles - 343 miles
Source:(US Census, April 1, 2000)

County Information and County History
Almanac Online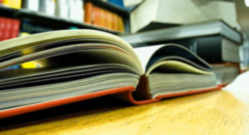 Information on people & places that make US a great place to live, visit, or study.