Mississippi State Almanac: Facts and Figures
Quick Facts, Figures, and Overview of the State of Mississippi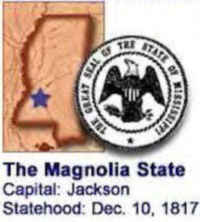 Mississippi is one of the East South Central states of the US. The capital and largest city of the state is Jackson. Mississippi is bordered on the north by Tennessee, on the east by Alabama, on the south by Louisiana and a narrow coast on the Gulf of Mexico and on the west, across the Mississippi River, by Louisiana and Arkansas. Mississippi's name was derived from the Chippewa; mici zibi, "great river" or "gathering-in of all the waters." Also: Algonquin word, "Messipi."
Mississippi economy was mainly agricultural until the middle third of the 20th century, from shortly after the state's founding through the Great Depression, cotton was the undisputed king of Mississippi's largely agrarian economy. Over the last half-century, however, Mississippi has diversified its economy by balancing agricultural output with increased industrial activity.
Today, agriculture continues as a major segment of the state's economy. For almost four decades soybeans occupied the most acreage, while cotton remained the largest cash crop. In 2001, however, more acres of cotton were planted than soybeans, and Mississippi jumped to second in the nation in cotton production (exceeded only by Texas). The state's farmlands also yield important harvests of corn, peanuts, pecans, rice, sugar cane, and sweet potatoes as well as poultry, eggs, meat animals, dairy products, feed crops, and horticultural crops. Mississippi remains the world's leading producer of pond-raised catfish.
Official Name
Mississippi
Capital
Jackson
Nicknames
Magnolia State ... and more
Motto
Virtute et Armis (By valor and arms)
Location
Region
32.32050 N, 090.20759 W
Southern
Appalachia
Constitution Ratified
1890
Statehood
December 10, 1817
20th state
Population
2,967,297 (2010)
60.64 sq. mi.
31st
Largest City
(by population)
10 largest cities (2010): Jackson, 173,514; Gulfport, 67,793; Hattiesburg, 51,993; Southhaven, 48,982; Biloxi, 44,054; Meridian, 41,198; Tupelo, 34,546; Greenville, 34,400; Olive Branch, 33,484; Horn Lake 26,066
Bordering States
North: Tennessee
East: Alabama
South: Gulf of Mexico and Louisiana (Pearl River forms part of the Southern boundary)
West: Louisiana and Arkansas (Mississippi River forms almost all of the Western boundary)
Major Industry
farming (cotton, corn, soybeans, rice), oil, textiles, electronic equipment, transportation equipment, fishing
Major Rivers
Mississippi River, Big Black River, Pearl River, Yazoo River
Major Lakes
Ross Barnett Reservoir, Arkabutla Lake, Sardis Lake, Grenada Lake
Mississippi Counties
82 Counties in Mississippi
Largest County
(by population)
Hinds County
245,285 (2010)
569 sq. mi.
Largest County
(by area)
Yazoo County
920 sq. mi.
State parks
24
Electoral Votes
6 (as of the 2004 Presidential Election)
US Congress
2 Senators; 5 Representatives (4 Representatives as of the 2002 election)
Time Zone
Central Standard Time
Zip Codes
NANPA
State Quick Facts
Census Bureau Quick Facts
---
Mississippi Climate and Weather

Mississippi has hot, humid summers and relatively mild winters. Winter temperatures run 31 to 60 F/-1 to 15 C, though they can drop to 32 F/0 C or lower on occasion, even as far south as the Gulf. Though mild, winter has the most rainfall. High humidity and temperatures of 90 F/32 C and higher are common in summer. Biloxi, though farthest south, is cooled by breezes from the Mississippi Sound and has fewer days of high heat. Spring and fall the temperatures and humidities are most comfortable then. Expect March-May to provide temperatures from 43 to 85 F/6 to 29 C, with humidity running in the 54% to 85% range (humidity levels tend to decrease in the midday and afternoon hours in the South). Fall is drier, with clear, sunny days and temperatures similar to those in spring. Lows may be a bit lower, but not substantially so. The weather is normally more stable in the fall; spring can have some severe thunderstorms and occasional tornadoes.
Highest Temperature
115 degrees
July 29, 1930 - Holly Springs
Lowest Temperature
-19 degrees
January 30, 1966 - Corinth
Avg. Temp:
High - Low
92.5 degrees
34.9 degrees

Mississippi Points of Interest

All visitors to Mississippi, the "Magnolia State", get a taste of the Deep South, and its welcoming hospitality and rich history.

Significant battles of America's Civil War occurred in Mississippi, and one of the most important of all was fought at Vicksburg, which today is a national park. Other National Park Service areas are Brices Cross Roads National Battlefield Site, Tupelo National Battlefield, and part of Natchez Trace National Parkway. Pre-Civil War mansions are the special pride of Natchez, Oxford, Columbus, Vicksburg, and Jackson.

In addition to the hundreds of historic sites spread across the state, additional attractions include sandy beaches along the Gulf Coast, thousands of acres of state parks, beautiful antebellum homes and plantation mansions, and casinos and riverboat gambling venues.

Mississippi Highest, Lowest, and Mean Elevations (Feet)

Mean Elevation: 300 feet

Highest Point: Woodall Mountain: 806 feet

Woodall Mountain, near Iuka, is the state's highest point of elevation, and rests peacefully at the base of the Appalachian Mountains. Pickwick Lake, grand and glistening, and Tishomingo State Park, in all its green glory, are popular stops.

Lowest Point:
Gulf of Mexico
Sea level

Mississippi Land Area (Square Miles)

Geographic Center
In Leake County, 9 mi. WNW of Carthage
Longitude: 89°43.0'W
Latitude: 32°48.9'N
Total Area
48,430.19 sq. mi
32nd
Land Area
46,906.96 sq. mi
96.86%
Water Area
1,523.24 sq. mi
3.14%
Forested Land Area
61.9%
Dimensions
(Length - Width)
340 miles - 170 miles
County Information and County History
Adams, Alcorn, Amite, Attala, Benton, Bolivar, Calhoun, Carroll, Chickasaw, Choctaw, Claiborne, Clarke, Clay, Coahoma, Copiah, Covington, DeSoto, Forrest, Franklin, George, Greene, Grenada, Hancock, Harrison, Hinds, Holmes, Humphreys, Issaquena, Itawamba, Jackson, Jasper, Jefferson, Jefferson Davis, Jones, Kemper, Lafayette, Lamar, Lauderdale, Lawrence, Leake, Lee, Leflore, Lincoln, Lowndes, Madison, Marion, Marshall, Monroe, Montgomery, Neshoba, Newton, Noxubee, Oktibbeha, Panola, Pearl River, Perry, Pike, Pontotoc, Prentiss, Quitman, Rankin, Scott, Sharkey, Simpson, Smith, Stone, Sunflower, Tallahatchie, Tate, Tippah, Tishomingo, Tunica, Union, Walthall, Warren, Washington, Wayne, Webster, Wilkinson, Winston, Yalobusha, Yazoo
Almanac Online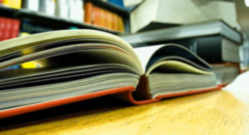 Information on people & places that make US a great place to live, visit, or study.