North Dakota State Almanac: Facts and Figures
Quick Facts, Figures, and Overview of the State of North Dakota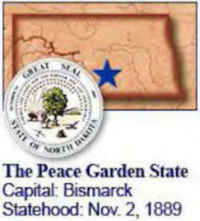 North Dakota is one of the West North Central states of the US, bordered by the Canadian provinces of Saskatchewan and Manitoba to the north, the states of Minnesota to the east, South Dakota to the south, and Montana to the west.. The diverse topography of North Dakota is characterized by the Central Plains and the Great Plains of the eastern and the western sides respectively. North Dakota's name is derived from Dakota, Sioux Indian word for "friend".
Possessing fertile soils and extensive grazing lands, North Dakota has traditionally been an agricultural state. North Dakota ranks first in the nation's production of spring and durum wheat; other agricultural products include barley, rye, sunflowers, dry edible beans, honey, oats, flaxseed, sugar beets, hay, beef cattle, sheep, and hogs. Recently, manufacturing industries have grown, especially food processing and farm equipment. The state's coal and oil reserves are plentiful, and it also produces natural gas, lignite, clay, sand, and gravel.
Official Name
North Dakota
Capital
Bismarck
Nicknames
Peace Garden State (Official) Sioux State; Flickertail State; Rough Rider State ... and more
Motto
Liberty and union, now and forever, one and inseparable
Location
Region
46.80546 N, 100.76729 W
Great Plains
Midwest
Northwestern
Constitution Ratified
1889
Statehood
November 02, 1889
39th state
Population
672,591 (2010)
9.31 sq. mi.
47th
Largest City
(by population)
10 largest cities (2010 est.):Fargo, 105,549; Bismarck, 61,272; Grand Forks, 52,838; Minot, 40,888; West Fargo, 25,830; Mandan, 18,331; Dickinson, 17,787; Jamestown, 15,427; Williston, 14,716; Wahpeton, 7,766
Bordering States
North: Canadian provinces of Saskatchewan and Manitoba
East: Minnesota (Red River of the North forms most of the E boundary)
South: South Dakota
West: Montana
Major Industry
farming (wheat, barley, oats, flaxseed), cattle, mining (lignite, soft coal), electrical power generation
Major Rivers
James River, Missouri River, Red River
Major Lakes
Lake Sakakawea, Lake Ohe
North Dakota Counties
53 Counties in North Dakota
Largest County
(by population)
Cass County
149,778 (2010)
1,766 sq. mi.
Largest County
(by area)
McKenzie County
2,742 sq. mi.
State parks
7
Electoral Votes
3
US Congress
2 Senators; 1 Representative
Time Zone
Central Standard Time
Zip Codes
NANPA
State Quick Facts
Census Bureau Quick Facts
---
North Dakota Climate and Weather

North Dakota's June-August temperatures range 50-82 F/10-27 C, though the temperature does occasionally shoot into the high 90s F/35 C in July (and August, depending on where you are in the state). Expect thunderstorms, particularly in July: they are usually brief but heavy. North Dakota's temperatures cool off rather quickly in fall - September may have nighttime lows at or below freezing, though daytime highs are near 70 F/21 C. Winters are long and can be numbingly cold - 0 F/-18 C or colder is common in most places in winter.
Highest Temperature
121 degrees
July 6, 1936 - Steele
Lowest Temperature
-60 degrees
February 15, 1936 - Parshall
Avg. Temp:
High - Low
84.4 degrees
-5.1 degrees

North Dakota Points of Interest

The Badlands, Lake Sakakawea, Big Mound Battlefield, International Peace Garden near Dunseith, Fort Union Trading Post National Historic Site near Williston, Knife River Indian Villages National Historic Site in Stanton, the State Capitol at Bismarck, the Badlands, Theodore Roosevelt National Park, and Fort Abraham Lincoln State Park to name but a few.

North Dakota Highest, Lowest, and Mean Elevations (Feet)

Mean Elevation: 1,900 feet

Highest Point: White Butte: 3,506 feet

White Butte near Amidon is North Dakota's highest point at 3,506 feet. Pure white sandstone dominates the landscape near South Heart in southwestern North Dakota.

Lowest Point:
Red River
750 feet

North Dakota Land Area (Square Miles)

Geographic Center
In Sheridan County, 5 mi. SW of McClusky
Longitude: 100°34.1'W
Latitude: 47°24.7'N
Total Area
70,699.79 sq. mi.
19th
Land Area
68,975.93 sq. mi.
77.57%
Water Area
1,723.86 sq. mi.
2.43%
Forested Land Area
Dimensions
(Length - Width)
340 miles - 211 miles
County Information and County History
Adams, Barnes, Benson, Billings, Bottineau, Bowman, Burke, Burleigh, Cass, Cavalier, Dickey, Divide, Dunn, Eddy, Emmons, Foster, Golden Valley, Grand Forks, Grant, Griggs, Hettinger, Kidder, LaMoure, Logan, McHenry, McIntosh, McKenzie, McLean, Mercer, Morton, Mountrail, Nelson, Oliver, Pembina, Pierce, Ramsey, Ransom, Renville, Richland, Rolette, Sargent, Sheridan, Sioux, Slope, Stark, Steele, Stutsman, Towner, Traill, Walsh, Ward, Wells, Williams
Almanac Online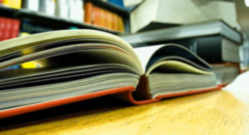 Information on people & places that make US a great place to live, visit, or study.