Indiana Almanac: Facts and Figures
Quick Facts and Figures on the State of Indiana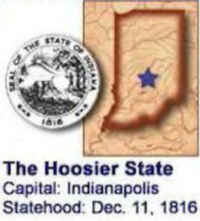 Indiana Almanac furnishes quick facts and figures on the state, its history and geography; largest and smallest counties, largest cities; climate and weather, temperature, highest, lowest, and mean temperatures; elevations, lowest, highest elevations; total area, land area and water area, state forest and park areas; bordering states, electoral votes, number of senators and representatives to the US Congress, and other statistical data.
Use this almanac of Indiana for information on local issues, politics, events, celebrations, people and business pertaining to the state of Indiana that can be found online.
Indiana is one of the East North Central states of the US. The state of IN covers a total area of 36,418 sq. miles. The bordering states of Indiana are Kentucky, Ohio, Michigan, and Illinois. Indiana was the name given to the Indiana Territory by the United States Congress when Indiana was created from the Northwest Territory in 1800. It means "Land of Indians."
Manufacturing became the chief economic activity of Indiana in the early 20th century, but at the start of the 1990s the state was also a major producer of farm commodities, especially corn, soybeans, and hogs. Indianapolis, the capital, and Gary were big industrial centers. Indiana's 41-mile Lake Michigan waterfront- one of the world's great industrial centers- turns out iron, steel, and oil products. Products include automobile parts and accessories, mobile homes and recreational vehicles, truck and bus bodies, aircraft engines, farm machinery, and fabricated structural steel. Wood office furniture and pharmaceuticals are also manufactured.

Much of the building limestone used in the US is quarried in Indiana, which is also a large producer of coal. Other mineral commodities include crushed stone, cement, and sand and gravel.
Official Name
Indiana
Capital
Indianapolis
Nicknames
Hoosier State ...and more
Motto
The crossroads of America (1937)
Location
Region
39.77640 N, 086.14619 W
Midwest
Northeastern
Constitution Ratified
1851
Statehood
December 11, 1816
19th state
Population
6,483,802 (2010)
169.51sq. mi.
16th
Largest City
(by population)
10 largest cities (2010): Indianapolis, 820,445; Fort Wayne, 253,691; Evansville, 117,429; South Bend, 101,168; Hammond, 80,830; Bloomington, 80,405; Gary, 80,294; Carmel, 79,191; Fishers, 76,794; Muncie, 70,085
Bordering States
North: Illinois and Michigan (Lake Michigan forms part of the North West boundary)
East: Ohio
South: Kentucky (Ohio River forms the Southern boundary)
West: Illinois (Wabash River forms part of the Western boundary)
Major Industry
agriculture (corn, soybeans, wheat), manufacturing, mining (coal, limestone), steel-making
Major Rivers
Ohio River, Wabash River, White River, Tippecanoe River
Major Lakes
Mississinewa Lake, Lake Michigan
Indiana Counties
92 Counties in Indiana
Largest County
(by population)
Marion County
903,393 (2010)
396 sq. mi.
Largest County
(by area)
Allen County
657 sq./ mi.
State parks
23 (56,409 ac.)
State historic sites
17( 2,007 ac.)
Electoral Votes
11 (as of the 2004 Presidential Election)
US Congress
2 Senators; 10 Representatives (9 Representatives as of the 2002 election)
Time Zone
Eastern Standard Time (Primarily)
Zip Codes
NANPA
State Quick Facts
Census Bureau Quick Facts

Indiana Climate and Weather

Indiana has hot summers and cold winters, with fairly high humidity. The combination of warm temperatures and high humidity can make July and early August a bit uncomfortable, particularly in the southern parts of the state. Temperatures can climb to the high 90s F/mid 30s C. Expect late spring and fall temperatures to range from a low of 40 F/4 C to a high of 65 F/19 C. A sweater or jacket will be needed in the evenings. Those visiting in winter will find plenty of snow - as much as 40 in/102 cm falls near Lake Michigan. January temperatures average 16 to 41 F/-14 to 5 C.
Highest Temperature
116 degree
July 14, 1936 - Collegeville
Lowest Temperature
-36 degrees
January 19, 1994 - New Whiteland
Avg. Temp:
High - Low
88.8 degrees
15.8 degrees

Indiana Points of Interest

Some of Indiana's most popular attractions include Amish Country, College Football Hall of Fame, Lincoln's Boyhood Log Cabin home, Indiana Dunes, Indianapolis Motor Speedway and museum, the southern Indiana caves and waterfalls, West Baden and French Lick are well known for their mineral springs, and Tippecanoe Battlefield Memorial Park.

Indiana Highest, Lowest, and Mean Elevations (Feet)

Mean Elevation: 700 feet
Highest Point: Hoosier Hill: Franklin Township, Wayne County: 1,257 feet

The highest point in Indiana is Hoosier Hill in Franklin Township at 1,257 feet above sea level. The highpoint is in Wayne County - about 10 miles north of I-70.

Lowest Point:
Ohio River
320 feet

Indiana Land Area (Square Miles)

Geographic Center
In Boone County, 14 mi. NNW of Indianapolis
Longitude: 86°16.0'W
Latitude: 39°53.7'N
Total Area
36,417.73 sq. mi.
38th
Land Area
35,866.90 sq. mi.
98.49%
Water Area
550.83 sq. mi.
1.51%
Forested Land Area
19.6%
Dimensions
(Length - Width)
270 miles - 140 miles
County Information and County History
Adams, Allen, Bartholomew, Benton, Blackford, Boone, Brown, Carroll, Cass, Clark, Clay, Clinton, Crawford, Daviess, Dearborn, Decatur, DeKalb, Delaware, Dubois, Elkhart, Fayette, Floyd, Fountain, Franklin, Fulton, Gibson, Grant, Greene, Hamilton, Hancock, Harrison, Hendricks, Henry, Howard, Huntington, Jackson, Jasper, Jay, Jefferson, Jennings, Johnson, Knox, Kosciusko, La Porte, LaGrange, Lake, Lawrence, Madison, Marion, Marshall, Martin, Miami, Monroe, Montgomery, Morgan, Newton, Noble, Ohio, Orange, Owen, Parke, Perry, Pike, Porter, Posey, Pulaski, Putnam, Randolph, Ripley, Rush, Scott, Shelby, Spencer, St. Joseph, Starke, Steuben, Sullivan, Switzerland, Tippecanoe, Tipton, Union, Vanderburgh, Vermillion, Vigo, Wabash, Warren, Warrick, Washington, Wayne, Wells, White, Whitley
---