Louisiana Almanac: Facts and Figures
Quick Facts and Figures on the State of Louisiana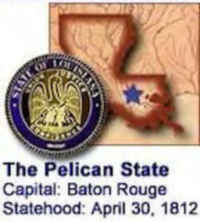 Louisiana Almanac furnishes quick facts and figures on the state, its history and geography; largest and smallest counties, largest cities; climate and weather, temperature, highest, lowest, and mean temperatures; elevations, lowest, highest elevations; total area, land area and water area, state forest and park areas; bordering states, electoral votes, number of senators and representatives to the US Congress, and other statistical data.
Use this almanac of Louisiana for information on local issues, politics, events, celebrations, people and business pertaining to the state of Louisiana that can be found online.
Louisiana is one of the West South Central states of the US. The capital of this State is Baton Rouge. It is the 25th most populous state of all the 50 states in USA. Louisiana is bordered to the west by Texas; to the north by Arkansas; to the east by the state of Mississippi; and to the south by the Gulf of Mexico. Louisiana's name came a French explorer that named the area La Louisianne after Louis XIV of France in 1682.
Louisiana economy was long dominated by agriculture. By the 1990s, however, exploitation of the state's vast petroleum and natural-gas deposits had made Louisiana the second most important mineral-producing state in the US. Tourism was a rapidly growing sector of the economy, and manufacturing was also important. The state also produces large crops of sweet potatoes, rice, sugar cane, pecans, soybeans, corn, and cotton. Leading manufactured items include chemicals, processed food, petroleum and coal products, paper, lumber and wood products, transportation equipment, and apparel.
Official Name
Louisiana
Capital
Baton Rouge
Nicknames
Pelican State ...and more
Motto
Union, justice and confidence
Location
Region
30.44896 N, 091.12604 W
Southern
Southwestern
Constitution Ratified
1974
Statehood
April 30, 1812
18th state
Population
4,533,372 (2010)
102.58 sq. mi.
22nd
Largest City
(by population)
10 largest cities (2010):New Orleans, 343,829; Baton Rouge, 229,493; Shreveport, 199,311; Metairie, 138,481; Lafayette, 120,632; Lake Charles, 71,993; Kenner, 66,702; Bossier City, 61,315; Monroe, 48,815; Alexandria, 47,723
Bordering States
North: Arkansas
East: Mississippi (Mississippi River forms a portion of the Eastern border)
South: Gulf of Mexico
West: Texas (Sabine River forms much of the Western border)
Coastline: 397 mi.
Major Industry
agriculture (rice, cotton, soybeans), salt production, oil and natural gas, fishing (especially shellfish)
Major Rivers
Mississippi River, Red River, Ouachita River, Atchafalaya River, Sabine River
Major Lakes
Lake Pontchartrain, Lake Maurepas, Toledo Bend Reservoir, Grand Lake, White Lake, Calcasieu Lake, Catahoula Lake
Louisiana Parishes
64 Parishes in Louisiana
Largest Parishes
(by population)
Orleans Parish
343,829 (2010)
181 sq. mi.
Largest Parishes
(by area)
Vernon Parish
1,328 sq. mi.
State forests
1 (8,000 ac.)
State parks
35
Electoral Votes
9
US Congress
2 Senators; 7 Representatives
Time Zone
Central Standard Time
Zip Codes
NANPA
State Quick Facts
Census Bureau Quick Facts

Louisiana Climate and Weather

Louisiana's summers are beastly hot and winters are mild. The average temperature range for the northern part of the state is 38-60 F/3-16 C in winter and 70-95 F/21-35 C in summer. Winter in the southern portion runs 44-67 F/7-19 C, with summer at 70-95 F/21-35 C. It does get even hotter, and humidity can make that heat seem much, much worse. Spring and fall offer a pleasant range of temperatures - 50-78 F/10-26 C.
Highest Temperature
114 degrees
August 10, 1936 - Plain Dealing
Lowest Temperature
-16 degrees
February 13, 1899 - Minden
Avg. Temp:
High - Low
93.3 degrees
36.2 degrees

Louisiana Points of Interest

Civil battlefields and hundreds of historical sites, plantation tours, bayou fishing venues, the stylish capital city of Baton Rouge, Cajun country in the Mississippi Delta Region, Lake Charles, swamp tours, zydeco music and of course the fabulous city of New Orleans is the major draw, known particularly for its picturesque French Quarter and the annual Mardi Gras celebration, held since 1838. Other major points of interest include the Superdome in New Orleans, historic plantation homes near Natchitoches and New Iberia, Chalmette National Historic Park, and the state capital at Baton Rouge.- to name just a few.

Louisiana Highest, Lowest, and Mean Elevations (Feet)

Mean Elevation: 100 feet
Highest Point: Driskill Mountain: 535 feet

Driskill Mountain, located 7 miles southeast of Arcadia, is the highest point in Louisiana at 535 feet above sea level.

Lowest Point:
New Orleans
-8 feet

Louisiana Land Area (Square Miles)

Geographic Center
Located in Avoyelles Parish, 3 miles SE of Marksville.
Longitude: 92°32.2'W
Latitude: 30°58.1'N
Total Area
51,839.70 sq. mi.
31st
Land Area
43,561.85 sq. mi.
Water Area
8,277.85 sq. mi.
15.96%
Forested Land Area
49.4%
Dimensions
(Length - Width)
380 miles - 130 miles
Parish Information and Parish History
Acadia, Allen, Ascension, Assumption, Avoyelles, Beauregard, Bienville, Bossier, Caddo, Calcasieu, Caldwell, Cameron, Catahoula, Claiborne, Concordia, DeSoto, East Baton Rouge, East Carroll, East Feliciana, Evangeline, Franklin, Grant, Iberia, Iberville, Jackson, Jefferson Davis, Jefferson, Lafayette Consolidated Government, Lafourche, LaSalle, Lincoln, Livingston, Madison, Morehouse, Natchitoches, Orleans, Ouachita, Plaquemines, Pointe Coupee, Rapides, Red River, Richland, Sabine, St. Bernard, St. Charles, St. Helena, St. James, St. John The Baptist, St. Landry, St. Martin, St. Mary, St. Tammany, Tangipahoa, Tensas, Terrebonne, Union, Vermilion, Vernon, Washington, Webster, West Baton Rouge, West Carroll, West Feliciana, Winn
---