North Carolina Almanac: Facts and Figures
Quick Facts and Figures on the State of North Carolina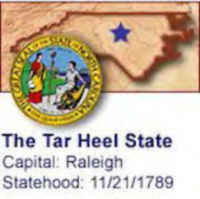 North Carolina Almanac furnishes quick facts and figures on North Carolina, one of the South Atlantic states of the US., its geography, climate and weather, elevation, land area, bordering states, electoral votes, number of senators and representatives to the US Congress, and other statistical data.
Use this almanac of North Carolina for information on local issues, politics, events, celebrations, people and business pertaining to the state of North Carolina that can be found online.
North Carolina is one of the South Atlantic states of the US. North Carolina is bordered by South Carolina, Georgia, Tennessee, and Virginia, as well as the Atlantic Ocean along its eastern coast. Off the coast of North Carolina, out in the Atlantic Ocean, are a string of barrier islands, called the Outer Banks, the site of the Wright brothers first flights, the Kitty Hawk flying experiments. North Carolina was named to honor Charles IX of France and then Charles I and Charles II of England. Carolina is rooted in Latin and comes from the word Caroliinus. This word is derived from the name Carolus, translated as "Charles."
North Carolina was principally a farming state until the 1920s, when such manufactures as textiles, furniture, and tobacco products began to dominate the economy. Manufacturing and services (including tourism) remained pivotal to the economy in the early 1990s, and agriculture and forestry were also important. North Carolina's economy is experiencing a shift away from tobacco, furniture and textiles to knowledge-based enterprises such as biotechnology, pharmaceuticals, and life sciences. The state was ranked third best state for business in 2010 by Forbes magazine. The major agricultural products are tobacco, corn, cotton, hay, peanuts, and vegetable crops. The state is the country's leading producer of mica and lithium. Tourism is also important, with visitors spending more than $1 billion annually. Sports include year-round golfing, skiing at mountain resorts, both fresh- and salt-water fishing, and hunting.
Official Name
North Carolina
Capital
Raleigh
Nicknames
Tar Heel State ... and more
Motto
Esse Quam Videri (To be, rather than to seem)
Location
Region
35.82195 N, 078.65875 W
Southern
South Atlantic
Appalachia
Constitution Ratified
1971
Statehood
November 21, 1789
12th state
Population
9,535,483 (2010)
165.26 sq. mi.
11th
Largest City
(by population)
10 largest cities (2010 est.):Charlotte, 731,424; Raleigh, 403,892; Greensboro, 269,666; Winston-Salem, 229,617; Durham, 228,330; Fayetteville, 200,564; Cary, 135,234; Wilmington, 106,476; High Point, 104,371; Greenville, 84,554
Bordering States
North: Virginia
East: Atlantic Ocean
South: South Carolina and Georgia
West: Tennessee
Major Industry
farming (tobacco, poultry), textiles, furniture
Major Rivers
Neuse River, Roanoke River, Yadkin River
Major Lakes
Lake Mattamuskeet, Lake Phelps, Lake Waccamaw
North Carolina Counties
100 Counties in North Carolina
Largest County
(by population)
Mecklenburg County
919,628 (2010)
527 sq. mi.
Largest County
(by area)
Robeson County
949 sq. mi.
State parks
29
Presidential Birthplaces

James Knox Polk was born in Mecklenburg County on November 2, 1795 (he was the 11th US President, serving from 1845 to 1849).

Andrew Johnson was born in Raleigh on December 29, 1808 (he was the 17th US President, serving from 1865 to 1869).

Electoral Votes
15 (as of the 2004 Presidential Election)
US Congress
2 Senators; 13 Representatives
Time Zone
Eastern Standard Time
Zip Codes
NANPA
State Quick Facts
Census Bureau Quick Facts

North Carolina Climate and Weather

North Carolina has four distinct seasons statewide, but the differences in elevation can create quite a contrast between the mountains and lowlands at any time of year. In general, expect the mountains to be cooler by 5-10 degrees F/2-5 C. All areas get plenty of rain in the summer, and the mountains see plenty of snow (50 in/127 cm or more) in winter, when skiing is possible. Skiers can expect temperatures from 22 to 42 F/-5 to 5 C in January. May temperatures range 45-76 F/6-24 C in the mountains and 57-81 F/14-27 C along the coast. Central North Carolina can get very hot and humid in midsummer, but is pleasant in spring and fall. July is the wettest summer month everywhere - some localized thunderstorms can be quite severe. Expect water temperatures in July to be near 80 F/26 C along the coast. Fall is the driest season, with comfortable humidity and temperatures ranging 64-82 F/12-27 C, cooler in the mountains

Highest Temperature
110 degrees
August 21, 1983 - Fayetteville
Lowest Temperature
-34 degrees
January 25, 1985 - Mount Mitchell
Avg. Temp:
High - Low
88.3 degrees
27.3 degrees

North Carolina Points of Interest

North Carolina's diverse topography offers some of the most beautiful scenery in America, including the Appalachian mountain range, the Smoky Mountains, the 250-miles Blue Ridge Parkway, the Wright Brothers National Memorial at Kitty Hawk, Guilford Courthouse and Moore's Creek National Military Parks, Carl Sandburg's home near Hendersonville, and the Old Salem Restoration in Winston-Salem, the rolling hills of the Piedmont region and the natural assets of its coastline and beaches.

The Outer Banks, a 70-miles chain of islands, with its beaches and sand dunes offer a unique resource to explore for the entire family.

From tobacco farms, to cotton plantations, to vineyards and large cities including Charlotte, Winston-Salem, Greensboro, Fayetteville to name just a few, North Carolina is one of the nation's most charming vacation spots.

North Carolina Highest, Lowest, and Mean Elevations (Feet)

Mean Elevation: 700 feet

Highest Point: Mt. Mitchell: 6,684 feet

In the crest of the time worn Black Mountains lies the summit of Mount Mitchell, the highest point east of the Mississippi. For those who ascend this peak, will find breathtaking views of the Blue Ridge Mountains, rolling ridges and fertile valleys. The mountain was named for Dr. Elisha Mitchell, professor at the University of North Carolina, who first measured its height in 1835. In 1857, Dr. Mitchell set out to verify his measurement of the peak and perished at the foot of a waterfall on the mountain slope. On the summit is Mount Mitchell State Park, comprised of 1,224 acres.

Lowest Point:
Atlantic Ocean
Sea level feet

North Carolina Land Area (Square Miles)

Geographic Center
In Chatham County, 10 mi. NW of Sanford
Longitude: 79°27.3'W
Latitude: 35°36.2'N
Total Area
53,818.51 sq. mi
28th
Land Area
48,710.88 sq. mi
90.52%
Water Area
5,107.63 sq. mi
9.48%
Forested Land Area
61.8%
Dimensions
(Length - Width)
500 miles - 150 miles
County Information and County History
Alamance, Alexander, Alleghany, Anson, Ashe, Avery, Beaufort, Bertie, Bladen, Brunswick, Buncombe, Burke, Cabarrus, Caldwell, Camden, Carteret, Caswell, Catawba, Chatham, Cherokee, Chowan, Clay, Cleveland, Columbus, Craven, Cumberland, Currituck, Dare, Davidson, Davie, Duplin, Durham, Edgecombe, Forsyth, Franklin, Gaston, Gates, Graham, Granville, Greene, Guilford, Halifax, Harnett, Haywood, Henderson, Hertford, Hoke, Hyde, Iredell, Jackson, Johnston, Jones, Lee, Lenoir, Lincoln, Macon, Madison, Martin, McDowell, Mecklenburg, Mitchell, Montgomery, Moore, Nash, New Hanover, Northampton, Onslow, Orange, Pamlico, Pasquotank, Pender, Perquimans, Person, Pitt, Polk, Randolph, Richmond, Robeson, Rockingham, Rowan, Rutherford, Sampson, Scotland, Stanly, Stokes, Surry, Swain, Transylvania, Tyrrell, Union, Vance, Wake, Warren, Washington, Watauga, Wayne, Wilkes, Wilson, Yadkin, Yancey
---