Ohio Almanac: Facts and Figures
Quick Facts and Figures on the State of Ohio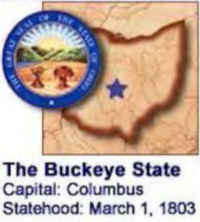 Ohio Almanac furnishes quick facts and figures on the state, its history and geography; largest and smallest counties, largest cities; climate and weather, temperature, highest, lowest, and mean temperatures; elevations, lowest, highest elevations; total area, land area and water area, state forest and park areas; bordering states, electoral votes, number of senators and representatives to the US Congress, and other statistical data.
Use this almanac of Ohio for information on local issues, politics, events, celebrations, people and business pertaining to the state of Ohio that can be found online.
Ohio is one of the East North Central states of the US. Ohio's southern border is defined by the Ohio River (with the border being at the 1793 low-water mark on the north side of the river), and much of the northern border is defined by Lake Erie. Ohio's neighbors are Pennsylvania to the east, Michigan to the northwest, Ontario Canada, to the north, Indiana to the west, Kentucky on the south, and West Virginia on the southeast. In addition, the state controls around 3,457 sq. km of Lake Erie, which borders the state in the north. Ohio is the name that the Iroquois Indians used when referring to the river and means "large" or "beautiful river."
Ohio has been a major manufacturing state since the 19th century and in the early 1990s was especially associated with the production of transportation equipment, iron and steel, and rubber items. Today, Ohio is one of the nation's industrial leaders, ranking third in manufacturing employment nationwide. Important manufacturing centers are located in or near Ohio's major cities. Akron is known for rubber; Canton for roller bearings; Cincinnati for jet engines and machine tools; Cleveland for auto assembly, auto parts, and steel; Dayton for office machines, refrigeration, and heating and auto equipment; Youngstown and Steubenville for steel; and Toledo for glass and auto parts. The state's fertile soil produces soybeans, corn, oats, greenhouse and nursery products, wheat, hay, and fruit, including apples, peaches, strawberries, and grapes. More than half of Ohio's farm receipts come from dairy farming and sheep and hog raising. Ohio ranks fourth among the states in lime production and also ranks high in sand and gravel and crushed stone production.
Official Name
Ohio
Capital
Columbus
Nicknames
Buckeye State ... and more
Motto
With God, all things are possible
Location
Region
39.98893 N, 082.98738 W
Midwest
Northeastern
Appalachia
Constitution Ratified
1851
Statehood
March 01, 1803
17th state
Population
11,536,504 (2010)
277.22 sq. mi.
7th
Largest City
(by population)
10 largest cities (2010 est.):Columbus, 787,033; Cleveland, 396,8158; Cincinnati, 296,943; Toledo, 287,208; Akron, 199,110; Dayton, 141,527; Parma, 81,601; Youngstown, 66,982; Canton, 73,007; Lorain, 64,097
Bordering States
North: Michigan and Ontario, Canada (Lake Erie forms most of the North boundary)
East: Pennsylvania and West Virginia (Ohio River forms much of the Eastern and all of the Southern boundaries)
South: West Virginia and Kentucky
West: Indiana
Major Industry
manufacturing (steel, cars, airplanes, rubber products, chemicals, plastics), farming, mining (coal)
Major Rivers
Ohio River, Cuyahoga River, Miami River, Sandusky River
Major Lakes
Lake Erie, Grand Lake
Ohio Counties
88 Counties in Ohio
Largest County
(by population)
Cuyahoga County
1,280,122 (2010)
358 sq. mi.
Largest County
(by area)
Ashtabula County
703 sq. mi.
State forests
20 (more than 183,000 ac.)
State parks
74 (more than 204,000 ac.)
Presidential Birthplaces

Ulysses Simpson Grant was born in Point Pleasant on April 27, 1822 (he was the 18th US President, serving from 1869 to 1877).

Rutherford Birchard Hayes was born in Delaware on October 4, 1822 (he was the 19th US President, serving from 1877 to 1881).

James Abram Garfield was born in Orange on November 19, 1831 (he was the 20th US President, serving in 1881).

Benjamin Harrison was born in North Bend on August 20, 1833 (he was the 23th US President, serving from 1889 to 1893).

William McKinley was born in Niles on January 29, 1843 (he was the 25th US President, serving from 1897 to 1901).

William Howard Taft was born in Cincinnati on September 15, 1857 (he was the 27th US President, serving from 1909 to 1913).

Warren Gamaliel Harding was born in Corsica (now Blooming Grove) on November 2, 1865 (he was the 29th US President, serving from 1921 to 1923).

Electoral Votes
20 (as of the 2004 Presidential Election)
US Congress
2 Senators; 18 Representatives
Time Zone
Eastern Standard Time
Zip Codes
NANPA
State Quick Facts
Census Bureau Quick Facts

Ohio Climate and Weather

Ohio's summer is warm, with most areas seeing 90 F/32 C temperatures for at least a few days. Humidity can be uncomfortable at high temperatures, though generally not excessively so. Expect more rain in late spring and early summer, including thunderstorms and the possibility of tornadoes. Temperatures range 37-70 F/3-21 C in the northeast and 41-72 F/5-22 C in the southwest during April and May. Fall is the sunniest season, with warm September days running 52-81 F/11-21 C. A jacket will be useful for evenings, especially in October, when temperatures drop into the low 40s F/4-6 C at night. Winters are cold (17 to 43 F/-8 to -6 C), with plenty of snow, especially in the snow belt near Lake Erie. Winter visitors to the state should be prepared for hazardous driving and flight delays caused by the snow.
Highest Temperature
113 degrees
July 21, 1934 - Gallipolis
Lowest Temperature
-39 degrees
February 10, 1899 - Milligan
Avg. Temp:
High - Low
85.8 degrees
15.5 degrees

Ohio Points of Interest

Ohio offers all travelers a diverse array of activities, attractions and events.

Some of its most popular tourist destinations include Amish Country; Cleveland and the Rock and Roll Hall of Fame; Indian burial grounds at Mound City Group National Monument; historic homes of seven U. S. Presidents; Lake Erie shoreline and the Bass Islands; Pro Football Hall of Fame, and the Thomas Edison birthplace museum.

Ohio Highest, Lowest, and Mean Elevations (Feet)

Mean Elevation: 850 feet

Highest Point: Campbell Hill: 1,549 feet

Also known as Mount Campbell, Campbell Hill is the highest point in Ohio at 1549 feet above sea level. It is located two miles east of Bellefountaine on Rt. 540. During the 1950s, the 664th Aircraft Control and Warning Squadron was stationed on Mount Campbell. Today the Ohio Hi-Point Career Center, a joint-vocational school, is located on the site.

Lowest Point:
Ohio River
455 feet

Ohio Land Area (Square Miles)

Geographic Center
In Delaware County, 25 mi. NNE of Columbus
Longitude: 82°44.5'W
Latitude: 40°21.7'N
Total Area
44,824.90 sq.mi.
34th
Land Area
40,948.38 sq.mi.
91.36%
Water Area
3,876.53 sq.mi.
8.64%
Forested Land Area
30%
Dimensions
(Length - Width)
220 miles - 220 miles
County Information and County History
Adams, Allen, Ashland, Ashtabula, Athens, Auglaize, Belmont, Brown, Butler, Carroll, Champaign, Clark, Clermont, Clinton, Columbiana, Coshocton, Crawford, Cuyahoga, Darke, Defiance, Delaware, Erie, Fairfield, Fayette, Franklin, Fulton, Gallia, Geauga, Greene, Guernsey, Hamilton, Hancock, Hardin, Harrison, Henry, Highland, Hocking, Holmes, Huron, Jackson, Jefferson, Knox, Lake, Lawrence, Licking, Logan, Lorain, Lucas, Madison, Mahoning, Marion, Medina, Meigs, Mercer, Miami, Monroe, Montgomery, Morgan, Morrow, Muskingum, Noble, Ottawa, Paulding, Perry, Pickaway, Pike, Portage, Preble, Putnam, Richland, Ross, Sandusky, Scioto, Seneca, Shelby, Stark, Summit, Trumbull, Tuscarawas, Union, Van Wert, Vinton, Warren, Washington, Wayne, Williams, Wood, Wyandot
---