Iowa State Almanac: Facts and Figures
Quick Facts, Figures, and Overview of the State of Iowa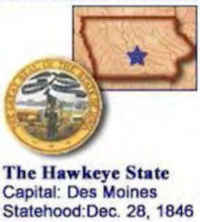 Iowa is one of the West North Central states of the US. Iowa is the 29th state of the United States. It is frequently called as the "American Heartland". The capital and biggest city of IA is Des Moines and the state covers a total land area of 56,272 sq. miles. It has common boundaries with Wisconsin, Minnesota, Missouri, Illinois, South Dakota, and Nebraska. Iowa's Name Origin was taken from 'The Iowa River' witch was named after the Iowa Indians who lived in the territory. The tribal name "Ayuxwa" was spelled by the French as "Ayoua" and by the English as "Ioway." "Ayuxwa" means "one who puts to sleep."
Although Iowa produces a tenth of the nation's food supply, the value of Iowa's manufactured products is twice that of its agriculture. Major industries are food and associated products, non-electrical machinery, electrical equipment, printing and publishing, and fabricated products.
Iowa stands in a class by itself as an agricultural state. Its farms sell over $10 billion worth of crops and livestock annually. Iowa leads the nation in all corn, soybean, and hog marketing, and comes in third in total livestock sales. Iowa's forests produce hardwood lumber, particularly walnut, and its mineral products include cement, limestone, sand, gravel, gypsum, and coal.

Official Name
Iowa
Capital
Des Moines
Nicknames
Hawkeye State ... and more
Motto
Our liberties we prize and our rights we will maintain
Location
Region
41.57673 N, 093.61740 W
Midwest
Northwestern
Constitution Ratified
1857
Statehood
December 28, 1846
29th state
Population
3,046,355 (2010)
52.37
30th
Largest City
(by population)
10 largest cities (2010): Des Moines, 203,433; Cedar Rapids, 126,326; Davenport, 99,685; Sioux City, 82,684; Waterloo, 68,406; Iowa City, 67,862; Council Bluffs, 62,230; Ames, 58,965; Dubuque, 57,637; West Des Moines, 56,609.
Bordering States
North: Minnesota
East: Wisconsin and Illinois (Mississippi River forms the entire Eastern border)
South: Missouri
West: Nebraska and South Dakota (Missouri River forms much of the Western border)
Major Industry
agriculture (corn, soybeans, hogs, pigs), food manufacturing, insurance
Major Rivers
Mississippi River, Des Moines River, Missouri River, Cedar River, Iowa River
Major Lakes
Lake Red Rock
Iowa Counties
99 Counties in Iowa
Largest County
(by population)
Polk County
430,640 (2010)
570 sq. mi.
Largest County
(by area)
Kossuth County
973 sq. mi.
State forests
10 (43,917 ac.)
State parks /recreation areas
84 (53,000 ac.)
Presidential Birthplace
Herbert Clark Hoover was born in West Branch on August 10, 1874 (he was the 31st US President, serving from 1929 to 1933).
Electoral Votes
7
US Congress
2 Senators; 5 Representatives
Time Zone
Central Standard Time
Zip Codes
NANPA
State Quick Facts
Census Bureau Quick Facts
---
Iowa Climate and Weather

The weather in Iowa varies greatly from season to season, with cold winters and hot summers. Each year the temperature drops to -20 F/-28 C and rises to 100 F/38 C somewhere in the state. Although travel is generally pleasant from late spring to early fall, we recommend visiting from late August through October to enjoy comfortable temperatures and humidity.

Spring can be unsettled and stormy, though temperatures are comfortable. July can afflict Iowa with high temperatures and high humidifies, and that's the month that sees the greatest number of visitors.
Highest Temperature
118 degrees
July 20, 1934 - Keokuk
Lowest Temperature
47 degrees
January 12, 1912 - Washta
Avg. Temp:
High - Low
86.2 degrees
6.3 degrees

Iowa Points of Interest

Tourist attractions include the Amana Colonies, Crystal Lake Cave, State Capitol, Fort Dodge Historical Museum, Fort, and Stockade; the Iowa State Fair at Des Moines in August; Herbert Hoover birthplace and library near West Branch; and the points-of-interest along both the Mormon Trail and the historic Lewis and Clark Trail to name but a few.

Iowa Highest, Lowest, and Mean Elevations (Feet)

Mean Elevation: 1,100 feet
Highest Point: Hawkeye Point: Sec. 29, T100N, R41W, Osceola County: 1,670 feet

Just southeast of the town of Ocheyedan, the Mound rises an impressive 170 feet above the surrounding flood plain. It is one of the highest points in Iowa--1670 feet above sea level. The material making up the Mound is chiefly sand and gravel with small boulders of various types, including rocks of many different kinds. There are granites, Sioux quartzite and limestone.

Lowest Point:
Mississippi River
480 feet

Iowa Land Area (Square Miles)

Geographic Center
Located in Story County, 5 miles NE of Ames.
Longitude: 93°23.1'W
Latitude: 41°57.7'N
Total Area
56,271.55 sq. mi.
26th
Land Area
55,869.36 sq. mi.
99.29%
Water Area
402.2 sq. mi.
0.71%
Forested Land Area
5.7%
Dimensions
(Length - Width)
310 miles - 200 miles
County Information and County History
Adair, Adams, Allamakee, Appanoose, Audubon, Benton, Black Hawk, Boone, Bremer, Buchanan, Buena Vista, Butler, Calhoun, Carroll, Cass, Cedar, Cerro Gordo, Cherokee, Chickasaw, Clarke, Clay, Clayton, Clinton, Crawford, Dallas, Davis, Decatur, Delaware, Des Moines, Dickinson, Dubuque, Emmet, Fayette, Floyd, Franklin, Fremont, Greene, Grundy, Guthrie, Hamilton, Hancock, Hardin, Harrison, Henry, Howard, Humboldt, Ida, Iowa, Jackson, Jasper, Jefferson, Johnson, Jones, Keokuk, Kossuth, Lee, Linn, Louisa, Lucas, Lyon, Madison, Mahaska, Marion, Marshall, Mills, Mitchell, Monona, Monroe, Montgomery, Muscatine, O'Brien, Osceola, Page, Palo Alto, Plymouth, Pocahontas, Polk, Pottawattamie, Poweshiek, Ringgold, Sac, Scott, Shelby, Sioux, Story, Tama, Taylor, Union, Van Buren, Wapello, Warren, Washington, Wayne, Webster, Winnebago, Winneshiek, Woodbury, Worth, Wright
Almanac Online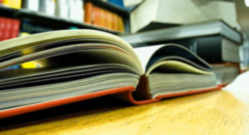 Information on people & places that make US a great place to live, visit, or study.